Crazy Time is a new, fun and fast-paced game in our Live Casino, and it's quickly becoming a firm favourite with our Grosvenor Casinos players. And we're here to tell you a little more about it.
This game has proved to be an online sensation, recently becoming the most viewed title on Twitch with well over 40 million minutes of watch time on the live streaming service.
Watching is good but playing is better – and you could join the Live Casino action from just 10p a spin.
How to play
Giving off some real retro gameshow vibes, Crazy Time revolves – quite literally – around a supersized spinning money wheel split up into 54 segments, consisting of numbers and four fantastic bonus games. More on them later.
There's also the Top Slot which spins simultaneously alongside the wheel at the beginning of every game round, which will in turn multiply bets or the number of multipliers in the bonus games.
In this all-action event, players simply place their bets on any of the numbers (1, 2, 5 or 10) and/or the bonus game segments. It's simple, but effective – and the bonus games take the excitement to a whole new level.
Bonus games
Variety is the spice of life, and Crazy Time excels with not one, not two, not three but a fabulous FOUR bonus games. Here's how they work:
Cash Hunt
A shooting gallery featuring a big screen and 108 multipliers. The multipliers are then covered and shuffled, and the players line up the target where they believe the largest multiplier is hiding.
Fire your cannon and reveal the win. Boom.
Pachinko
Featuring a large wall with physical pegs, the host will drop a puck and wherever it lands, that's the multiplier. But if the puck lands on a DOUBLE, the multipliers will increase, and the puck dropped again until there's a winner.
And it could go all the way to a 10,000x multiplier. Madness.
Coin Flip
It does exactly what it says on the tin. Each side of the coin has a different multiplier, pick your side and flip the coin.
Wherever it lands, that's your multiplier. Simple.
Crazy Time
Open the door and enter a whole new virtual world of crazy. Each player selects their flapper, the presenter pushes the big red button, and wherever your flapper points is your multiplier. If the flapper points to a DOUBLE or TRIPLE, it spins again and the multipliers are increased.
And it can be re-spun all the way up to a 20,000x multiplier. Insane
Let's play
So are you ready to go a little crazy with Crazy Time? If so, step right this way.
And if you're not a Grosvenor Casinos player already, you can join us in just a few minutes.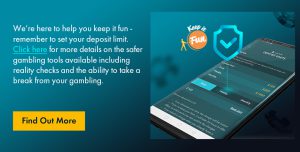 Comments
comments