Every player is looking for a big win and dreams that they will sit down at their favourite game, and after only a few spins of the reels or the roulette wheel, that they will hit the jackpot and their life will change forever.
What Happens First?
Well, first you have to win. Once you do, the alarms will go off and everyone around will look your way and begin to crowd around you as they join you in trying to figure out how much you've won. Sit tight, and don't panic, because in a matter of moments a member, or a few members, of the casino staff will be making their way over to you to confirm your win.
Once a machine hits a win, there is a signal sent to the house that will inform them of it. The moment this happens someone is sent to make several checks on the machine and your win to ensure that the machine hasn't malfunctioned (just in case!). In many cases, if this happens, the casino will make it up to the player by offering them some of the perks that they have available.
Identification
Since you would have had to verify your identity to play in the first place, you won't need to identify yourself, unless for some reason you happen to be in a casino that didn't require this in the first place (which is very unlikely). Either way, when you go out gambling, be sure to bring a form of valid identification with you, as would when going anywhere else!.
How Much is Too Much to Win?
After you hit a massive jackpot, if you are in the UK, you don't have to pay tax on your gambling winnings – whether that is in a land-based oronline casino. There was a time when that would have been the case, but the previous betting duty was abolished in 2001 and since then gamblers in the UK have been able to claim all of their winnings, tax-free.
This is not necessarily the case in some foreign jurisdictions though – in the USA, France or Macau for example, a big enough win could mean that you have to pay a tax on the winnings, anywhere between 1% and 25%. This means that if you take your hot streak over to Las Vegas and try to beat the odds at some foreign tables, you may have to give up some of your winnings to cover the tax.
There Might Be a Bit of a Wait
Depending on whether you won £20 on the Eye Of Horus or £2 million in an online poker tournament, there will be a waiting period before you can claim your winnings. The casino has to follow certain protocols such as checking that the win is legitimate, informing top management of the win, and completing some paperwork, such as taxation procedures if you are being taxed on your winnings. This can take a while sometimes, and even though you are itching to get that £2 million cheque, patience is key, and the money will come – you have nothing to worry about.
Smaller wins are generally dealt with fairly quickly and there is also a chance that you will receive your winnings instantly. Larger winnings, in the millions, can be a bit more confusing for both the player and the casino. You will have to make decisions about how you would like the money to be paid out – whether you want it all right away or to receive a specific amount annually. In jurisdictions that tax players' winnings, the latter is typically the better option as you incur less taxation on the amount as a whole. If you are into live casino games or playing the slots games at an online casino it can be a bit different, depending on which sites you are playing at. Some online casinos have strict rules about how they pay out their winnings to players and there is a chance that when you do win, you won't get all your winnings at once. Some online casinos only allow players to withdraw a certain amount of money each week or month, which means that you might have to make regular withdrawals to get all your winnings out. So remember to check on the payout rules and regulations of the online casino you decide to play at, as some have rules that allow them to pay you the entirety of your winnings the instant you request a withdrawal.
You Are Now A Celebrity
Winning millions is no easy feat and doesn't go unnoticed – particularly by the casino itself. Local media, and fellow punters, will likely give you very little breathing room. There is nothing more attractive to other gamblers than a winner because it gives them hope and inspiration to get their own big win. The media has plans for you – you will likely be invited to interviews where you'll be asked about how you managed such a big win and what you plan to do with the money. The casino itself will also be very interested in your win and will likely ask you to be a part of their marketing campaigns. You do not have to participate in any photos or interviews if you do not want to, but often winners are so swept up in the excitement and drama of a big win that they are happy to do so.
What is Next in Your Gambling Career?
If you are on the hunt for your next big win or have only just been inspired to go out in search of it, why not try some of the slots games and live casino games available at Grosvenor Casinos? There are myriad games and table games to choose from, and who knows, you might hit your big win on your very first spin.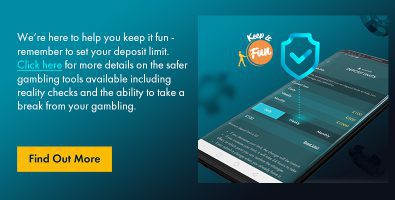 Comments
comments