The Ultimate Slots Glossary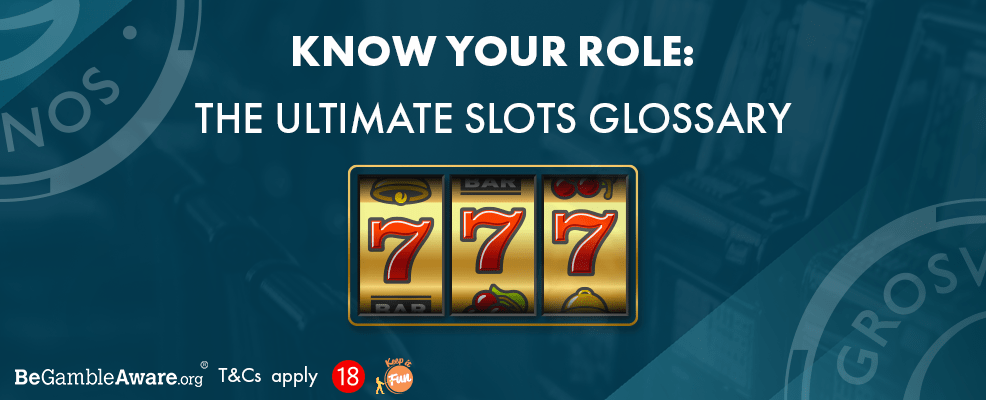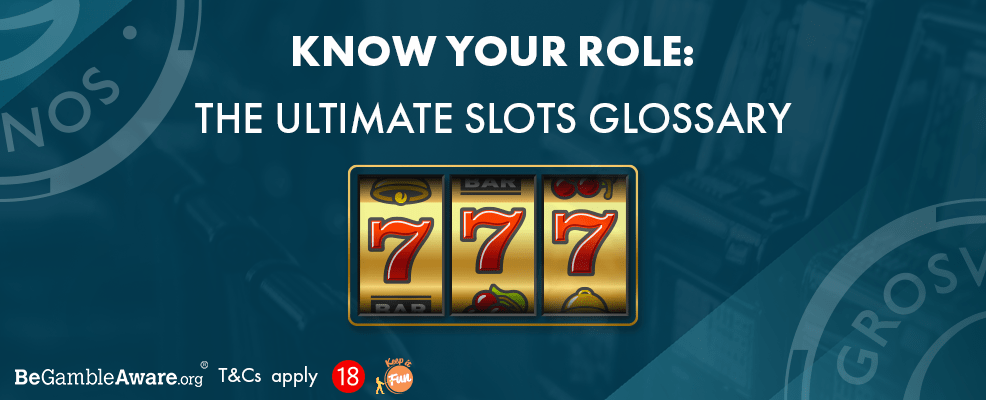 Slots are probably the most popular games, with the highest win potential, in both online and land-based casinos. Whether you're a veteran or a new player, you've probably played them before. There is more to the slots than just spinning reels and flashing lights though – there is a whole language to learn.
Whether you are playing at an online or a land-based casino, or just want to learn how to play online slots, chances are you are going to bump into someone along the way. If you want to get stuck into a conversation about slot machines, then you might want to know a bit of the jargon, so you don't get lost along the way. That's why we have put together the ultimate glossary – so you can talk your way to that big jackpot win.
A
ACTION – Also called 'Play' This refers to the act of placing a wager on a slot machine.
ACTIVE PAYLINE – A payline that a player has placed a bet on. If a winning combination occurs on an active payline, the player will receive winnings.
ANNUITY WINNER – Jackpot winners who choose to get paid out in yearly instalments.
AUTOPLAY – A feature that can be triggered by the player to spin automatically.
B
BANK – A row of machines placed side by side that often match a theme.
BARS – A common symbol on classic slots and fruit machines. A symbol that reads BAR.
BET – The amount of money a player wagers per spin.
BET PER LINE – The amount wagered per active payline.
BET PER SPIN – The total of BET PER LINE multiplied by the number of active paylines.
BIG BERTHA – A machine used by casinos as a marketing device to attract attention.
BIG WIN – A larger win from a single spin. On video slots, a celebratory animation can be triggered for wins of 5x total stake or more, but usually between 10x and 20x wins.
BLANK – Mainly found on classic slots, an empty reel space between symbols on a reel, which has no value and doesn't contribute to wins.
BONUS FEATURE – An additional feature separate from the main slot game that can award larger prizes. Usually triggered by landing special symbols on the reels.
BRANDED SLOTS – Slots based on known brands, including TV and movies.
BUY-A-PAY SLOT – Video slots with enhanced betting options, where you can pay extra for the chance to win bigger.
C
CAROUSEL – Another term for the Bank.
CANDLE – The small light often found at the top of a slot machine.
CASCADE – When a winning combination occurs, it will disappear and the symbols above will drop into place to potentially create more wins.
CICO – An abbreviation for 'Coin in, Coin out' that tracks the coins in and out of a machine.
CLASSIC SLOT – A term for the earliest machines that featured only three reels.
COIN-FREE PLAY – This style of machine will payout tickets instead of coins.
D
DENOMINATION – The value of each credit played at a specific machine. Denomination can also be used to describe the currency that is being used.
DOUBLES – Probably better known nowadays as STACKS – when a cluster of two or more of the same symbol are adjacent to each other on the same reel.
E
EDGE – The advantage that the house (or casino) has over the player.
EXPANDING WILDS – A symbol that expands to cover the entire reel to increase chances of winning.
F
FEATURE – A feature could reference bonuses, free spins and more.
FILL – A slang term for a bag that contains coins that fills a coin hopper.
FREE PLAY – Games that can be enjoyed for free, without risking any money or winning any real money.
FREE SPINS – A feature where the player plays the game for free, based on a set bet value, and can win real money.
FRUIT MACHINE – A nickname for slot machines coined in the UK.
G
GAMES PER HOUR – Reference to the number of spins made by a player per hour.
H
HAMMER A MACHINE – The act of playing the same machine or game for a long time.
HIT – A term for a winning spin.
HIT RATE – the likelihood to hit a winning spin or bonus round.
HIT AND RUN – A style of playing that involves rotating between machines frequently.
HOT SLOT – A term for a machine that seems to be paying out more than others.
HIGH VOLATILITY SLOTS: A game that pays out less often, but with bigger prizes.
I
INSTANT WINNER – Jackpot winners who get all their winnings paid out immediately.
J
JACKPOT – Usually refers to a large prize that can be won, usually triggered either at random or by a certain in-game sequence.
L
LINE BET – The total amount a player wagers on the paylines. Same as BET PER LINE
LOOSE SLOT – A term for a machine with a high payout rate.
LOW-LEVEL SLOT – A machine with a chair or seat.
LOW-VOLATILITY SLOT – A game that pays out more often, but with smaller winnings.
M
MEDIUM-VOLATILITY SLOT – A game that is the perfect balance between high and low-volatility slots.
MULTI-LEVEL JACKPOT – A slot that offers multiple jackpot prizes of varying value.
MAXIMUM BET – The highest bet allowed per spin.
MULTI-REEL SLOT – Specific machines that have up to 9 reel sets instead of only one.
N
NEAR MISS – When a player misses a win by only one symbol.
NICKEL SLOTS – Games that are played only with a denomination of a nickel (5 cents) in the US.
NUDGE – A button found on some slots that allow the player to push a reel up or down.
O
ONE-ARMED BANDIT – One of the most popular slang terms for a slot machine.
ONE LINER – A game that only has one reel.
ONESIES – A slang term for playing with only one credit or coin per spin.
P
PAYLINE – The payout of each game depends on the pattern of symbols that must be matched to the line.
PAYTABLE – A table that shows all the possible payouts and bonuses.
PENNY SLOT – Slots that are played with the lowest denomination of just a penny in the US.
PICK TO WIN – A bonus game that is similar to a pick and match game.
POKIES – An Australian slang term for slot machines.
PROGRESSIVE JACKPOT – A jackpot that increases over time by gameplay.
PROGRESSIVE SLOT – Refers to interlinked games that offer a progressive jackpot.
R
RAINING – When a machine pays out and it sounds like rain.
REELS – On classic slots, rotating barrels which contain the game symbols that must be matched. On video slots, these are virtual barrels.
ROLL-UP – A suspenseful sound made by a machine when a player wins.
ROYAL SYMBOLS – Symbols on a slot machine most commonly represented by 10, J (Jack), Q (Queen), K (King) and A (Ace).
RTP – The expected return to player (based on thousands or millions of spins). The inverse of EDGE.
S
SCATTER SYMBOL – A symbol that doesn't need to be in any order or combination in a spin.
SELECT LINES – Button to select the number of lines a player wishes to bet on.
SKILL-BASED GAME – A common bonus round that requires a player's skill to win prizes.
SLOT CLUB – A rewards club for players in a casino or online.
SLOT TALK – When players exchange information about a game with a host.
STREAKY SLOTS – A slot that is referred to as both 'hot' and 'cold'.
STRAIGHT MULTIPLIER – A type of game that can have all winning matches triggered by a single coin.
T
TAKE – An assumption that slots have a cycle during which they will pay out after enough bets.
TICKET – A printed ticket that players receive that can be exchanged for their winnings.
TILT – A term for a malfunction or an error in a live or online machine.
TOTAL BET – The total amount of bets a player makes at a specific machine.
TASTE – A small payout and the assumption that it will keep the player spinning.
V
VOLATILITY – The entire maths engine of the slot which has a few contributing factors such as payout range, hit rate and weighting of prizes.
VIDEO SLOTS – A type of machine with an electronic display that doesn't contain mechanical reels.
W
WELL – The tray into which coins fall after a payout.
WILD SYMBOL – A game symbol that can be used as a substitute for others in a winning pattern.
WINNING COMBINATION – A pattern of symbols that, when matched, pays out a win.
Z
ZIGZAG – A winning combination that forms a zigzag pattern on the reels.
Put Your New Skills to the Test
It is time to take what you've learned out into the real world and put your language skills to the test. If you want to play some slot games and wax lyrical all the way to that big jackpot win, then why not try some of of the best online slots games at Grosvenor Online Casinos.
Comments
comments