Online casinos, and even land-based establishments, are an example of one of the many industries that have been vastly improved by AI – from personalised AI dealers to improved and sophisticated customer support bots. With AI that can calculate near-perfect games, there is no limit to the influence that AI can have in the world of gambling.
What is Artificial Intelligence?
Most of the modern movies and shows that centre on it tend to show Artificial Intelligence (AI) as human-like robots with thoughts, behaviours, characters and emotions. However, we are far from that point at present. At the moment, AI has found its application in slightly more mundane things like self-driving cars, Amazon's Alexa, self-adjusting aircons and Google search algorithms. The kind of AI that we are dealing with daily is only capable of doing small tasks more accurately and at a faster rate than we can as humans.
AI in Casinos
Most people have already experienced AI online in some form or the other — whether that's simply playing a game against a CPU opponent, or listening to a song that's been selected for the next spot on your playlist by YouTube or Spotify's algorithm.
However, AI splits opinions a lot more when it comes to playing at an online casino than video games or music playlists. Why is that? Well, put simply, there's a lot more at stake when it comes to the threat of losing your money in real life than there is in losing a casual game of League of Legends. 
AI and technology are developing at such a rapid rate that laws and regulations can't seem to keep up — and this is a legitimate topic of concern. Online gambling is set to be one of the biggest industries using this technology. So, how is AI being implemented in the gaming industry? How could it affect online games and what does the future hold?
How AI Could Impact Online Casinos
There are several ways in which AI could impact online games, and these are just some of them:
Teaching the Machine
While AI might seem like the stuff of science fiction, it has actually been around for some time. Though some people are only recognising it as a reality now, AI has been implemented in most of the technology we use today, to improve the way that we interact with our devices – or the way it interacts with us.
The first step is for the AI to become intelligent – it needs to know what to learn. All AI systems need to be taught, and they learn mainly (and most effectively) from you and your interactions with them. The learning process consists of data collection by the AI's systems that constantly feed back into, and are compared with, what it already knows.
This allows the system to learn based on the discoveries it makes within the data and apply that in future interactions – constantly honing its responses and behaviour. When it comes to gambling and online sports betting, which is based largely on statistical and probability analysis, AI has the upper hand every time. AI can calculate and far more accurately predict the perfect scenario for a massive upset in a hand of poker, for example, in scenarios that would be impossible for a human to do so accurately.
Improving Your User Experience
The most important part of using any website or web-based platform is that your experience in using the site is smooth, effortless and loads of fun. You aren't likely to return to a site that you find confusing or difficult to use – this is where AI comes in to streamline and improve the user experience of players.
At the moment, most user experience improvement is based on user feedback. However, AI will be able to remove the feedback step by quickly tracking player patterns and trends and then accurately predicting players' preferred games, which ultimately saves time going through a plethora of games that they aren't interested in.
For starters, it can simply analyse the kinds of games you play, whether you love to take a seat at the poker table or the slot machines, and suggest games that are most likely to interest you based on the data it collects from your time spent playing online. This means you spend less time browsing the hundreds of games on offer and you keep playing the ones it knows you like. It can also collect information about how much time you spend on each game and how long you play before moving on to a new one.
The next layer of the experience that an AI touches is the part where it shows off how much it has learned about you. Live dealer games are incredibly popular now, but moving up in the ranks is the AI dealer. The interactions and level of immersion are taken up a notch when your dealer remembers you, knows a little bit about you and the way you like to play and can ask you questions about your daily life and even hold a conversation about the struggles and challenges you are currently going through.
Another massively impactful area that AI can affect in terms of the user experience is in the customer service and support roles. A well-taught and sophisticated Artificial Intelligence system can quickly and efficiently handle queries and complaints with human-like responses – this means that any issues that players may have can be dealt with in a succinct and timely manner, getting the problem solved, and the players back to their gaming, in no time at all.
Handling Cheaters
For a lot of people, the most important or maybe the most obvious way that AI will affect online gaming is in the security department. Catching cheaters is one of the highest priorities for online establishments – nothing ruins your experience more than being beaten by a cheater. While it might be difficult for a normal player to spot out the behaviour and patterns of a cheater, with the right information AI can make light work of it. Highly sophisticated AI systems offer improved security options, but casinos aren't the only ones who have access to these.
The next major issue the security department faces is credit card fraud. Luckily, another strength of a highly sophisticated AI system is the ability to easily and efficiently detect fraudulent credit card information. For example, if your profile typically plays low-cost games of a certain type, and suddenly starts making high stakes bets at a poker table, then the system will recognise this as abnormal behaviour and activity on that profile can be shut down. You will be notified of this behaviour and prompted to change your security information, to prevent further tampering with your account.
Combating Addiction with Artificial Intelligence
Gambling addiction is a serious issue, there are no two ways about it. Artificial intelligence can analyse and detect patterns in behaviour and that includes addictive behavioural patterns. When these kinds of behavioural patterns are detected, the AI can alert the player, and offer the tools and necessary assistance to prevent, or help with, potential gambling addiction.
It is incredibly important that we are all aware of gambling addiction and that you prevent yourself from falling victim to it. Set yourself limits on how much you can spend, and most importantly, stick to it! There are even AI systems that are being developed specifically to assist with the prevention of gambling addiction such as PS-EDS (Player Safety Early Detection System) that imposes loss-limits and automatic timeouts to prevent players from getting carried away.
Improved Customer Service
If you've ever had an interaction with a chatbot (most likely in a customer service role on a site you've visited), you'll know that their responses are often far off the mark, useless at worst and hilarious at best. This is why most of us prefer getting in touch with an actual human on the other side of the line.
This is largely because most humans can recognise and relate to others with empathy and can respond in a way that demonstrates an awareness of the context and sensitivity to the problem being addressed. AI in online establishments will help to ensure that chatbots become more human-like and respond more accurately through continued machine learning.
The biggest impact could be the speed with which complaints and queries can be dealt with. Machine learning algorithms can analyse and interpret data at a speed and scale which humans are simply unable to match. Your gaming history, billing preferences, scores, ad responses, etc. will all be acted upon by AI. All of this information and data would then go towards how you can be better assisted with any questions or queries that you might have.
This kind of high-quality AI customer service could be upon us a lot sooner than you would imagine too. A study done by Oracle showed that 78% of brands have already put it into use or are planning to do so by 2020.
Improved Skills With Improved Opposition
If you've played an online game before, or even if you have dabbled in some online sports betting, you'll know that experience is valuable and that practice makes perfect. AI could help to improve the skills of online poker opponents and simulate the different levels of skill of the players you're likely to meet in a land-based place to broaden the skill range of online players. 
This means that online poker players can improve their skill set, while also learning a greater variety of tips and tricks along the way. This won't just improve how you play online but will ultimately improve your experience overall.
Improved Surveillance
In any industry where regulatory measures are important, there's a need for innovative, quality surveillance to keep consumers (and the business itself) safe from the wrong kind of behaviour. However, it's incredibly important in an industry like online gaming that deals with peoples' private information and finances.
As we mentioned above, AI will be able to detect cheaters as early as possible by identifying suspicious behaviour and flagging it for further investigation. It will be able to achieve this at a much faster rate than any human could do and will be able to catch out cheaters and fraudulent players before any damage is done. There are no bouncers present online, and as such, it makes sense to have undesirable people detected by computer software and AI.
The Future Prospects of AI in Online Casinos
We know that no one can accurately predict the future, and online gaming is no exception here. However, attempting to do so is always interesting. AI continues to evolve every day and make an impact in industries across the world. One thing that is certain about AI online is that a more user-friendly, personalised experience can be expected.
Now it is time for you to take what you've learned about AI and put what the AI has learned to the test. Why not try out some of the games available – our live casino games, such as live roulette, live baccarat, and live blackjack are available to you 24/7 and we have hundreds of other fun and exciting games to choose from, where you can pit yourself against players and an AI.
Grosvenor Casinos offer a live casino experience that lets you enjoy online gaming in a unique way. Our live roulette, blackjack, poker and the endless variety of other games give you the same entertainment value as a land-based establishment, but without ever having to leave your home.
Register with us today and play games online, with a company that is dedicated to innovative methods that will improve your experience and safety online. We can't wait to see what the future has in store for our industry.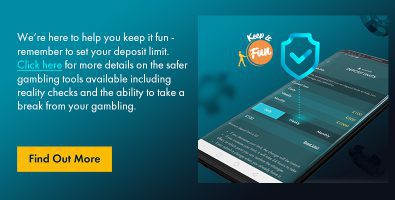 Comments
comments