Saying that the house always wins couldn't be less true to anyone who has actually won a massive payout at an online casino. For the rest of us, it still holds true. But as the popularity of online gambling increases, so do the options for players with regards to where and what to play.
As technology improves and more online casinos become available, players are given a growing number of games and betting sites to choose from. This means that there are more innovative and entertaining ways to play your game of choice, such as at online live casinos. While the games and experience are becoming more interesting and appealing to players, all they really want is to win. Everybody dreams of logging in, finding their favourite game and instantly hitting the jackpot and winning big. For some of us, that day is yet to come, but for a few other players, the wait is over.
Nothing is more attractive to a player hunting their first win than discovering the site a recent winner was using. There is an almost inspiring quality to finding out someone has won somewhere, and the immediate urge to go and be the next big winner. Here we mention some of the biggest wins in UK history.
Mega Moolah
As one of the most popular games at any gambling destination that has stock of Microgaming software, Mega Moolah is one of the biggest payout games in the world. Mega Moolah has paid out plenty in the past, and its reputation holds up by boasting the Guinness World Record title for the largest jackpot payout of all time in 2015 – €17, 879, 645 (a little over £15 million) to be exact.  
Mega Moolah didn't stop paying out there, and it has become more and more popular as a result. In 2019 this magical machine of dreams paid out two more lucky players with life-changing amounts of money totalling over $13 million (£11.5 million). In March 2019 a lucky player made his bet at the 5 reels and 20 paylines of the Mega Moolah Slot and walked away with €11, 546, 000 (approximately £9.7 million). This payout stands as the 4th largest payout from a casino win ever.  If that wasn't enough to get the punters streaming in through the doors, the very next day the magical dream machine paid out again! This time the payout was not as impressive, but still life-changing no doubt, at €2, 201, 000 (a little under £1.85 million).
Mega Fortune Dreams
NetEnt is next to enter the books of big wins – known for their inclusion of multi-million-Euro jackpots in their games and having paid out plenty to punters in the past. In 2019 this machine paid out its biggest jackpot ever to a 65-year-old woman. She had been playing her usual couple rounds of four-Euro stakes in Betsson Casino until she decided to go over to one of her absolute favourites – the Mega Fortune – where one round of play, at the same stake, earned her a jackpot.
Just a few days before that the Mega Fortune made another dream come true with a payout of €3 million (£2.5 million) at another establishment. It is no surprise then that the Mega Fortune has increased its popularity rating (which was already putting up impressive numbers to begin with) due to these massive payouts. This machine finds itself in the classic set of releases by NetEnt and there are a number of bonuses to be exploited other than the progressive jackpot. Free spins, re-spins, multipliers, and triple jackpot features all make this a solid favourite among most gamblers.
Joker Millions
Not yet a household name, Yggdrasil Gaming is a likely contender to walk among the payout gods that are Microgaming, NetEnt, and Playtech. Yggdrasil is an online gaming software provider and one of the biggest features that make their games so popular is the amount of progressive jackpot wins. Joker Millions makes the top of the list when it comes to pooled jackpots provided by Yggdrasil, and it is fast becoming a staple favourite of most gamblers.
During the Easter holidays in 2019, this machine gifted one lucky player a jackpot of €3.1 million (£2.6 million). What makes this win even more remarkable is that the player used a mere €1.25 (a little over a Pound) when playing the winning round.
In 2015 Joker Millions made it to the online market and has since racked up some pretty big numbers when it comes to big wins. The machine features cartoon-like and 3-dimensional characters that sit on the 5 by 3-reel layout, which is incredibly similar to traditional sets such as oranges, plums, bells, and sevens. The biggest win to come from this set was €7.8 million (£6.5 million) which it paid out at the end of 2018.
Azrabah Wishe
It is quite often the case that slot games are centred around a theme or concept that is then brought through in the graphics of the game itself. Azrabah Wishes is one of these themed slots games, except it is known to payout to reflect the wealth and gold established in the Arabic theme by GameArt.
Azrabah Wishes is elaborate and overboard with its displays of wealth and fortune over the 5 reels and 3 rows. From the golden pillars that stand either side of the game and the royal purple caret that frames the reels – the game does catch your eye. But what tends to catch the eye of the punters more than the graphics is the massive progressive jackpot.
When the game most recently paid out the set had been incredibly giving in the week of the payout and one lucky player managed to walk away with £752,450. The winning doesn't stop there for this lucky player as within a week of his initial win he managed to hit a win again. This time around though he collected £1.85 million (more than double the initial win!) and with the no-limit withdrawals at the casino, he was able to claim his prize as soon as it hit.
The Biggest Poker Po
Tournament Poker is one of the most popular and exciting events in the world. Every single move, every fold, every bet and every bluff are watched by players and fans with meticulous detail and analytical fervour. The Goliath Poker Tournament at Grosvenor Casinos is one of the fastest-growing in the world and the number of attendees has rapidly increased since it was started in 2011.
Online poker is also notorious for big pots and huge wins, one of the most notable came from the Triton London – A Helping Hand for Charity tournament. With a buy-in of over £1.05 million, (the highest ever poker buy-in) and £50,000 of each buy-in being donated to charity, the tournament prize pool peaked at a staggering £54 million.
In 2019, the final round to see who would take home the winnings was between two players – Aaron Zang, a Chinese businessman, and the professional poker player Bryn Kenney. The winner of the tournament, in the end, was Aaron Zang who took home a massive prize of £13.7 million. Bryn Kenney, however, had managed to amass more chips throughout the tournament than Zang and took home the slightly more impressive prize of £16.9 million. Despite having come in second at the tournament, Bryn Kenney stands as the player who received the biggest ever prize awarded to a poker player at a tournament.
Are you still waiting for your big payout? If so, then why not try your luck at the myriad of games available at Grosvenor Casinos? With a wide range of games including tons of slots games, poker, blackjack, roulette, and our online live casino games, you might just stand your best chance of winning with us.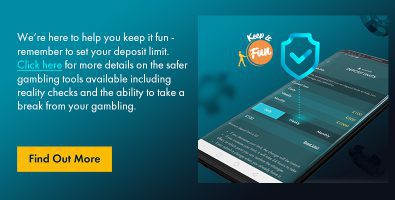 Comments
comments