Grosvenor Casino is a sleek and sophisticated entertainment platform, designed for novices and professionals alike. Replicating the live gaming experience, Grosvenor ticks all the boxes for budgets, taste and authenticity. Why not sign up online and get on board with our superb selection of games today?
Step 1: Visit the Grosvenor Casinos homepage and click on the yellow 'Sign up' button in the top right-hand corner.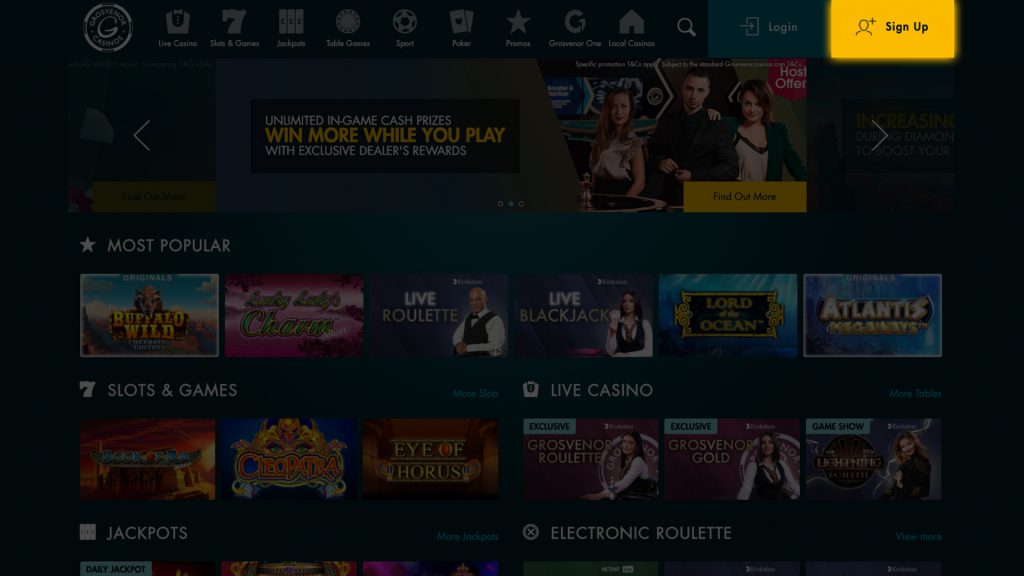 Step 2: Click 'Yes' in response to the question 'New to Grosvenor Casinos'? Enter your email address and tick the box that asks you to confirm that you're over 18 years old.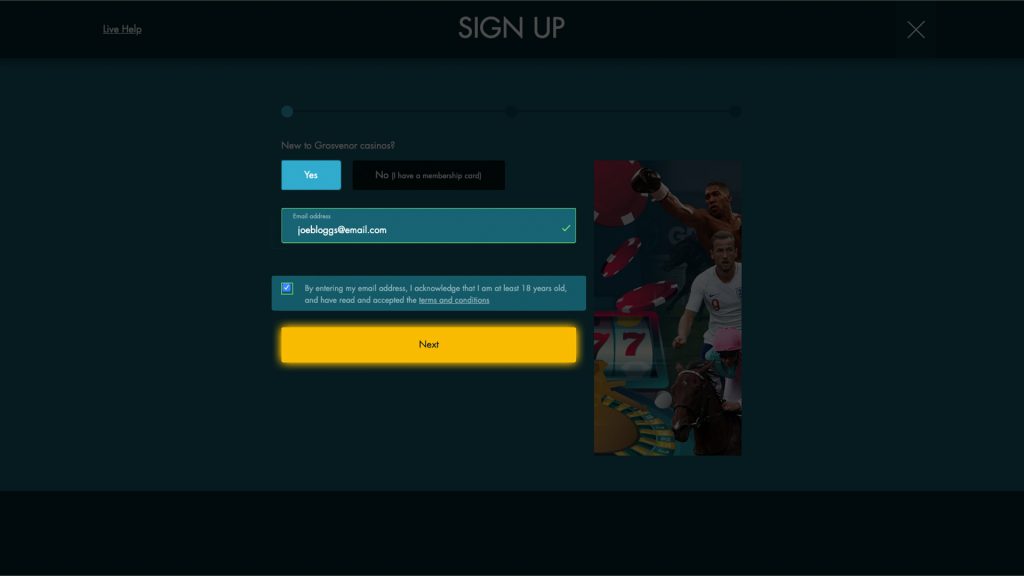 Step 3: On the next page, a form will appear for you to complete, as per the screenshot below. You can set up a deposit limit if you like – handy for keeping an eye on your spending. Once you've filled in your address, phone number, date of birth details, and created a username and password, click the yellow 'Register' button at the bottom of the page.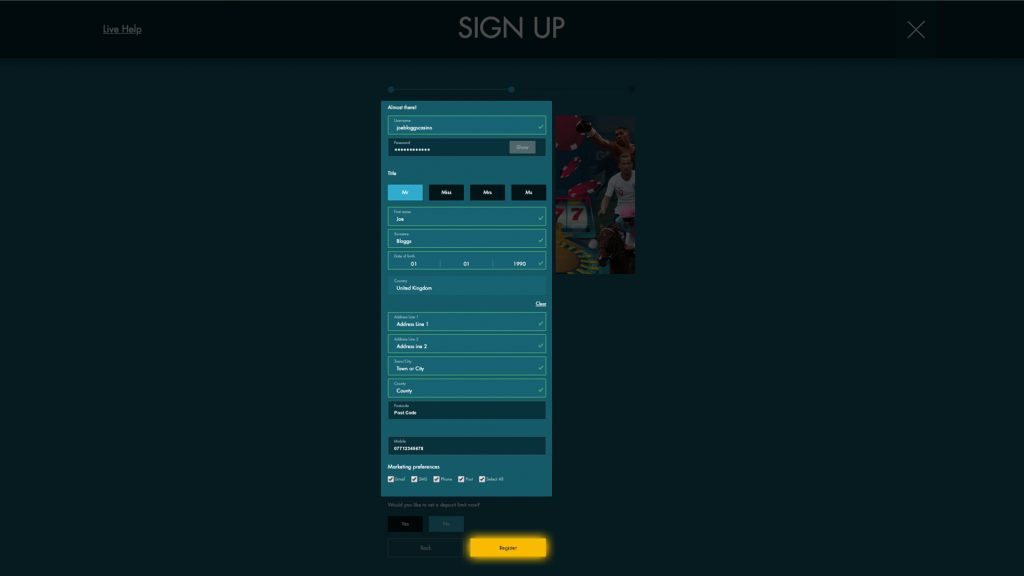 Step 4: On the next page, you'll be asked if you'd like to join today and take advantage of the £20 welcome bonus. Click 'Yes please' or 'No thanks'. At this point, you will have to read and accept the Protection of Customer Funds disclaimer before being able to continue.
You can then proceed and click the yellow 'Next' button.
Step 5: You can choose to deposit funds if you wish, but this is not essential. You are welcome to create an account without depositing so you can have a good look around our amazing platform. We even have plenty of free games that you can play. If you do wish to deposit funds however, make sure you are signed in (top right-hand corner), click on the yellow button marked 'Deposit'.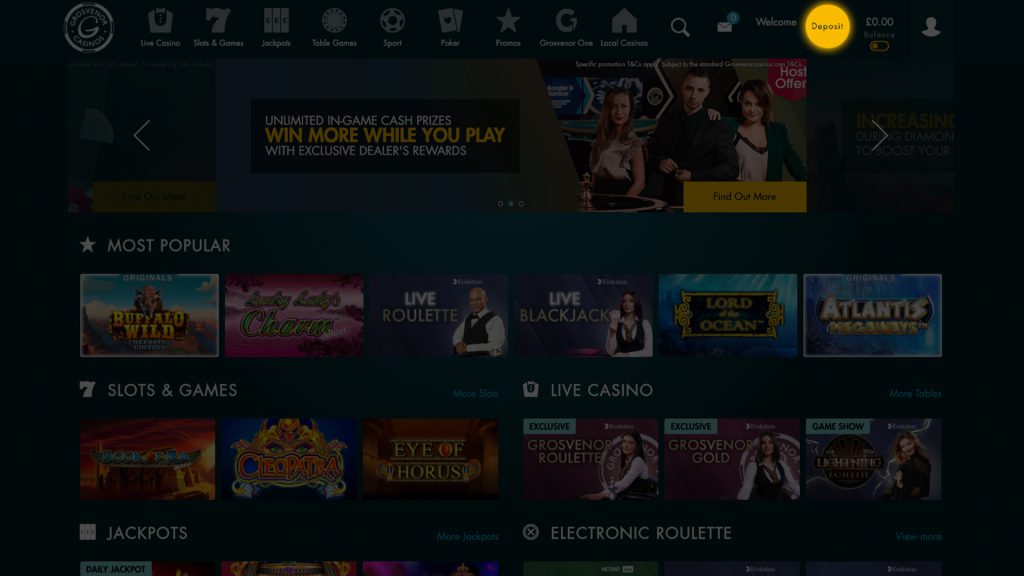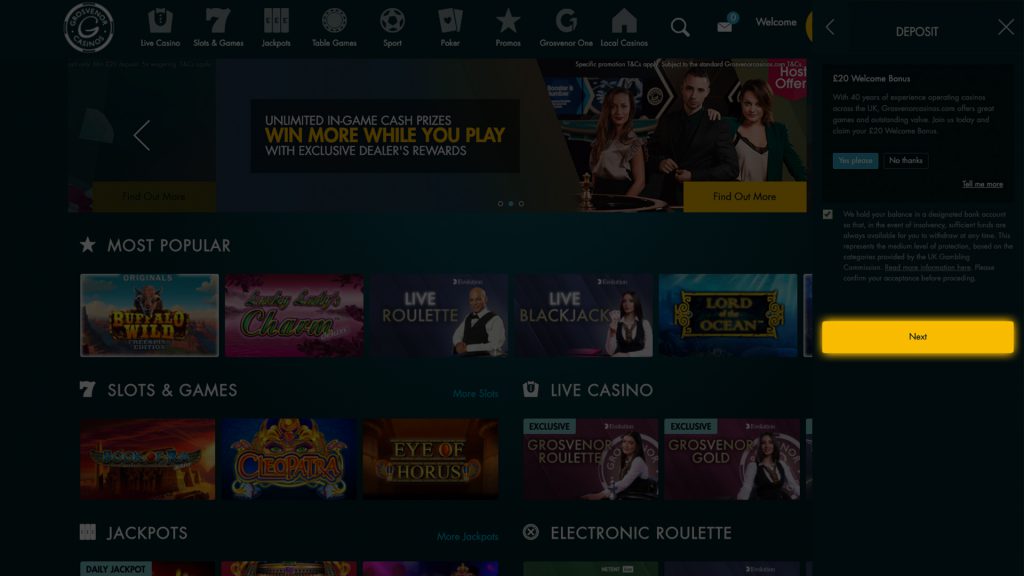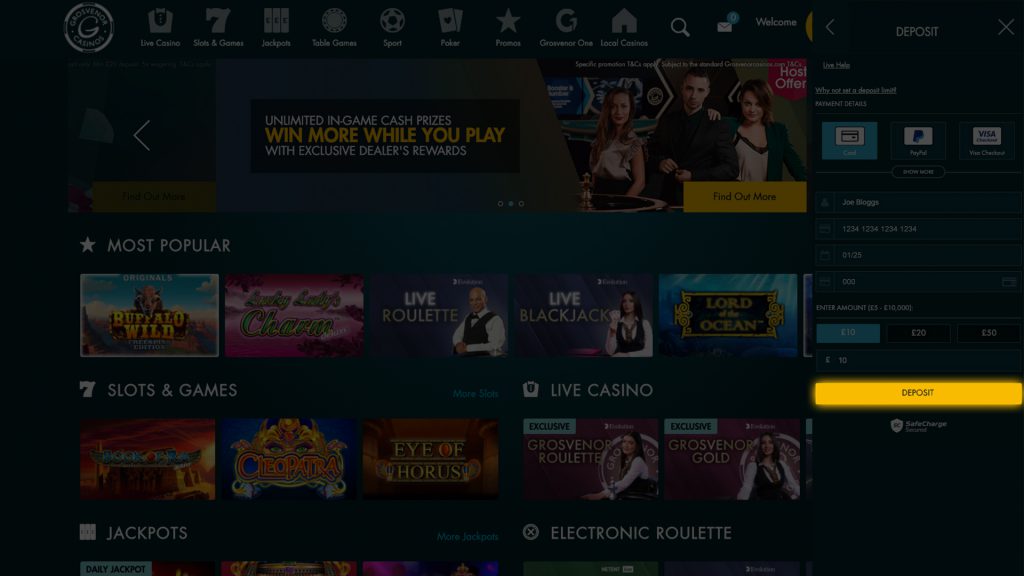 Don't forget, If you'd like to know more about our approach to responsible play online, there's loads of great stuff to read and watch over at Keep it Fun – our dedicated website packed full of resources and info to help you. Or, you can go to your account preferences, then click the 'Responsible Gaming' tab to get more info, set your limits, take a break and more – it's all there. You can also find out more information about this on our blog.
Step 6: Once you've funded your account, a 'Success' message will pop up and you can then 'Close' this window to continue.
Step 7: You'll then be redirected to the homepage, where you can check your balance and account details before playing. Welcome to the world of Grosvenor Casinos!
Love the footie? Give our sports betting events a whirl. Fan of the casino experience? You'll be in awe of our range of live casino games, such as Live Classic Roulette There are also plenty of slot games to take a spin on, for the chance of exciting rewards!
We're here to help you keep it fun – remember to set your deposit limit. Click here for more details on the safer gambling tools available including reality checks and the ability to take a break from your gaming.
Share your thoughts
What are you most looking forward to about playing Grosvenor Casinos online? Tell us in the comments section, below.
Comments
comments