At Grosvenor Casinos, we've been very much thinking inside the box instead of outside it for new ways for you to win amazing prizes. So, say hello to the Mystery Box Prize Draw, where you could win one of the £10,000 worth of prizes we've got hiding in (virtual) boxes.
There are chances to win cash prizes, big bonuses and free spins, but the exciting part is that you won't know what you've won until the prize draw on the Monday after the week you've entered. We'll send you a special code to enter and then you can find out what exciting rewards are waiting for you inside your box.
You can join in on the fun for 2 weeks from the 17th August until the 30th with the codes being sent out on the Monday of that week. Every £50 you stake on Grosvenor Slots or Live Casino games before the 30th August will gain you one entry into the draw – but you could win up to £500 cash!
What can I win?
In short: box-loads of prizes! There's a huge £10,000 of prizes in boxes just waiting to be opened, and you could win cash prizes of up to £500, bonuses of up to £500 and we've also got loads of packs of 10 free spins to give away to play online.
How do I play?
If you're not a Grosvenor Casinos player already, then you can sign up in just a few minutes. If you are, then opt in, stake £50 on any slots or Live Casino games and you'll be rewarded with one entry into the prize draw. Then after this, every £50 stake will get you one more entry. If you've won the chance to open a box, you'll be sent a special code on the Monday after which you can enter to find out which of our amazing prizes are inside your box.
Are you ready to see what prizes are waiting for you?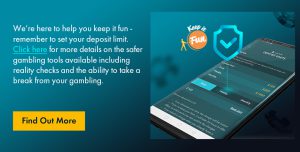 Comments
comments