I believe I'm a busy lady, juggling family life and a business alongside my poker, but WOW! What the Grosvenor team achieved during the week of Goliath was something exceptional! Not just because they broke their own record for the World's largest live tournament outside of Las Vegas (reaching 6385 entrants), but because of how sleek the set up was. How many side events and cash games they hosted so smoothly, plus the electric atmosphere they generated around the arena.
Being a tiny part of that Grosvenor team this year during the event was truly eye opening. As with any business, it's the behind the scenes planning and work that drives the operation forward to delivering real success. Goliath 2017 was certainly a huge success and with planning already underway for Goliath 2018, I have no doubt that it will be just as successful too.
Now the lights have dimmed and the buzz has gone I can look back on what was by far the best staged Goliath to date and look forward to the upcoming national Grosvenor Summer Sizzler event this week to ease the Goliath blues.
A roller-coaster start to the 25/50
Any good poker player will know you need to make adjustments and always remain calm, this was put to an early test for me at the very start of the Goliath week when my plans were changed and I found myself joining late registration for the Thursday flight of the 25/50, after originally planning to play the Friday flight.
A five hour car journey to the Ricoh was probably not the best preparation for this competition, but I settled down and started to chip away. Typically, I set myself a target of four times the starting stack as a goal for my day 2 stack in most events and that was certainly my thought process with this one.
After losing a big pot, blind on blind, in the penultimate level I found myself back to starting stack. If there is one element of my game that has had the most practice, it's short stack play! So I set to work and with the blinds and antes high, I managed to scoop a few consecutive pots to start the rebuild.
During the last level, I had a flurry of lovely hands, won some big pots and knocked several players out, I found myself in new territory of not being able to stack the chips quick enough before winning pot after pot! Finally the last hand was played out and the bags were distributed. In that last half hour I had turned my 25k start into 221k and went through to day 2, which would restart on the Sunday, as one of the top dozen or so stacks. I would now be able to focus on the monster field Goliath, as I wouldn't return for day 2 till Sunday.
So close but yet so far – Goliath Day 1
Finally it was Saturday and Goliath main event was here! I had committed to the first three or four hours commentary session with my good pal and fellow Grosvenor sponsored pro, Jeff Kimber. We were more than happy to kick start the event and always have such a giggle together too, the time flew by and before we knew it we were taking our seats just before late registration closed.
Joining my first table I could see some players had at least doubled their initial 25k starting stacks. Unfazed , I set to work figuring out the table, took down a couple of over inflated pots and soon had over 40k. Throughout the day I was moved tables five times and was pretty card dead, which was difficult. At the end of the 16 levels, I found myself on the table with the three chip leaders and noted that my stack of 94k appeared significantly small compared to the 600k-700k of those opposing stacks. With the last hand of play looming, I decided to go for a double up with Ah4h.
My all in was called by a new guy to the table who shared my thought process with his 97k stack. His pocket 99 held and I found myself eliminated with one hand to play on that first day of Goliath. I knew there would be other opportunities for me to play in another flight during the week, whilst juggling commentary duties and possibly some side events, so I wasn't fretting over my decision.
Crazy tables and huge pots – 25/50 Day 2
When 2pm arrived on the Sunday I felt ready and confident to tackle the final day of the 25/50 event. It had created a prizepool of over £120,000 with over 600 players. I found myself on a table with some decent players and was pleased to be greeted by the beautiful friendly face of Sylvia Hewitt, who found herself in a very tricky spot from the get go when she started the first hand with an early position raise.
When it folded round and I folded my small blind, she open showed pocket 10s, believing I had passed the big blind and not realising there was action still pending from the guy to my left, who in fact was the big blind. After a ruling and several minutes of thought, he moved his short stack all in, Sylvia reluctantly called and faced the bad news that he had pocket Kings, which held. It ended up being a defining start to our table, he became very active and was in the worst position possible against me on the table.
In addition, I had another thorn in my side, with a player called Chris to my immediate right who was very loose and aggressive, opening a wide range of hands and proving to continue playing them with force across every street and round of betting. He had started the day with a decent stack, but it soon was yo-yoing rapidly with each orbit. He wasn't afraid to make big bets and bluffs, but had rarely been seen to call off big bets or all ins without a genuine hand.
With this knowledge, I decided to basically set him all in when he min-raised from the button and I found A4suited. I felt it was a standard button steal and didn't think he would call off the rest of his stack and tournament life with a marginal hand, especially as I hadn't made any moves from my blinds and had sat snug for quite a while, so it would look stronger than the ace rag I was actually holding. Unfortunately he did put the rest of his stack in with K3 off and proceeded to hit both cards on the flop to make two pair, leaving me drawing pretty thin! I lost a chunk of my chips, but still had plenty to work with and was comfortably above average.
I patiently waited for an opportunity to get involved, seizing it in my small blind a few levels later. However, I annoyingly made a bad lay down on the turn, after deceptively peeling with AJ pre and being presented an ace high rainbow flop. My plan to check raise fell flat when the action checked round behind.
The board paired with another 8 on the turn, which initially didn't concern me, but when by bet was quickly raised by the original utg raiser and then Chris, on the button decided to move all in, I faced a mild dilemma. I decided to pass, utg quickly called, showing me the bad news that I had them crushed when they both revealed A9 off and chopped the pot. That pot alone would have propelled me to chip leader, with close to a million chips when the average was closer to 300k. More importantly I would have knocked out a dangerous player, but at least it showed me how loose and aggressive my table was playing.
It seemed there was a lack of consideration to kicker values, pot odds, stack sizes, position, or any of the other keys factors during hands. It's hard to not fall into the quicksand trap of playing loose when the majority of the table appear to be, but I was always advised to typically buck the trend of the table and do the opposite style of play, so in this case to be more conservative. I wish I had remembered that! After several table breaks in quick succession, we gained a regular player on the GUKPT circuit, Will Davies, who set to work raising early position.
Finding Q9 on the button I decided to call with a plan to take the pot down post flop. Both blinds came along for the ride and the Queen high flop appeared perfect for me once the blinds checked and Will made a standard continuation bet, I raised only to be shoved on by the small blind. My downfall, which was to prove a trend during Goliath, was to look at the clock screen, see I would be left massively under average if I pass, and thus convince myself to go against my gut feeling and call off my stack with a weak hand. In this case I had walked into a set of 4s, which had I have 3 bet and isolated Will pre, may not have been in the hand. Instead I cashed out in a disappointing 39th place and was sent to the booth to be scolded for worrying about the average chip count statistic by Jeff, another trend that was about to form part of my Goliath 2017 trip!
'All In' the family
Taking a day off from playing poker on the Monday, I settled in for a heavy all day session in the commentary booth. I've always enjoyed watching the GUKPT live stream anyway, it's a very useful learning tool for poker as you can see all hole cards and information for every single hand, rather than just highlights. The table of players featured changes every 2 hours, so you can absorb lots of key information, reads, bet sizing, different dynamics, hand ranges, etc and watch how each one is played out to conclusion.
The beauty of poker is that everyone plays differently, no two hands are ever the same, players, position, blind levels, stack size and all other elements are fluid and constantly changing. Viewing the live stream and listening to other players views and commentary is such a valuable piece of education, I was determined to try to expand my own knowledge whilst doing this task. A few hours in I found myself commentating on my Mum's play. She was pretty card dead throughout her session and when she finally did get half a hand, A10, she was out of position and didn't connect with the board at all, but managed to run a big bluff with it, which made all of us in the booth explode with excitement and pride. She is no stranger to making disciplined folds too, which she proved when she correctly passed pre flop AQ, the best hand she had seen all session! It was fabulous to see her play so well and ultimately she managed to secure her place in day two by doing so.
Kassouf's at it again
So Tuesday arrived and again I started the day in the booth, and then late regged Goliath where I found myself on the freshly signed member of team Grosvenor, Will Kassouf's table, who was as chirpy as ever with his "banter", building his stack and playing well accompanied nicely with getting more than a bit lucky by calling two all ins with 8 high, securing a double elimination when he hit on the turn! I, on the other hand, struggled to get anything going.
Although I was to the left of Will, it was difficult to enter a pot, as it had always been at least 3 bet by Will before it got to me. In one full level we managed to only get 8 hands in, this coupled with the fact I was completely card dead meant that I was significantly short stacked. I had managed to 4 bet Will early on and continued on the flop where Will surrendered. The only other hand I played was just before our table broke, I was down to 20k and decided to open ship over the top of a raise with AK, which held against a weaker ace and a full double up was achieved at the perfect moment to move to my new table.
After swiftly profiling my new table, I made a few successful moves with air and was gaining momentum, until a critical hand dented my stack several levels later. I was in the big blind with AJ and when it folded round, the small blind decided to limp from his fairly short stack. Knowing the value of my hand was way above his limp range pre flop from his short stack, I set him all in, which he decided to quickly call off with 9 high and proceed to hit a 9 with the board run out. It was another unfortunate blind on blind hand. It was starting to feel that I was damned if I raised and damned if I didn't in these scenarios! I eventually bust, again during one of the last levels, losing with JJ into AQ and then getting the remainder of my medium stack in with AK and being called by QQ, which held and sent me to the rail.
Running hot, or not
Armed with new tactics to play from the start and to be more active early on, I sat down next to Jon Young, the Editor of Bluff Europe magazine on Wednesday and was pleased to strike up friendly conversation with him and the rest of my table. However, my planned thought process was short lived when I bust by flopping two pair with K10 and getting it in against the KJ of the other lady at the table, who counterfeit me on the turn when she hit higher two pair. Being early still, I jumped back in and found myself immediately on the feature table after a short break. I was straight into the action with pocket 10s, but the blind played back very well and I later found I had made the incorrect pass on the turn to his raise when he only held 66.
With no previous knowledge of any of the players or the table dynamics it would have been very tough to continue with my hand in that spot. I moved on and chipped away nicely for the rest of the session, especially when I hit a full house with A2 and when I played a hand slightly unconventional from my button. I raised with pocket 66s and both blinds joined me to a flop, which came 783. I decided to check behind. This flop had possibly hit both their blind ranges and I didn't think they would consider me holding a pocket pair. I also had backdoor draw potentials and could maybe make a better play on the turn after seeing their action. When the king fell and the big blind led out I felt that card was more likely to hit my range than his, especially given that I had checked the flop, so I decided to attempt to steal the pot here with a raise, which he called. I knew the river would define the pot, whether I would run a huge bluff or give up depending on which card was dealt. Luckily for me I binked my bingo two outer card, a 6, to give me a set, against his well disguised flopped 2 pair, was paid off and scooped a chunky pot. The run good ended after that hand. Being back at the outer table, I ran JJ into QQ and then again was eliminated holding AK.
A wild final shot at the Goliath
Determined not to have to play what was due to be a manic last flight on the Friday, I registered for a final shot on Thursday, knowing I needed to spin up a healthy stack in order to be a bounty in the Jokers Wild side event that was due to start on the dinner break of Goliath. With a stack of 90k in Goliath, I left early for dinner and knew i could afford a level or so after to be blinded away, not ideal, but necessary.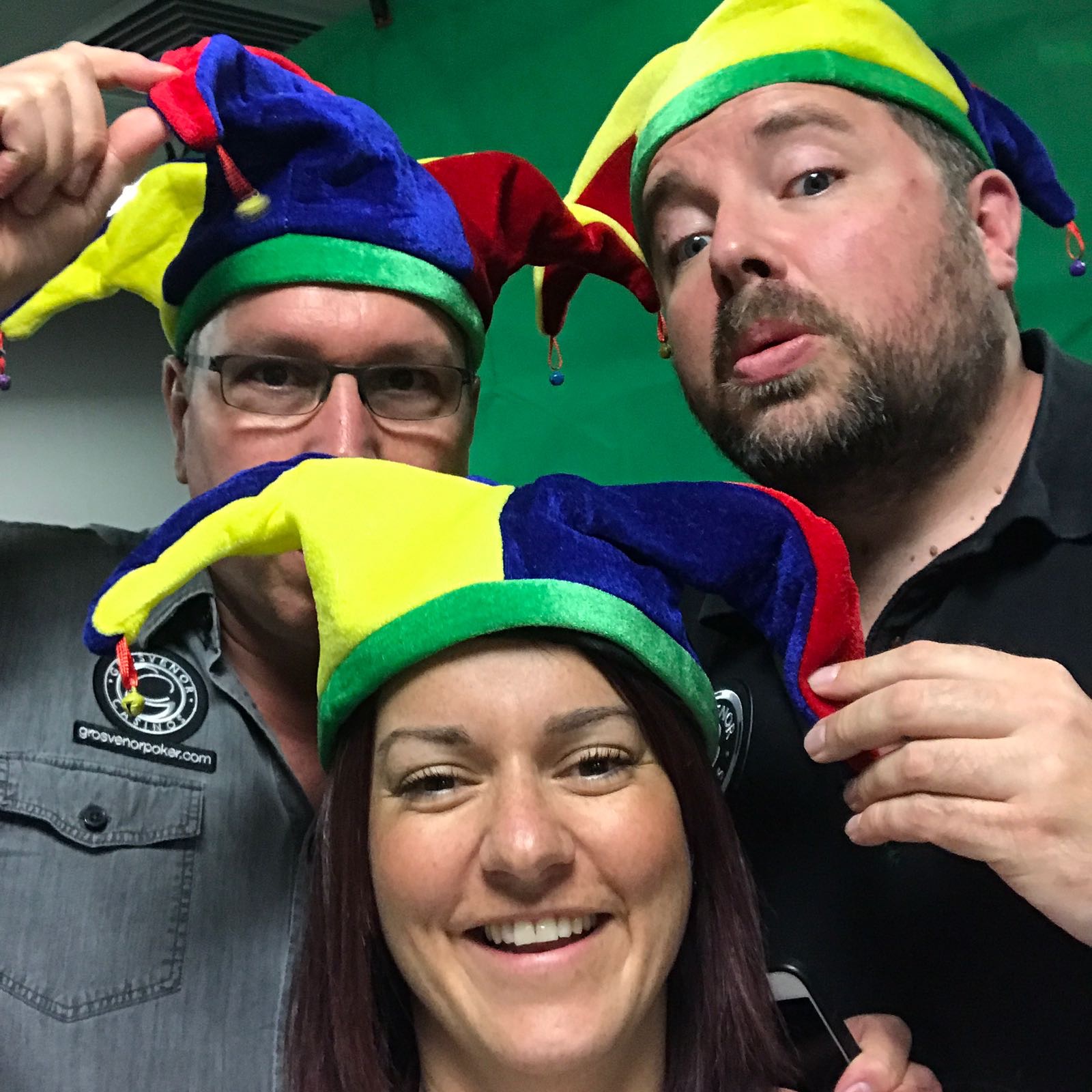 Jester hat in place and excitement in the air, I randomly selected my bounty and joined the Grosvenor team of jokers, Jeff, Joe, Tom and Will, to enter the large side hall for the best side event of the week, Jokers Wild. Grosvenorpoker.com award £2000 in additional prizes to this much anticipated event, half in the high hand honey pot, where 20 players get £50 each credited to their accounts when they hit quads or better, which isn't as hard as it sounds when you're playing with a joker in the deck. There are also 5 random bounty prizes if you eliminate one of the chosen pros. This year I was the first eliminated, almost two hours in and one hand before having to move to a new table, my prize being worth a Summer Sizzler seat, worth £110, which is due to start in Grosvenor casinos nationwide this bank holiday weekend.
Racing back to join Goliath, I could see I had lost in the region of 10k and in my absence during the level I missed, the table had lost a few short stacks and gained a couple of new players, I felt fine and was comfortably above average. Players were falling pretty fast in the latter levels, as they had been all week. I was rivered for a huge pot late on, where I held A10cc on a board of AJx with two clubs, but when the river brought an offsuit king, my opponent hit two pair with his KJ. Eventually I bagged up 152k and was through to day two!
No small feat
Before much time for rest it was Friday and the whole Grosvenor team were mega busy with the final qualifying day and I was set for a solid day commentating. There was a real heightened buzz in the room with everyone desperately wanting to qualify for day two. There were so many comps on the whole week it was insane.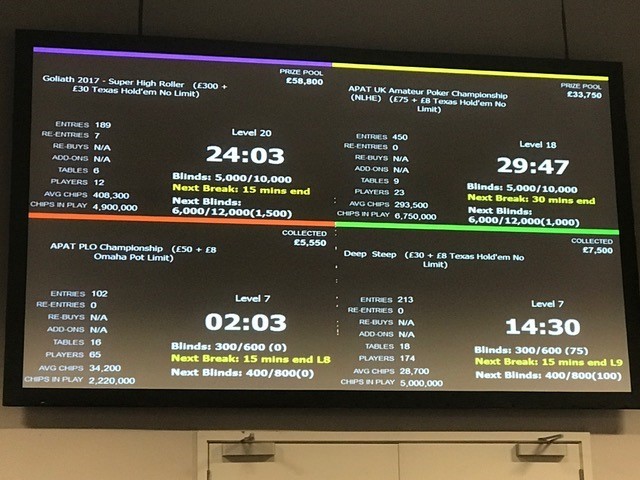 It was lovely to be able to relax in the booth for the day with the knowledge that three of us Grosvenor Sponsored players were through, all with playable stacks and I had the extra comfort that my Mum, Dad and husband were all through too! Behind the scenes the media team do such a cracking job, updating the blog, investigating player chip counts, managing the photography, creating videos, running the social media aspect, interviewing, commentating, centre stage feature table set up, as well as ensuring all the production and live stream technicalities operate smoothly. It's certainly no mean feat, but the value it adds and the atmosphere it creates is unbelievably good. Seeing the hard work, effort and energy out in and being a small slither of it was fantastic this year.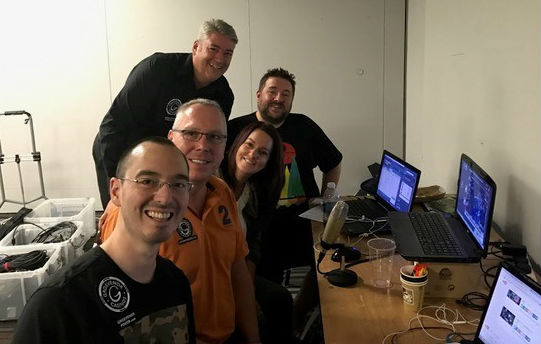 Kicking off Goliath Day 2 with style
Really wanting to maintain my 100% record of cashes at Goliath, but ultimately wanting to beat my 2015 runner up finish, I did some early morning research on Saturday, finding my seat draw, noting stack sizes and any key player information I could find that might prove golden at some point during play. I arrived early to avoid queues and be able to settle, especially as there was to be a big special announcement to organise. My Mum and Dad, Sue and Kevin O'Connor, were due to celebrate their Ruby Wedding Anniversary the following day. Grosvenor are always so player friendly and welcomed the idea of incorporating a surprise for them. Ian Bryan opened the day by wishing them congratulations and welcoming them to be guest gongers to commence play for day two. The room erupted into applause, which I absorbed with utter pride and adoration whilst I watched, the most wonderful couple, dance their way up to the gong. That brief moment that summed up not just the Goliath, but so much of life in general. Follow your heart, be happy, smile, remain positive, work hard and always believe every dream is possible.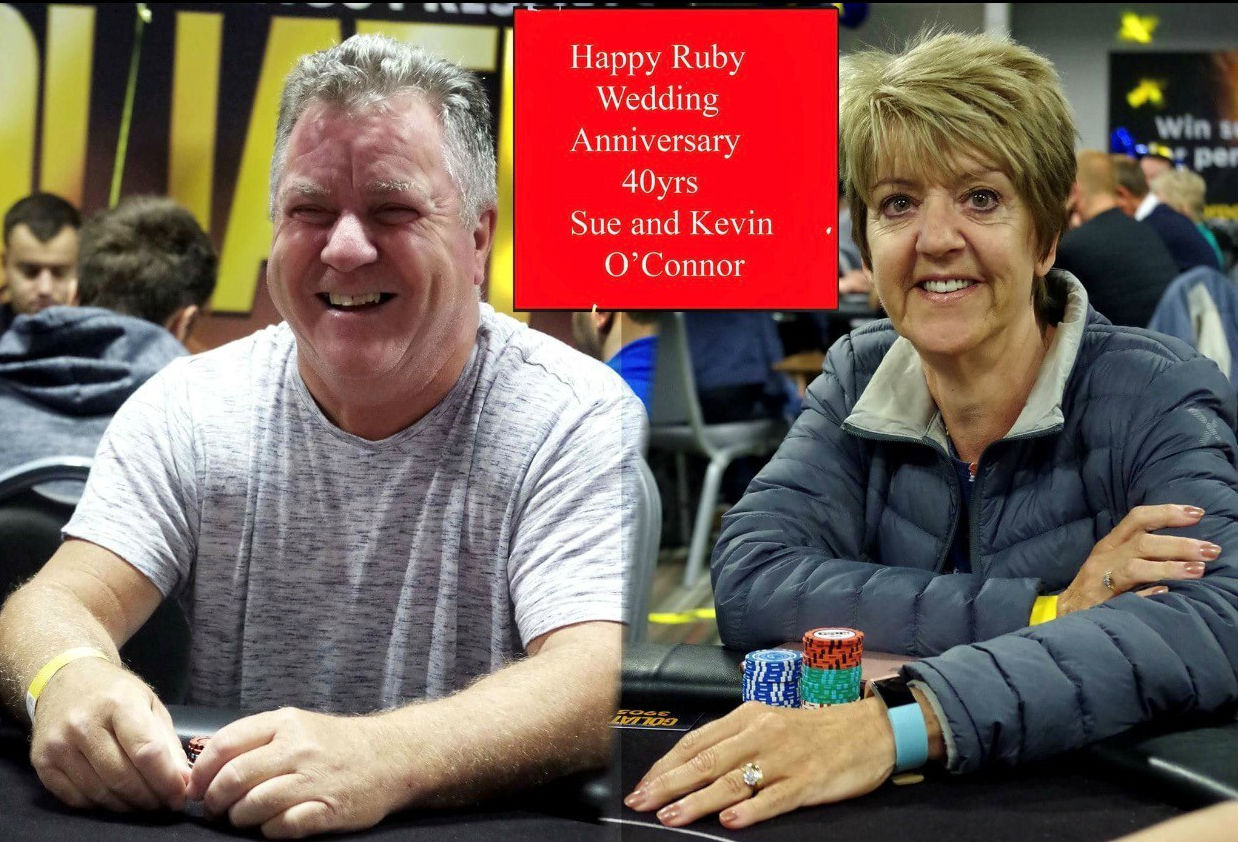 I missed the very first hand, and proceeded to remain quiet early on for the first level, whilst the room was being whittled from over 900 players that returned towards to bubble, with 682 being paid. At the start of the second level, a nervous player decided to open early position to 15k, from a stack of about 120k. I flatted in mid-late position with AQo, the button also came along for the ride and Rory Cartwright pumped it up to 50k from the small blind from his 170k stack. (blinds were 3k/6k/ante500k.)
I instantly felt that I could win this pot if I could dig deep. The original raiser reluctantly folded, I felt possibly a similar hand to myself. I knew I could never flat call, but knew a 4 bet now would look incredibly strong and against a player as good as Rory I knew he would be able to make a good lay down, considering we were early in the day and with the bubble fast approaching. I had dismissed the player on the button ever calling as he had already touched his cards and looked thoroughly disinterested once Rory had made it 50k. With this information, I promptly announced all in and put Rory to a big decision.
I looked down at the table as I always do and was pleased to see Rory open fold pocket Jacks after a few minutes of consideration. I stacked up my new found wealth with satisfaction and knew I was here to play and go for it. Timing is everything in poker. I had won that hand without exposing my cards, but the table had managed to convince themselves that I had pocket aces. I was happy to let them discuss it and draw their own conclusions. Especially when during the next orbit I actually picked up pocket aces, 3 bet the big stack at the table, Dan Frankcom and delighted when he shoved , effectively putting me all in, which obviously snap called. He was gutted to see his AK fail to hit a miracle against my aces and his stack was halved as he doubled mine up.
I was now in a pretty decent position with the bubble looming. Several players had to be eliminated before we were officially on the bubble, and this took over a level, which surely must be a record for Goliath! With so many tables playing (68), that technically there could be multiple all ins and eliminations during any one hand. So hand for hand play enables an element of fair play. There was a lot of delay and I think we managed to only play 4 or 5 hands during that level, it was worse than being on Kassouf's table! Haha! The blinds were paused at the end of that level whilst the bubble finally was eliminated very cruelly with the player at risk hitting a set of JJs on the river however it completed the other players straight with his AQ.
We're in the money!
Carnage quickly commenced, as the short stacks collided around the room and happily gambled now they were assured of their min cash. My table broke and I was drawn to the very next table in sequence, but situated diagonally across the room, as I arrived was also being broken! So I redrew again and was put on table 1, where I was kindly greeted by my friend and fellow Grosvenor sponsored pro, Joe Beevers. I could instantly see it was going to be a tough table as I acknowledged the very good player Guy Taylor, and his mountain of chips stacked in 50 high towers! I also spotted 2 other vacant seats at the table, so was aware there had been quite a lot of action and change at this table fairly recently.
It certainly appeared Guy had been on the better end of that action. I was to see this trend continue for a while, with Guy raising continually. When I picked up pocket JJ, I re raised back and he found the easy fold with his pocket 55s. A few hands later, just before the break I witnessed a hand where Guy made a massive call for chunks of chips, calling Wendy's all in. She had pocket 1010 against the two over cards that Guy held, QJ off. The gross board run out meant Guy hit a queen on the flop and rivered two pair , which actually completed a straight for Wendy, much to her delight, and secretively mine too! Guy Taylor is an accomplished player and really doesn't need to be given extra ammunition in the form of a monster stack!
We found ourselves seated on the feature table after the break and it was instantly downhill for me. A shorted stack moved all in utg with Ace 10 off, looking down at pocket QQ obviously I was all in too. I later saw that a 10 had been passed, but the 10 high flop brought extra hope and the case 10 was dealt on the turn to pretty much guarantee the double up for him. Sometimes your cards just dictate your play and there wasn't anything I could do in that spot.
With over 30k in the middle in blinds and antes, I knew that if I set to work instantly I could recover what I had lost before too long. Although I was only dealt Q10o the very next hand, and out of position, I knew the players in the blind were unlikely to defend light, and the guys in late position would respect my raise too, so I felt it right to make a small raise, which was enough to take that pot.
As if by magic my determination was rewarded and I was then dealt pocket Kings. Knowing the table wouldn't roll over and accept yet another raise from me, especially Guy who was now in the big blind, I made the exact same raise, 27k. It folded round and the small blind, who I later found held AK, decided to flat call. Guy announced all in, I checked back my hand and moved my stack forward too for less. Whether it was me checking back my hand, or the speed at which I responded to shipping my stack confidently all in, I'm not sure, but the small blind made the very disciplined fold of his AK, leaving me and Guy heads up, him holding 1010 against my KK. All I needed to do was to avoid a 10 again! This time the board ran out clean and I got a full double up back to around 400k and what's more I had hit the big stack and what I believed to be the most dangerous player at the table.
Unfortunately the feeling of elation was superseded with regret when I played a hand poorly, again in a blind on blind set up. I raised with A4cc only to find the bb shove all in, for about 300k. I had seen him make this all in move from the blind, against me before with much weaker hands. I weighed up my options of folding, leaving myself under average (I can hear Jeff telling me off as I'm writing this!) or going for the opportunity to potentially set myself apart from my table and play with a huge stack, unfortunately I chose that option. I also felt that because I almost just moved in myself, rather than opting for just a raise, I thought I should call.
I was totally wrong and instantly wished I hadn't looked round at the screen and gone with that hand. Perhaps if I had taken another half a minute, I would have made the fold. I cut my chances of a deep run severely short as my A4cc was massively dominated by his AJ and I got my remaining 4 or 5 bb in the very next hand with A5hh against another AJ and was eliminated in 372nd place. My Dad had the best result in my family, finishing 88th out of the 6385 record breaking entrants.
Watching the final on the Sunday with most of the Grosvenor team in the commentary booth, was very good.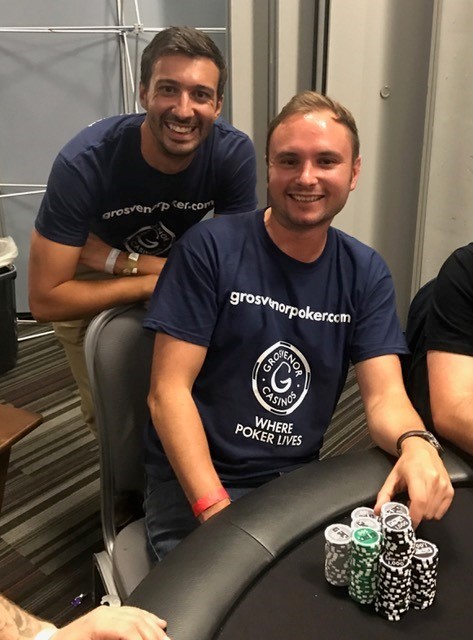 The final was played out on the spectacular centre stage feature table with the raised platform and surrounded by observers on the rail area as well as 4 other side event competitions in progress around the room, creating a real buzz. It was by far the best final day I had witnessed on a Grosvenor event. Eventually Elliott Marais took down the top spot and over £85k. Runner up Tai Hoang and third place finisher Levan Reid both played exceptionally well and were unlucky the cards didn't fall in their favour on this occasion. Huge congratulations to them, all that made the final and those who cashed. Also to the last lady standing in the field, Jennifer Barr, who finished 39th and achieved her best ever live tournament result, well done. Jennifer was joined by 34 other ladies who cashed. Many women were attracted to Goliath this year, recording 6% of the total field played being female, double that of the 3% who played the WSOP main event this summer. On several tables I found myself accompanied by at least one other female player, which is wonderful for the game.
For myself, the excitement of the final day was heightened by the fact my husband had made it to the Super High Roller final table, narrowly missing taking the trophy when his pocket Kings were beat by J10, ending our Goliath 2017 on a high and eagerly anticipating our next lot of poker plans and travels, starting with the upcoming bank holiday Summer Sizzler and GUKPT Leeds in September.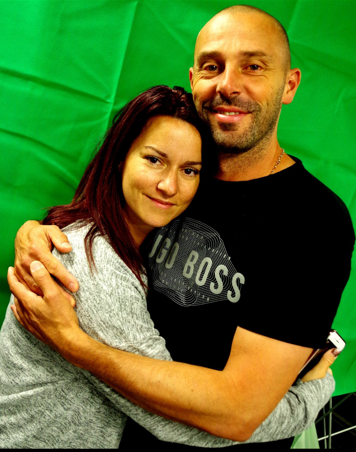 Comments
comments