You may know him as the "King of Speech Play", but Will Kassouf is more than just talk. Players around the world know him as an enigmatic wordsmith; a man who brings poker stars to their knees once his captivating – and often confusing – chat takes hold.

His impressive record speaks for itself: his performance at some of the world's finest poker tournaments and cash games are down mainly to his relentless passion for the game. Just look at his epic play at the WSOP, when he ran deep and achieved 17th place. Only a few short months later he won at the EPT, securing a high roller win of €532,500.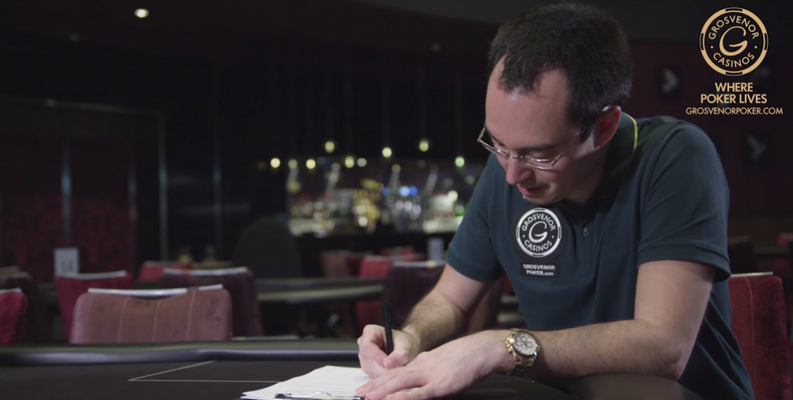 Famous for his "in for the min to win the max" ethos and a big advocate of satellite qualification, he fits well with the Grosvenor Poker ethos. That is, to get players of all abilities qualifying through satellites to their first class live events, including the GUKPT, 25/25 and upcoming Goliath.
Over the years, his relationship with Grosvenor Casinos has strengthened. His first GUKPT entry took place all of 8 years ago and, since then, Kassouf has gone on to cash an impressive
$1, 310, 293 in total live earnings. He has back-to-back final tabled at the GUKPT grand final in London, and will be looking to go one better this year.
It was his love of the game and familiarity with the everyday player that really got us interested, which is why we are thrilled to announce that Will Kassouf is the latest poker pro to join Team Grosvenor.
We talked to the man himself to get his thoughts on becoming a Grosvenor Poker pro:
"I'm excited to be officially joining #TeamGrosvenor as their new sponsored pro. It comes at such a great time: the £500k+ Goliath is just around the corner, their revamped online poker room is first class, and fantastic satellite schedules litter the bill. Not to mention the Grosvenor UK Poker Tour (GUKPT), which is the best run tournament in the country by far.
I look forward to representing one of the longest serving poker brands in the UK and will be proud to wear the Grosvenor patch in all the tournaments I play in the UK."
Tom Hudson, poker operations manager at Grosvenor Casinos, explains why Kassouf was Grosvenor's top choice:
"We are delighted to welcome Will Kassouf to Team Grosvenor. His passion, commitment and fun-natured approach to the game is refreshing and there's no doubt he'll serve as a great ambassador for both live and online poker in the UK for years to come.
This addition to our team reflects the exceptional growth of Grosvenor Poker over the last year and we will be pushing forward with some exciting Team Grosvenor promotions in the months ahead".
If you haven't already signed up for Goliath, what are you waiting for? Goliath is the biggest live poker tournament outside of Las Vegas which boasts incredible return-on-investment, should you cash.
This year, the first-place prize is expected to be £77,000. Not bad for a 25p buy-in at a satellite! You can now qualify for Goliath on mobile, too.
Plus, if you needed any more motivation to sign-up, the main man himself, Will Kassouf, will be at the Ricoh Arena as he plays for Team Grosvenor. Keep an eye out for all our other Grosvenor Poker professionals, including Jeff Kimber, Joe Beevers, Katie Swift and Andrew Hills who will be battling it out against amateur and professional entrants to claim the coveted top prize.
Will you be lucky (or unlucky) enough to be seated beside Will Kassouf at Goliath? Keep your eyes peeled for Will's promo as he gears up for the UK's biggest poker tournament, coming soon!
Comments
comments