We bet you didn't realise that every time you decided to sit down at a casino table that you were participating in a huge part of the history of mankind, right? Gambling has been around for thousands and thousands of years, probably since the beginning of civilisation. Although it had always been popular, actual buildings to play in didn't start to appear until around the 17th century, as a way to regulate and control gambling.
As part of our Fascination of the Game series, we're going to take a look at the humble beginnings of the casino and how they came to be as they're known today. So, put the kettle on and dig in.
The First Casino
When you think of casinos, you probably think Las Vegas (or, ahem, Grosvenor… obviously) but Vegas isn't where they first started. The first casinos (or gambling houses as they were called then) actually began in Italy in 1638. Or Venice, to be more precise. It was originally called the Ca' Vendramin Calergi but it was eventually renamed to the (much easier to pronounce) Casino De Venezia. In fact, this casino is still open today and completely active – there are over 600 slot machines and hundreds of ways to gamble. It has been used for Hollywood move sets thanks to its grandeur and it even played a huge role in the making of Casino Royale.
The Growth of Casinos
The word casino wasn't actually coined until a whole century later, as the boom in gambling buildings began around mainland Europe. They were designed for the elite and higher classes of the time, with places such as Monte Carlo building extravagant and luxurious casinos which looked more like royal palaces than what we think of today.
Of course, we really can't talk about casinos without bringing up Las Vegas (ignore the fact we already did a few paragraphs back). Believe it or not, gambling was actually outlawed in the state of Nevada from 1910 until 1931 because of the amount of it that went on amongst railroad workers, but that didn't really stop anyone – more and more illegal casinos popped up and by the time it was legalised again, Vegas was already a hub of organised gambling. Plus, as one of the first states to lift the ban, thousands flocked there to enjoy it legally. The strip's first casino was called El Rancho Vegas and its popularity was a catalyst for Vegas becoming the global hub for casinos as we know it today.
Some quick facts:
The word casino stems from the Italian word for "little house".
The biggest slot machine win was $39.7 million in (unsurprisingly) Las Vegas.
The biggest casino is just outside Oklahoma and is around 600,000 square feet!
Las Vegas actually isn't the place with the most casinos – Macau in China has more, with around 33 different casinos within the city.
Most physical casinos don't have clocks… Can you guess why?
Slot machines always come out on top as people's favourite casino game.
You probably know Monte Carlo as one of the most famous places for stunning casinos, but here's a weird fact – citizens of Monte Carlo aren't allowed to gamble in any of them unless they work there.
Don't forget to keep an eye out for more of our posts in the Fascination of the Game series if you found this interesting. If you didn't, then just keep it to yourself – we don't like our feelings hurt.
If you want to join in on the fun (and a part of history) in real time, then don't forget that you can easily find out where your nearest casino is. If you prefer sitting at your laptop, phone or tablet to play, then we have loads of options for Live Casino or Table games on our website – the play might be virtual but the fun (and prizes) are definitely real.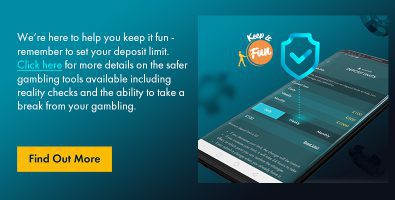 Comments
comments