Developments to online connectivity and computer technology have seen the disruption of the film, music and sporting industries. The future of sports, for example, looks set to become increasingly interactive. The biggest seismic shift is in the gaming industry, and it's already started happening.
For proof, you just need to consider how much money tech giants like Apple, Google, Microsoft, and Sony have already invested in it . Apple, as an example, is investing close to £400 million into Apple Arcade. Google has spent millions on Google Stadia and Sony continue to invest in Playstation Now, and Microsoft is about to launch xCloud.
They are all working to be tech leaders in the gaming space, and for good reason. The gaming market is worth over £70 billion and is set to grow astronomically. Part of what is driving that growth is the exciting new technologies that are being introduced to the this environment:
Artificial intelligence
Cloud-based gaming
Augmented reality
Virtual reality
Each of these technologies brings new and creative possibilities for how games can be conceptualised and developed. From sports games to first-person-shooters and from puzzle games to online casinos, any type of game will benefit from the current advances in technology.
Taking a closer look at artificial intelligence, cloud-based gaming, augmented reality and virtual reality will highlight how these technologies will impact this industry.
Artificial intelligence
Artificial intelligence (AI), is a computer system setup to simulate human intelligence. It has already planted the seed for many science fiction novels and films while being used in our day-to-day lives through apps like Siri and Alexa.
One of the best examples of AI in gaming was the 2017 Carnegie Mellon research project, Libratus. Libratus was a complex AI computer system that was set up to play poker, improving its decision making and poker strategy after every hand. The results were remarkable, as Libratus defeated four of the best online poker players in the world.
The ability for AI to use the data sets from its experience playing and improve its decision making has significant implications for the industry. On the one hand, as the human poker players found out first hand, AI makes a formidable opponent. On the other hand, it can improve the in-game world tremendously if an AI can recognise flaws and patch them, or even recreate the world according to your choices in the game.
Many game developers are looking at how they can introduce AI into their projects. With ray tracing, developers can almost flawlessly simulate how light reflects off objects in the created world. Teaching an AI to do this, amongst other things, will save developers more time to conceptualise and refine game worlds.
AI technology might not be producing robot citizens just yet, but it is certainly going to produce some of the best online games in the near future.
Cloud-based gaming
Cloud-based gaming is where the game itself is run and streamed from remote servers. It has been around since 2000 but has recently shot into the spotlight with Google Stadia's release.
Cloud-based gaming follows in the Netflix approach, where a user can stream a title to their device without downloading it first. It is often accompanied by a subscription model, where users have access to a library of games and can stream the ones they want to play.
A subscription model has a lot of potential for the gaming world. With Netflix it allows viewers to try out a movie or series without buying each title individually. For gamers, this would mean they could try out games before deciding whether they want to buy it, or even continue to play it for free with their subscription.
This, in turn, will bring a lot of data to game developers. With more people playing their games, it will bring more feedback about what works, what doesn't and what new ones should be developed.
Online casinos could already benefit from a cloud-based solution. Games like slots and roulette could be hosted on a remote server. At the moment, legalities are hindering this development as the larger cloud server providers, like Amazon Web Service and Google Cloud Platform, have policies against running servers for online casinos.  
Smaller providers, like dinCloud, are starting to emerge and it's only a matter of time before you can play online casino games from the cloud, without downloading any of them. This could inspire new models for online casinos based on monthly subscriptions. Imagine playing as many games, from slots to tables, as you like for a monthly fee?
As with any new technology, there are teething pains. Stadia is currently receiving mixed reviews for latency issues. It is one of the biggest challenges for cloud-based gaming. It could be the difference between winning or losing, killing or being killed.
Streaming games requires a substantial amount of data. The size of the files being transferred to players, and their actions being transferred back to the server, means that a robust internet connection is needed. As a result, good internet infrastructure is needed to guarantee a good experience.
This will need to be solved for global uptake on high-end game releases, but that shouldn't write off cloud-based gaming for long. There are a host of games that are far simpler and smaller sized that could be streamed from a remote server. These include puzzles, online board games, and casino games.
Augmented reality
It's doubtful that anyone could have predicted the global popularity that Pokemon Go would receive when it was launched. Videos emerged of players stopping traffic to catch Pokemon, and people realised it was a global sensation. Pokemon Go is arguably the most successful augmented reality game.
Augmented reality is an interactive real-world environment where computer-generated objects appear with or instead of real-life objects. In Pokemon Go, you could use your phone's camera to see a Pikachu sitting in your garden. The Pokemon were placed at specific GPS coordinates, so you could use a real-world map on your phone to find them.
There hasn't been an augmented reality game as successful as Pokemon Go since, but the potential is undoubted. This is especially the case when it comes to casino games.
It's not too much of a stretch to imagine an augmented reality game that transforms your kitchen table into a roulette table. You could have your very own high-end casino experience in your own home!
Perhaps in the future, AI and augmented reality will unite to give you your own personal casino advisor. An avatar could give you the signal of whether to hit or stand after scanning your cards and calculating the best odds.
It could also be used in online sports betting. You could be watching a game while seeing the latest odds off the edge of your TV screen. If you think the odds are good, you could place your bet, while still watching the game.
Augmented reality brings a new canvas for developers to build innovative applications. It's an exciting technology and you can only start to imagine how it can be applied. You could well find AR stopping traffic once again.
Virtual reality 
Virtual reality (VR) has already become integrated with many leading gaming platforms. According to Fortune Business Insights, virtual reality in the gaming and entertainment market is set to rise from £3 billion in 2018 to £50 billion in 2026. There are already over 170 million VR users in the world. It is one of the most immersive types of technology available and is being integrated across devices. From consoles to mobile, you can find a VR headset that will integrate with the device and open up a host of virtual reality experiences.
VR has been around for decades, but it is finally showing signs of realising its potential. The graphics within VR worlds have become increasingly realistic and the depth of the games has increased as well. From zombie thrillers and theme park rides, to rally driving and underwater exploration, VR has truly become an otherworldly experience.
The VR headsets and equipment are still pricing out mass-market adoption, but this should change over the coming years. This shift will bring a plethora of opportunities for game developers.
For online sports betting, you could imagine a virtual experience where multiple matches and multiple stats are being displayed, and you can pick and manage your bets in one space. All from the comfort of your living room.
While VR equipment is still too expensive for most, there are venues that are set up for walk-in customers. Perhaps in the future, you may find a VR Monte Carlo in your local town. Online casino games could be placed within historic environments. You could place your bets in a live roulette game and enjoy a 3D experience of euphoria when you pick the winning number. You could also sit around a virtual poker table with friends and enjoy the evening from your own home.
Until VR becomes more affordable for home use, live casino games offer an opportunity to get as close as possible to the casino experience. Interacting with a live dealer still brings an energy to the room. Register with Grosvenor Casinos to enjoy the best in live casino gaming.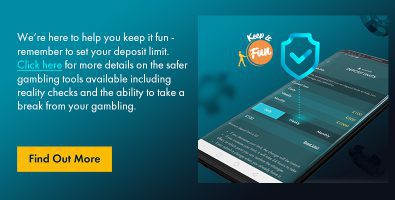 Comments
comments