Grosvenor Poker sponsored pro Katie Swift wraps up the extraordinary record-breaking week of the first ever online Goliath series.
Goliath has officially been slayed, and this time virtually across the online felt!  Over 2000 unique players logged in to play the 15 events across the 10 day festival.  The variety of tournaments offered during the series was incredible, fully testing every level of each player's poker ability.  With the added bonus of the "Player of the series" leader board, the challenge was fiercely fought daily.
Satellites were popular throughout the week, with players attempting to win tickets into each tournament.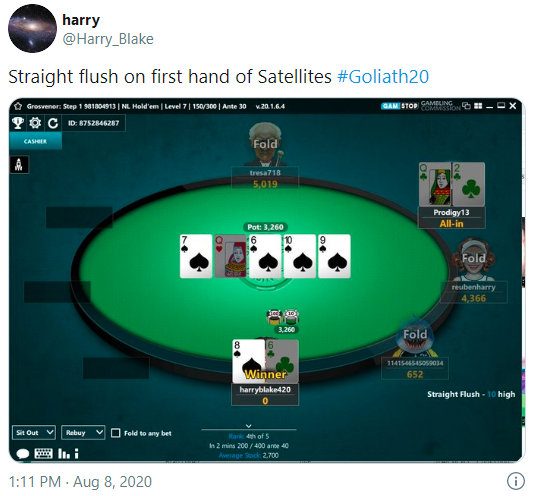 A wise choice, considering the total Goliath guaranteed prize pool of over £300k ended up smashing the half a million mark at £508k!  A true testament to what has become a much loved festival in the UK poker annual calendar.  Taking the decision to transfer Goliath online (due to the current Covid19 world pandemic) was never going to be a breeze.  However #TeamGrosvenor successfully managed to produce a quality schedule, mirroring many of the live characteristics of Goliath, including decent starting stacks, providing players plenty of poker play with long level duration and all at affordable buy in entries.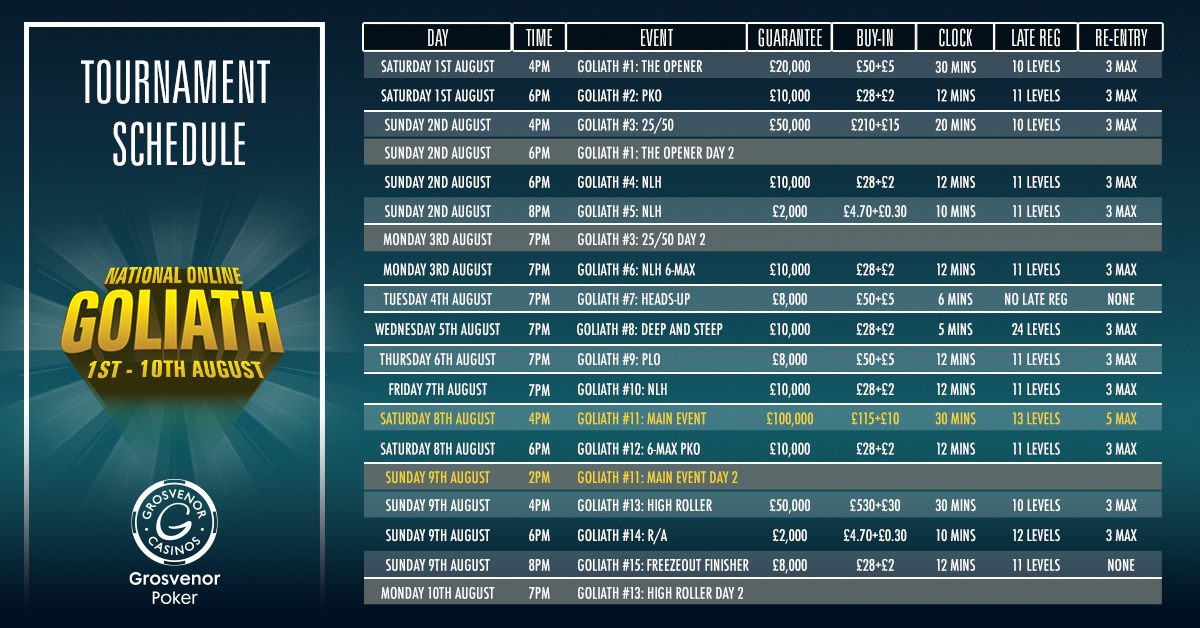 The series kicked off with a boom at 6pm on Saturday 1st August with "The Opener", attracting a massive 696 entrants, generating a prize pool of almost £35k.  Unfortunately the current king of the National League, who has remained consistently dominating that top spot since the start of the year, John Bousfield, was the first bubble boy of Goliath.  The remaining 80 players locked up their first cash of the week along with some valuable points for the "Player of the series" leader board.  The eventual winner "LeGrandPoisson" turned out to be anything but "a big fish", as the screen name alias suggests, bagging a fraction over £6.5k and the first trophy and title.
A massive well done to 'LeGrandPoisson' who took done Event#1 of our Goliath Online series.

They defeated the 696 entry field to take home the first place prize of £6,542!!#Goliath20

Keep it fun – Remember to set your deposit limit. pic.twitter.com/BTUtZl7KMc

— Grosvenor Poker (@GrosvenorPoker) August 3, 2020
Running simultaneously, was a new event, never seen before on any Goliath schedule, but an increasing popular poker format online, the "Progressive Knockout" comp.  The prize pool was made up of almost £7k in placed prize payouts and almost £7k as bounty knockout awards, totaling just shy of £14k.  The beauty of bounty comps is that every player has the opportunity to win money from the off, without actually needing to run really deep or placing inside the cash payout places.  With every elimination, half of their bounty is instantly awarded to the player and the other half is added to their available bounty prize.  An interesting twist of strategy and dynamics is needed to succeed, a blend "Zebster1994" perfected to take down the title, trophy and over £2.2k in combined bounties and payout money, after defeating "yinyang1991" heads up.
Well done to Zebster 1994 who won Goliath#2 last night on Grosvenor Poker.

The tournament had 493 entries in total and they won it for £1,114 and £1,090 in bounties.

A great turnout, which we hope will continue tonight with another 3 events taking place.#goliath20 pic.twitter.com/wcgT0BjWxP

— Grosvenor Poker (@GrosvenorPoker) August 2, 2020
An earlier start time of 4pm on Sunday 2nd August saw a special 25/50 event take place for Goliath event number 3.  Playing out over 2 days and priced among the upper limits of the festival, the £225 event pulled in 258 players, resulting in a hefty £54k prize pool.  In familiar bubble territory, John "TraderNo1" Bousfield finished touching distance away from the money payouts.  Sponsored Pro, Joe Beevers, secured #TeamGrosvenor their first result of Goliath, finishing 20th for £541.  The aptly named player "LateNightTales" managed to stay awake until just before midnight to win almost £11k and bag the much sought after 25/50 trophy and title.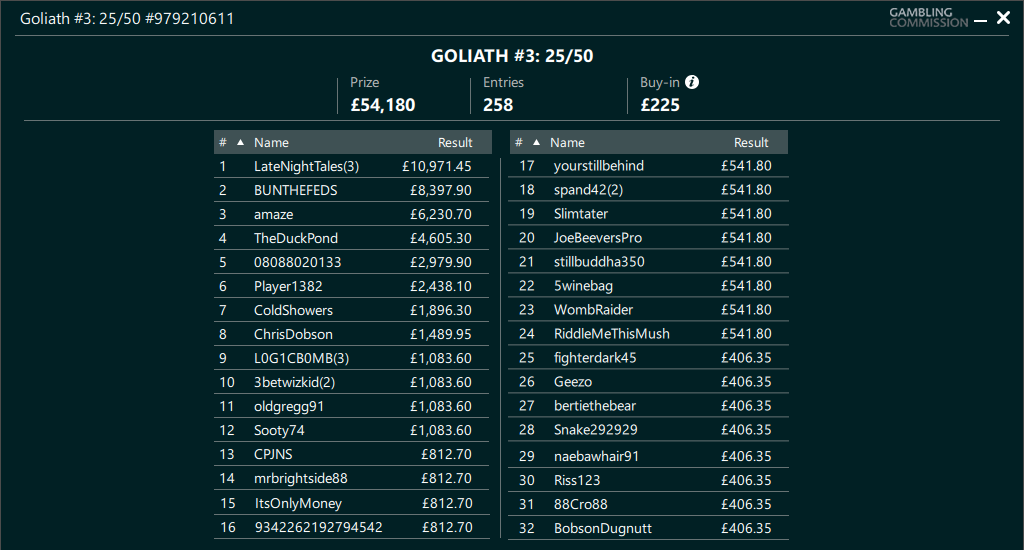 To accompany the bigger 25/50 event on the Sunday evening, event number 4 had a lower price tag of £30 for players to enjoy, which 610 did.  The classic No Limit Holdem comp was won by "BluffSqaaaaud", who pocketed a chunky £3,245 from the £17k total prize pool and of course, the side event Goliath trophy and title.
Completing the trio of comps available to play on the Sunday evening, was the micro stakes £5 No Limit Holdem event number 5.  Grosvenor Poker's resident Twitch streamer, Jamie Nixon, finished top for #TeamGrosvenor in 24th for £23.  It was "whatacrapname" that outplayed the other 563 entrants to win £503, plus the title and thankfully a trophy that isn't engraved with the players name!
Well done to Grosvenor Leeds Cardroom Manager Phil Denison 'whatcrapname' who won Goliath#5 last night on Grosvenor Poker.

He won £503 after defeating the 564 entry field!

Congrats!

Keep it fun – Remember to set your deposit limit. #goliath20 pic.twitter.com/OqU6LioPKM

— Grosvenor Poker (@GrosvenorPoker) August 3, 2020

Event 6 gave us the first 6 max format in the schedule and "beeevil15" had the perfect screen name alias to take the top spot in this aggressive poker format.  Over £15k was collected in the prize pool from 545 players, awarding a first place prize of almost £3k.
Some familiar screen names were starting to emerge as the half way mark approached for the festival, many making multiple deep runs and cashes whilst steadily accumulating those valuable leader board points.  Testing the purest form of poker, 172 players entered the "Heads Up" format, but with a second trophy and win of the week, "Zebster1994" got the glory and £2322.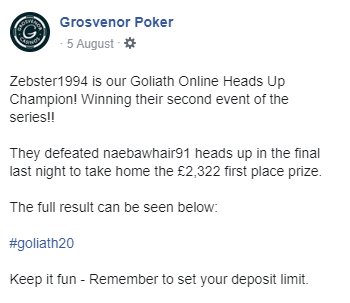 Midweek madness hit with "Deep and Steep".  Turbo 5 minute blind levels coupled with a giant 100k starting stack; you would need experience and skill to navigate through the 538 players.  Getting to bed was far from Chris "GetToBed" Maguire's mind, as he used his talent to take the trophy and top spot for just shy of £3k.  Grosvenor Sponsored Pro, Jeff Kimber also managed a min cash for the best #TeamGrosvenor result.
The Goliath Deep and Steep took place last night on Grosvenor Poker.

The tournament collected a prize pool of £15,064 and was won by GetToBed.

The full result can be seen below.

Keep it fun – Remember to set your deposit limit. pic.twitter.com/G9Fhnd60Xl

— Grosvenor Poker (@GrosvenorPoker) August 6, 2020
In one of the smallest fields of the week, Pot Limit Omaha was played on Thursday, giving players an opportunity to play with 4 hole cards rather than 2.  It isn't uncommon to find inexperienced PLO players or even newbies in this event, given the value of those leader board points.  However, cream certainly does rise as here were some well known PLO regulars among those players that cashed deep, including "HeyHowAreYe" and "stpokered2020".  I secured a cash of £205 for #TeamGrosvenor finishing in 16th place.  According to the screen name alias though, every player is in for a treat, as "illgetthemin" won the comp for over £2.5k which should be plenty enough money for a round!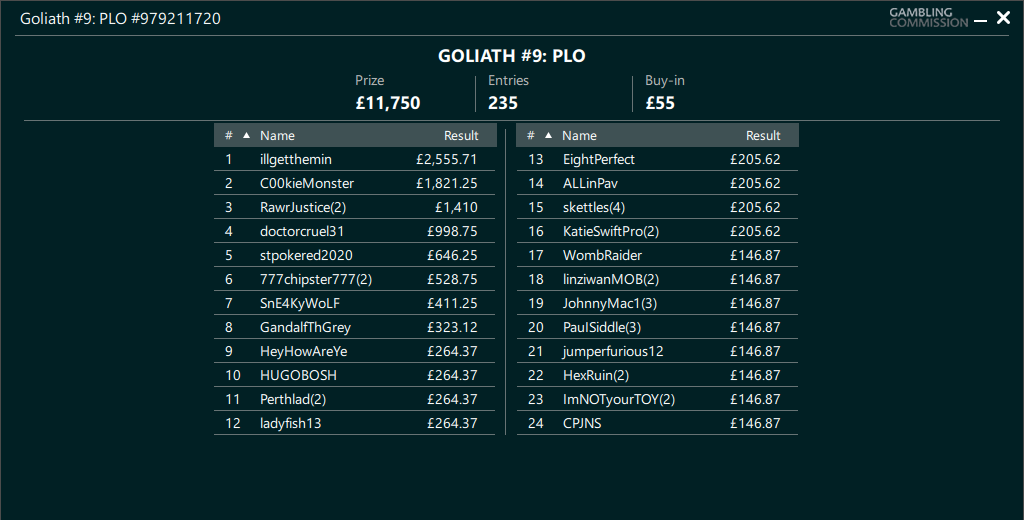 Friday fun was enjoyed by 514 players.  The familiar and friendly Brad "ChefBrad" Simpson, couldn't quite clinch the title and trophy from "clownkicked96", who also took top prize of £2734. The £30 buy in created a pot of over £14k, distributed between 64 players.  I locked in another cash for #TeamGrosvenor finishing 22nd for £125.
The eagerly anticipated Goliath Main Event had arrived! The inaugural online event, number 11 in the schedule, had a whooping £100k guaranteed prize pool!
Goliath Main Event has been running an hour and it already has 800 entries!!!

Late registration is open until 11pm and it's going to be huge!!

If you can't play, please join @jamnix90 & @TheTower68 as they stream the Day 1 here – https://t.co/4da2NZvmXA#goliath20 pic.twitter.com/DDA52Dq9sm

— Grosvenor Poker (@GrosvenorPoker) August 8, 2020
Late registration was allowed until 11pm, by which time a record breaking 2013 entrants were playing.  Grosvenor had successfully smashed not only the guarantee, but also their record for the number of entries in a Grosvenor only online tournament.  The mega £231,495 prize pool was distributed to the top 144 players, awarding a gigantic £42,248.55 to first place prize.
WOW!!

Goliath Main Event Online has had an unbelievable turnout on Grosvenor Poker with 2,013 entries in total. Creating a prize pool of £231,495!! #goliath20 pic.twitter.com/Q3KSLAKwE3

— Grosvenor Poker (@GrosvenorPoker) August 8, 2020
Compliments flew in from players regarding the structure.  The half hour clock and 25k starting stack was incredibly rare for a tournament with a £125 buy in amount.  It's what has always made Goliath unique, ensuring a great poker experience at an affordable price, appealing to both recreational players and pros alike.
Just a message to say congratulations on a fantastic week with the online Goliath. Great to see your online site growing. Youve done wonders this week. Thank you. @GrosvenorPoker

— GussyFinknottle (@hongdopoker) August 8, 2020
The eventual "Player of the series" leader board winner "PokerPirate1963" made a final table appearance in the main event, after narrowly bubbling a final table earlier in the week.  Consistently cashing deep in a third of the events during the festival, was enough to accumulate over 500 points and secure top place to win the leader board title.  In addition to the total Goliath winnings in excess of £6k, Grosvenor will award £1000 worth of tickets for "PokerPirate1963" to enjoy.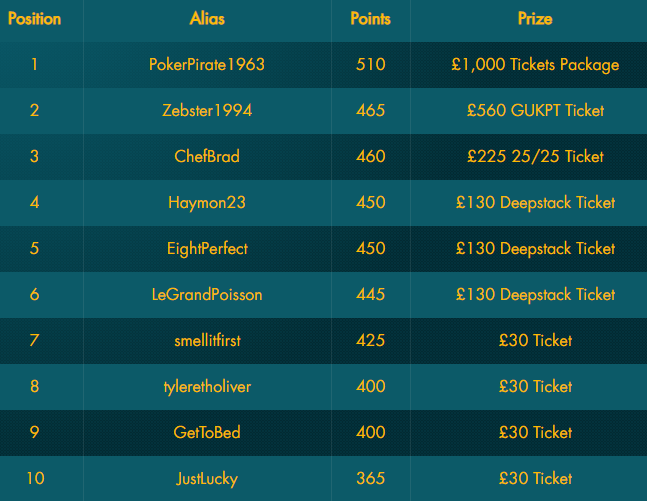 Newly qualified teacher Jacques "JBtheshark" was playing quietly on his mobile phone from a hotel room whilst on a family visit trip away.  Goliath falls perfectly in the school summer holidays for him, when he can dedicate more time to poker.  Last year he attended the live Goliath event and especially enjoyed the Grosvenor Poker Online Sponsored "Joker is Wild" event, in which he actually knocked me out to win a special Pro bounty prize of an event ticket.  It seems Goliath serves him well, as he bagged a big 4th place finish in this year's #Goliath20 Online Main Event, for over £17k.  He plans to invest a portion of it into a poker bankroll in order to dedicate a little more time to this profitable hobby.

Third place finisher was Hasmukh "AhJh" Khodiyara, described by a friend as being "a great all rounder player both live and online".  He certainly proved this with this result, which he felt "really, really happy with".  He was one of many players that complimented the event, saying "the structure was really good".

Defeating Goliath and the 2012 other players that had battled, was 34 year old Gerard "WRDortmund7" Barclay.  A poker player for half his life, he relied every bit on his 17 years of experience to overcome a 5:1 chip deficit when heads up started against "FrazzleFraggle".  It was a perfect ending for him, finishing as number one, with the number one starting hand in poker, pocket aces. A victory that gave him a £12k pay jump, to secure a mega return on his investment of two bullets (at £125 each), the top prize of £42,248.55 plus the title of Goliath Champion, his name forever inscribed on the giant Goliath trophy and a replica trophy for him to proudly keep.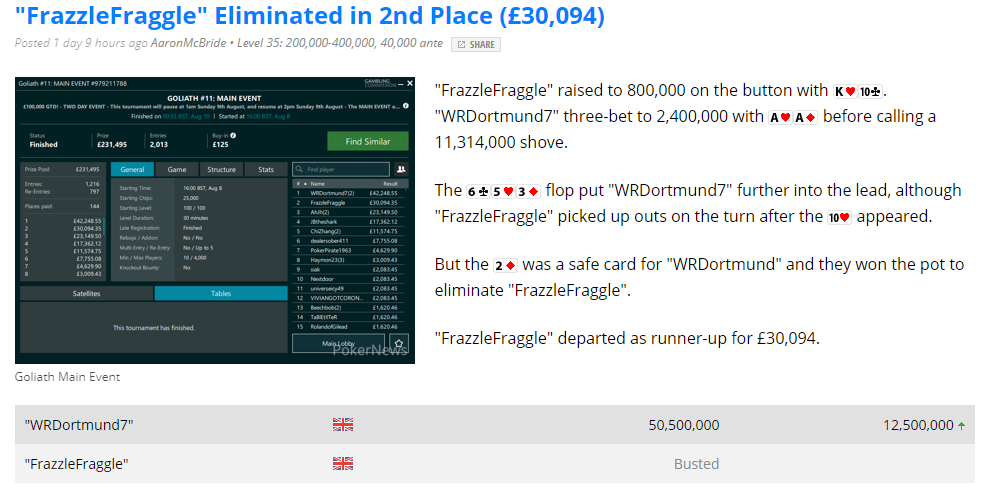 Despite having looked forward to this year's live Goliath after having played it last year for the first time and with Coventry coincidentally being his local Grosvenor Casino, Gerard told of how he actually felt more comfortable online and considered he "had more of an edge".  Having won the Sunday Millions online tournament back in 2007 for $198k, he is no stranger to big field events and even bigger top place results!  However, it is this Goliath result that he feels "is more prestigious, as it only comes around once a year, whereas the Sunday Million is weekly".
Congratulations to @GerardBarclay on taking down the Goliath Main Event for £42k!!! https://t.co/Jatditc6mW

— Grosvenor Poker (@GrosvenorPoker) August 10, 2020
Sharing a fun fact and providing some wise words, Gerard noted that in both the Sunday Millions comp he won and in this Goliath Online Main Event, he went to each final table "in dead last position and came out victorious.  Never give up!" which he certainly didn't.  After beating 2 ladies and 5 men on the final table, Gerard now plans "to be sensible" with his winnings and spend it on a deposit for a new house.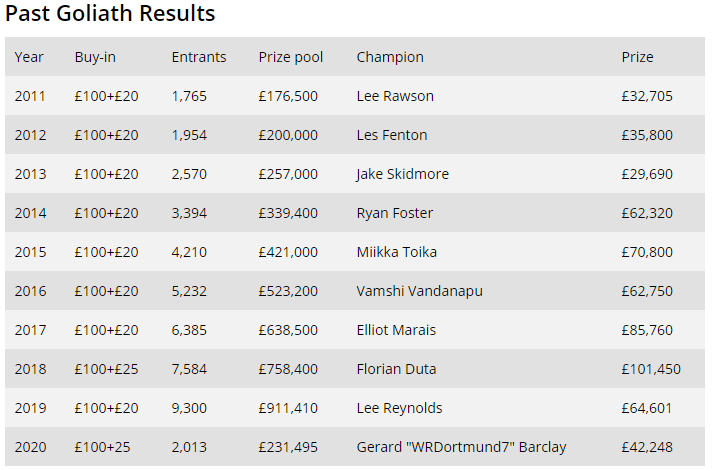 Whilst the main event day 2 was in full flow, the remaining tournaments of the series were also playing out, each awarding a trophy to the winner, as did every Goliath side event.  On Saturday, the "Progressive Knockout 6 max" comp result elevated "PokerPirate1963" up on the "Player of the series" leaderboard, after finishing as runner up to "AnonymousD" in event number 12.  The duo won a combined total of almost £3.5k from the £12k prize pool, which included bounty knockouts.  Grosvenor Sponsored Pro, Jeff Kimber finished 31st from the 452 runners for £58 and managed to knock out 2 players.
At 4pm on Sunday 9th August, the biggest buy in of the series, "The High Roller" presented a second opportunity to play on a half hour clock and 122 players took to the felt to enjoy that online luxury.  Many GUKPT regulars could be seen in the 2 day event.  Unfortunately "Mustymind" and "Snake292929" made day 2 but fell short of the money after an hour and half bubble battle!  With tiny 3bb and 4bb  stacks retrospectively, "YzeusCymraeg"" and "flora1978" must have been delighted to see the clash of 2 medium stacks on the bubble.  With direct ICM implications involved for the biggest min cash money value of Goliath, worth £1778.  An aggressive all in pressure play shove from the eventual winner, "smellitfirst", holding KJ, managed to hit a Jack on the river to beat the AQ and send "Snake292929″to the rail emptied handed.  A pivotal hand, which "smellitfirst" never looked back from.  By 6 handed the chip lead was enormous with over half the chips in play.  Brad "ChefBrad" Simpson had started the day as chip leader and now found himself heads up, for the second time of the Goliath series.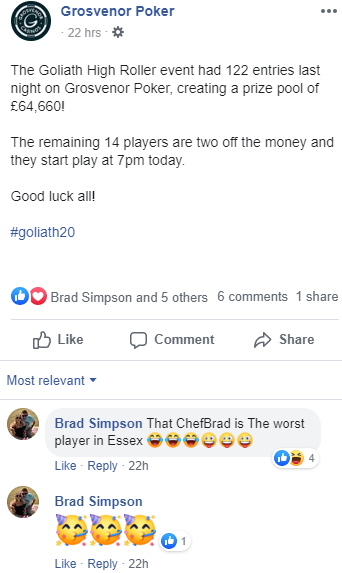 Unfortunately another title slipped by, but Brad's enthusiasm and excitement firmly remained as he collected almost £12k for his efforts after continually chatting in the player's chat box.  The title, trophy and £17,619 awarded to "smellitfirst".  With these top couple of results, both players climb into the top 5 of the "Player of the series" leader board, for additional bonus tickets.
Including a small stakes unlimited rebuy to the schedule, complimented the evening well and many new names featured on the final table.  With "Shinkansen" winning just shy of £700 out of 264 players, 322 re-buys and 138 add-ons.  Grosvenor Sponsored Pro, Andy Hills finished the week with a £25 payout for 26th place.
Well done to 'Shinkansen' who won Goliath#14 last night on Grosvenor Poker.

The tournament had 264 entries in total creating a prizepool of £3,402

The full result can be seen below. pic.twitter.com/NJPiS6yyFg

— Grosvenor Poker (@GrosvenorPoker) August 10, 2020
Closing out the first ever Goliath Online, was event number 15, "The Freeze out Finisher".  A pure, classic No Limit Holdem freeze out.  Achieving a nearly £9k pot, the 320 players enjoyed the last tournament of what was a very different, but hugely successful Goliath festival.  Taking top spot, trophy, title and £1747 was "grannieannie75".
Congratulations to all the winners of the 15 fabulous events.  Extra special congratulations to the Main Man himself, the new Goliath Champion of 2020, Mr Gerard "WRDortmund7" Barclay.  Thanks to every single individual player who logged on to play the events.  Well done to all at #TeamGrosvenor who helped to create and promote the festival.  Working together with the UK poker community, it's been a huge success and we already look forward to the next Goliath in 2021!
Congratulations to the #Goliath20 champion Gerard "WRDortmund7" Barclay, who slayed the other 2012 players to take the title & top prize of over £42k.🏆Massive well done @GrosvenorPoker for the record breaking online main event & successful festival series🥳👌🏻🙌🏻 #TeamGrosvenor https://t.co/AAd11KsdKT

— Katie Swift (@SwiftlyNow) August 10, 2020
Next up on the UK poker menu, Summer Sizzler!
Comments
comments