At the end of this week, Grosvenor Poker will welcome the return of GCOOP. For anyone who hasn't heard of it before, it is a much loved online poker series that lasts a little over a week. The "Grosvenor Championship Of Online Poker" consists of 19 poker tournaments finishing across 9 days, each one challenging players to a different poker format. Freezeouts, Rebuys, Heads-Up, Pot-Limit Omaha, Progressive Knock Out, 6-Max, Deep and Steep and High Rollers – GCOOP offers a great mix, something to suit everyone and many evenings offer the same format at 2 different price points, starting at just £5.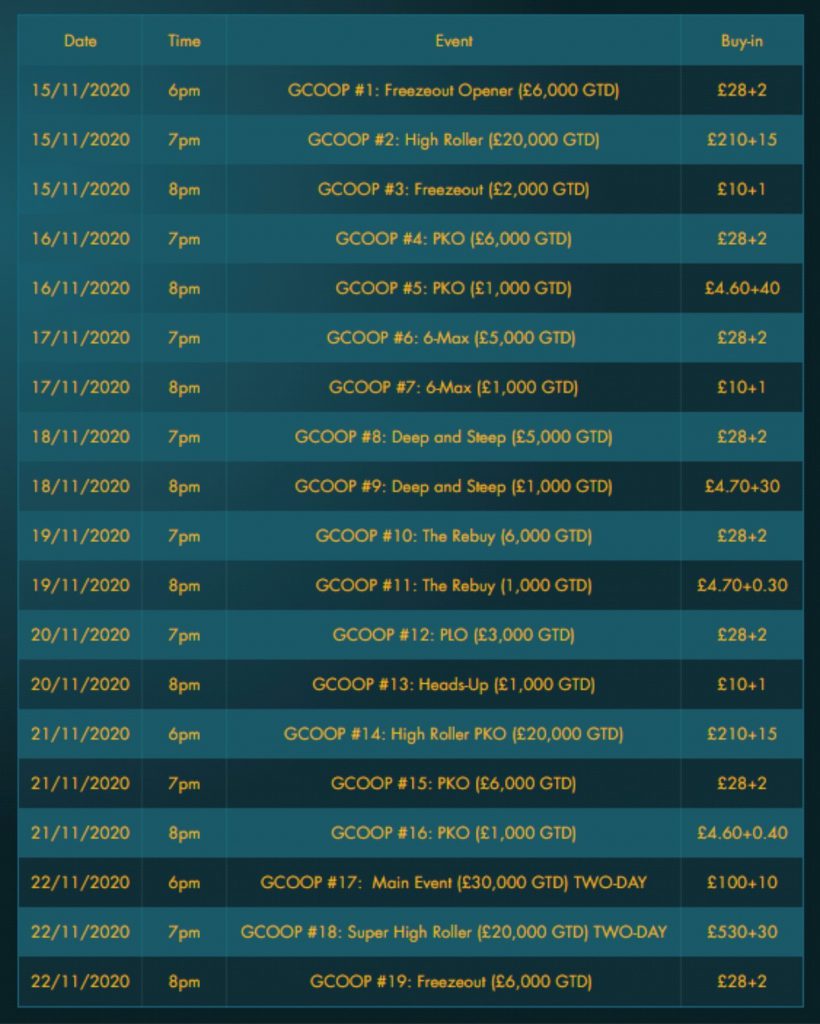 As always, Grosvenor Poker are adding value in the form of a leaderboard that will reward the top performing players. Points will be won with each game played and result achieved. These points will convert to a position on the leaderboard. So, in addition to the actual instant prizepool to be won for each poker game, there is an additional £4,000 to play for.
The beauty of GCOOP is the sheer range of affordable events! The majority of events are below £30 total buy in, only 4 are above this amount. With the Main Event at a reasonable £110, it is an attractive series for both recreational players and pros alike. It is also perfect for those that are new to the world of poker. Perhaps being able to pick a format and lower buy in from the 7 events on the schedule that are under £11, to test the waters and play in some of their first real money tournaments. It's at these smaller stakes where players can practice playing, gain confidence, all whilst aiming to win part of the massive £140,000 guaranteed total series prizepool.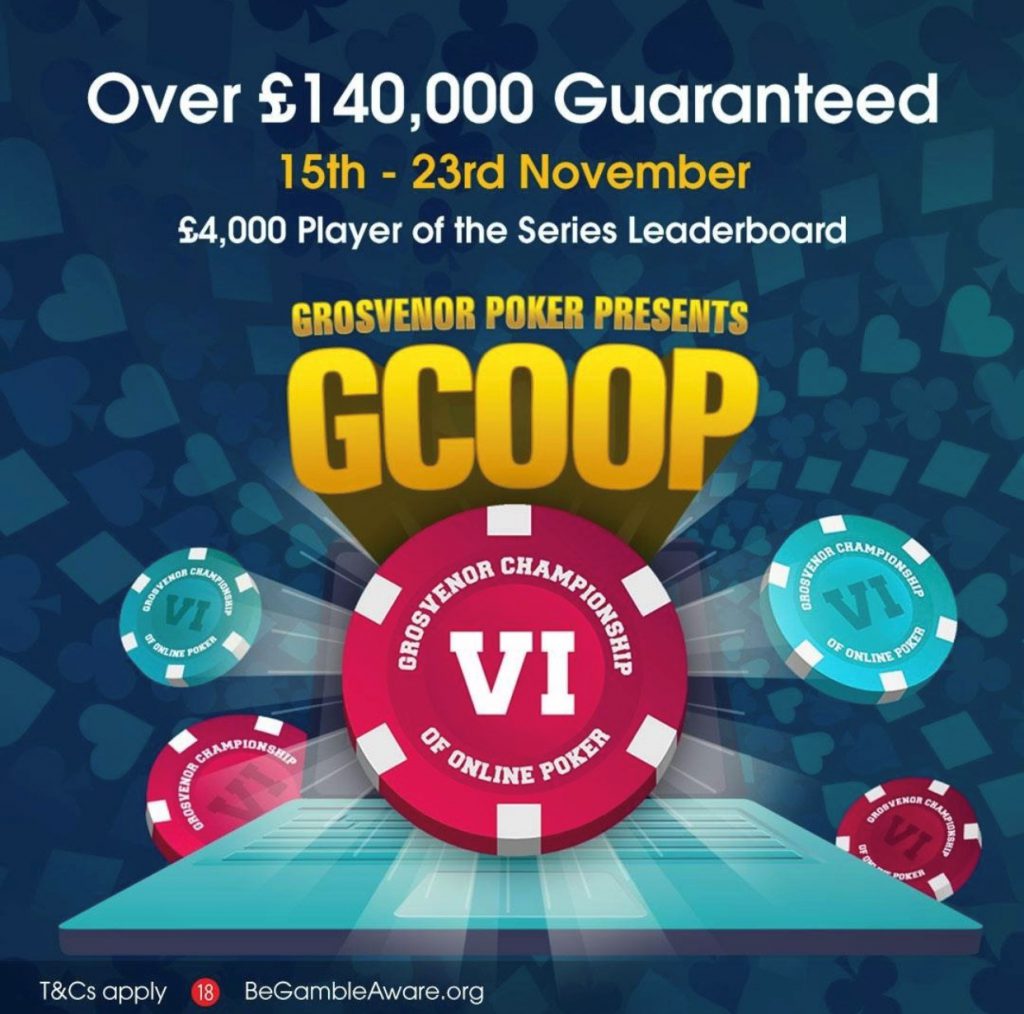 Poker is commonly considered a skill based mind game.  It will keep your brain active and fresh, whilst testing your nerve, patience and focus.  Learning the basics is simple, so there's nothing stopping complete beginners downloading the software today and being ready to participate in their first real poker game during GCOOP. 
Online poker presents many opportunities and even more of us than ever before are venturing into games on the virtual felt, due to the nature of the current Covid lockdown restrictions in place across the UK. Personally, I'm loving firing up a poker session from the comfort of my own home. Sometimes at my desk or other times snuggled in bed in my PJs, as you can play from any mobile device, phone or computer, so it's really convenient and fun too. With the bonus of no additional expense for travel or accommodation, plus usually registration fees online are lower, meaning funds for poker can be stretched further – what's not to love?! Multi-tabling (meaning players can play in multiple poker competitions simultaneously), is also a key difference compared to live poker games.
With all this is mind, the GCOOP schedule has been carefully designed to host a top selection of appealing competitions for you to enjoy. To assist with the challenge, each day the tournaments have staggered start times – the earliest being 6pm, with late registration being available for almost all (Heads Up is the exception, where pre-registration is required). Remember there are satellites running daily, meaning you can win your way into the events for a fraction of the price.
I will look forward to seeing you at the tables and will keep you updated across all my social media channels throughout the series. In addition, I'll be doing an "Instagram Takeover" on the official Grosvenor Poker Instagram account for the duration of the series. I'll keep you updated on the daily upcoming events schedule, results, as well as some hints and tips to help you stay focused, play optimally and have fun throughout the week. Wishing you all some swift success!😁
Comments
comments