Gambling is an activity that has been around for centuries and if you look back in history you'll see references to gambling in many different cultures and dynasties; there's evidence of gambling in Chinese history, Greek and Roman Times, centuries back into Indian culture and much more.
In fact, elementary dice and other gambling accessories have been found by archaeologists that are more than 40 000 years old. Accessories such as tile games have been found in China that can be traced all the way back to 22nd century BC. There are also reports that Roman children were introduced to gambling from incredibly young ages and forced into the culture to make money for their families. 
Gambling was only made legal recently in many parts of the world and as such, you aren't going to find casinos that are 40 000 years old, but there are still some iconic establishments today that were built hundreds of years ago. We're going to take a look at some of the world's oldest gambling establishments and how they have evolved to fit into modern-day gambling activities.
Casino de Monte Carlo
Monte Carlo isn't just today's playground for the rich and famous, it's been a spot for glitz and glamour for centuries. Built in 1856, the Casino de Monte Carlo was first commissioned by the House of Grimaldi royalty, by Princess Caroline. The royal family was in a whole heap of financial problems and the princess saw gambling as an opportunity to help save them from going completely broke.
The Casino de Monte Carlo was a raging success and by the 1890s it had grown exponentially to include an opera hour, the Salle Garnier Concert Hall and the Trente-Quarante Gaming Room. It was also renovated into a Beaux-Art style and the establishment was beautifully decked out in balustrades, garlands, mosaics, big bay windows and doors and plenty of statues.
Fast forward a couple of centuries and you may recognise it as the spot for the poker game played by 007 agent James Bond in the 2006 movie, Casino Royale. The building is still as glamorous as ever and attracts wealthy celebs, sports stars, musicians and billionaires from all over the world.
From its rather humble (according to royal standards) beginnings, it is now one of the world's most famous gambling spots and brings in huge amounts of money for Monaco. Despite its size and fame, no local Monaco residents are able to partake in its grandeur, as Monaco actually bans its residents from entering gambling establishments to keep gambling addictions at bay. This excludes the 80% of foreign nationals that are residents in Monaco.
Just some of the games that you can expect here include European Roulette, Punto Banco, Poker, Craps, video Poker, slot machines, and Trente et Quarante.
Casinò di Venezia
At around 400 years old, the Casinò di Venezia is officially the oldest and very first in the world. Built in 1509, it was initially the home of distinguished families. It only became a gambling house in 1638.
The facade of the building is adorned in columns, which face directly onto the Grand Canal. Two French doors were built into the lower level, parted by a big column. The upper-level columns are beautifully accompanied by trefoil windows and stately arches. There are also famous paintings and sculptures and opulent chandeliers decking the interior. A large portion of the ceilings were painted by Mattia Bortoloni, the Baroque master himself.
Nowadays, it is still bringing in affluent guests from celebrities to billionaires. In fact, it is so well known that in 2010, the building was hit by a gang that took off with around 100 000 Euros who then ditched their getaway car and escaped by boat.
World-famous opera composer Richard Wagner died of a sudden heart attack in 1883 while visiting and the building now has a Wagner Museum in which guests can peruse one of the biggest collections of Wagner's work, personal effects such as letters and much more.
Today the building is grand, but its beauty is understated and not as flashy as other gambling establishments around the world. Guests can enjoy playing a variety of games like Texan Hold'em, Blackjack, Roulette, Trente et Quarante, and Caribbean Stud Poker. Table games aren't the only gambling attraction here, however, and gamblers can also choose between 600 slot machines.
Kurhaus Baden-Baden
The Kurhaus Baden-Baden can be found in a picturesque setting just outside Southwestern Germany's Black Forest. The original building can be traced as far back as 1766. Originally the Kurhaus or "Cure House" was a home for noble families and French Marquis.
The classical-style building was designed by Friedrich Weinbrenner; it has a French-Inspired interior and is notable for the Corinthian columns and two griffins that watch over the grand entrance.
The Kurhaus Baden-Baden really rose to fame during the 1830s when gambling was banned in France. This prompted the gentry of Europe to flock to the casino in order to get their societal gambling fix. Some of the most famous musicians at the time entertained guests during this time of high society gatherings and guests got to listen to the likes of Franz Liszt, Johannes Brahms, and Clara Schumann.
Fyodor Dostoyevsky was so inspired by the Kurhaus that he based his book The Gambler on it. Marlene Dietrich also famously said that it was "the most beautiful casino in the world".
Nowadays, the Kurhaus has played host to a menagerie of important people, such as Barack Obama, Angela Merkel, Silvio Berlusconi, and Nicolas Sarkozy. It continues to attract and dazzle guests with more than just its opulent gaming rooms too and guests can enjoy beautifully manicured gardens, philharmonic orchestra and a spa resort.
In the extravagant gaming rooms, players can take part in Roulette, Poker, Blackjack and a huge array of slot machines.
Crockfords Club
Gambling has long been an enjoyable pastime in the UK and the tradition dates back over two centuries. The first gambling establishments in the 19th century were private, members-only clubs that usually only allowed men.
London's Crockfords Club was built in 1826 and it served as a spot for the aristocratic class to get together and gamble. The Duke of Wellington was instrumental in helping William Crockford open the club and it very quickly became a drawcard for the British elite and prominent foreigners.
In 2020, the Crockfords Club is still going strong in London and is one of the world's most exclusive gambling clubs. This isn't just a gambling establishment that everyone can walk into, but rather a luxurious experience in the most refined surroundings. Gambling is in the form of high stakes only or private room hire. These rooms have the same feel as they did when the establishment first opened, but with a contemporary modern flair. American Roulette, Blackjack, Poker and Baccarat are just some of the games that exclusive club-goers can expect.
Golden Gate Casino
Long before Las Vegas became the world's hottest spot for entertainment, it was a dusty Wild West-looking outpost that didn't have much going on. The location's remoteness is key to the establishment of the current entertainment industry, as it was hard to enforce laws that pertained to the gambling ban. In fact, some of the area's first gambling establishments even sold alcohol during the prohibition.
In 1906, the Golden Gate Casino opened its doors and that makes it the oldest such establishment in Las Vegas. The original building has 10'x'10 gaming rooms which were considered very opulent at the time.
Today it is one of the Strip's most iconic establishments and over £10 million has been spent on renovating it into the luxurious spot it is today that attracts people from all over the world.
The future of gambling
What do all of these historic places have in common? They evolved to keep up with the changes through the ages and as such, they've managed to stay relevant throughout their many years of existence.
Most gambling establishments have noticed the importance of keeping up with their customers and have diversified to include an online casino as part of their offering. At Grosvenor Casinos, we are all about innovation, ideas and delighting our customers. When you play our online casino games you have a huge array of games to choose from including a live casino experience and online sports betting. Whether it's sports betting, live roulette or anything in between, you can rest assured you'll find it at Grosvenor Casinos. Our first-class live play is a one-of-a-kind experience and one that you shouldn't have to wait for.
With new, innovative technology that's getting more advanced every day, it's not hard to imagine that online experiences will soon be able to mimic real-life gambling experiences in a way like never before. This means that you can get the true gambling experience without having to leave the comfort of your own home. What are you waiting for? Join us today!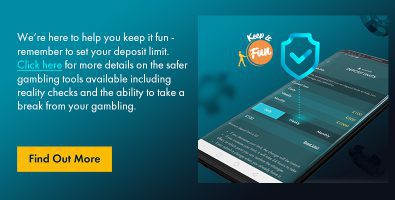 Comments
comments