If Aston Villa goalkeeper Shay Given passes a late fitness test starts the FA Cup Final this weekend, keep your eye on a small bag he places in the back of his goal.
It contains a vial of Holy Water he collected from Lourdes, wherever the 39-year-old has gone during the last two decades, it has travelled right by his side.
Considering the many ups downs the Irishman has experienced in his career (including two FA Cup Final defeats with Newcastle, as well as a triumph with Manchester City) I'm not wholly convinced it's been a consistently lucky companion; but when has logic ever got in the way of superstition, eh?
Teenage sensation Jack Grealish is another Villa star with his own peculiar ways.
The 19-year-old has always played in tiny children's shin pads because he feels luckier having his socks rolled down towards his ankles.
At first glance it looks like he isn't wearing pads, but he is. "A few referees have tried telling me to get bigger pads but I've got to keep it like that. It's a superstition that I've done all my life I'm going to keep it that way," he recently admitted.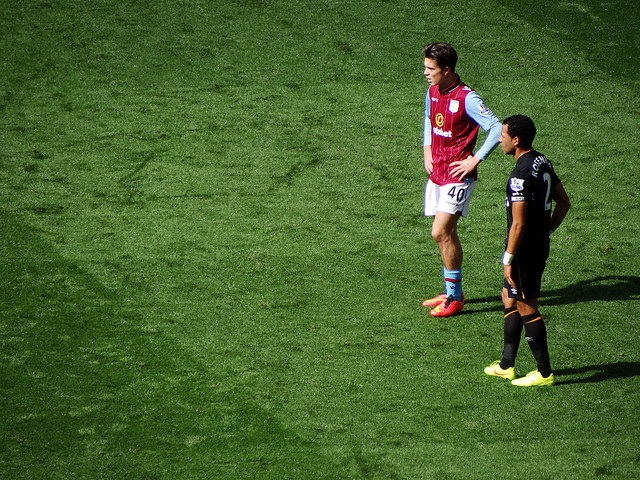 Professional footballers really are an intensely superstitious breed.
I once knew a teammate who made himself late for a game (collecting a hefty fine in the process) by desperately driving around the town in search of a second magpie. Having seen one of the birds on his way to the game, he was convinced his performance would be jinxed until he spotted a second magpie.
One for sorrow, two for joy, as the saying goes. To me it sounded like utter madness, but there was no stopping him!
Fellow cup finalists Arsenal have plenty of their own quirks too.
Chilean superstar Alexis Sanchez rolls up his shorts when he's about to take a free-kick, assistant manager Steve Bould likes to keep a watch in his right pocket, Laurent Koscielny slaps himself in the face before kick off, Alex Oxlade-Chamberlain will always hop onto the playing surface having made sure he put his left shin pad boot on, before his right.
Even the manager himself, Arsene Wenger, likes things done a certain way too. He's a big believer in Feng Shui, personally designed the home changing rooms to ensure they have the right energy.
It seem that Gunners fans are cut from a similar cloth. A recent survey revealed that more than 78% of them have their own individual pre-match or half time rituals.
These range from saying the same thing out loud at every kick off, to putting on 'game day' socks, listening to the same music en route to the game, or eating the same thing at the same place before every match. Each to their own, I guess.
If you look into the crowd at Wembley Stadium on Saturday you will also see thousands of Arsenal fans wearing yellow ribbons.
It's a tradition that began when the club played won the 1950 FA Cup Final wearing yellow shirts. Then, during the 1971 final (another success) supporters converted the "She Wore A Yellow Ribbon" song from a 1949 John Wayne movie into their own version, the sound of that tune will echo around the stadium again on Saturday.
Despite the ribbons, fans are actually divided on whether the yellow away shirts that Arsenal have been told to wear this weekend are good or bad omens.
The Gunners lifted the FA Cup in 1950, 1971 1979 in those colours, but were also beaten at major finals in 1969, 1979, 1980 (twice), 2000, most recently in the 2006 Champions League showpiece wearing yellow. Hmmm.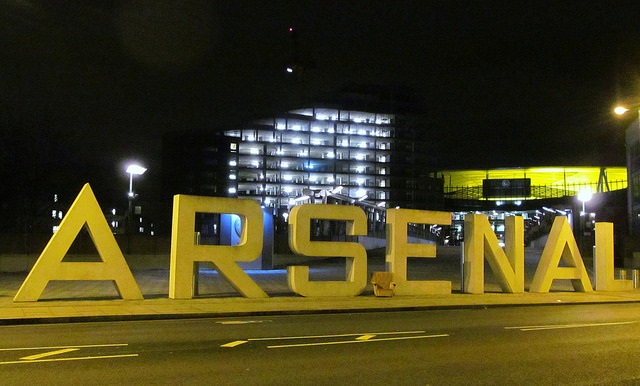 Speaking as somebody that isn't at all superstitious, I personally don't think it matters what shirts Arsenal play in, or what the fans eat, wear, or do on the day.
If the Gunners play to their full potential, each man concentrates properly on the job in hand, Arsenal should beat Aston Villa win a record breaking 12th FA Cup. They are usually by some distance the better team.
What, if Aston Villa prevail? It'll be down to lucky omens obviously… 🙂
Do you have any pre-match superstitions you can share?
When you're at the casino do you have any special rituals you go through?
Tell us!
Remember, you can watch the game at any of our local casinos. Take a look here to find your nearest casino have yourself a great night out!
Photo credits – Flickr (Creative Commons – Attribution 2.0 Generic (CC BY 2.0))
, Flickr (Creative Commons – Attribution 2.0 Generic (CC BY 2.0))

Comments
comments