It's three and a half years since Arsenal beat Chelsea. Arsene Wenger has never triumphed against Jose Mourinho.
History isn't on the Gunners' side ahead of their clash with the Premier League leaders this weekend, but here are FIVE good reasons why I think the time is right for my former club to finally get one over on the Blues…
Fresher legs
Jose Mourinho's men are beginning to look weary. The manager isn't a fan of squad rotation, and having been incredibly fortunate with injuries all season, his preferred starting XI have an awful lot of miles in their legs. The sharp edge to their interplay that wowed us earlier on in the campaign, has to some degree worn away.
Take a look at the numbers. Down Chelsea's spine Ivanovic, Terry, Cahill, Matic, Fabregas and Hazard have played a combined total of 16,225 minutes in the Premier League this term. That's rather a lot.
Compare that to the equivalents who are most likely to line up for Arsenal on Sunday; Bellerin, Koscielny, Gabriel, Coquelin, Ozil and Alexis, and you'll find six infinitely less jaded players. Collectively they sit on 8,130 minutes, with almost exactly half the amount of football under their belts.
It's little wonder the Gunners look more energized right now.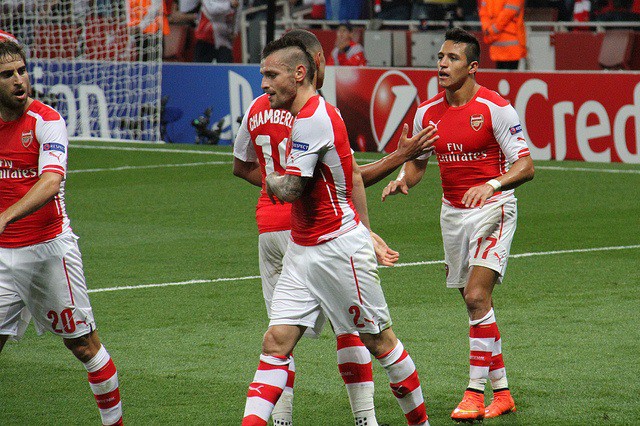 A free swing
This fixture's been dubbed a 'title decider' in some quarters but that's over egging it. As much as many of us would love to see Chelsea crash and burn in the final weeks, there's more chance of 53-year-old Kerry Dixon coming out retirement than the Blues relinquishing a 10-point lead.
So with Chelsea not in desperate need of a win, and a top four place looking nailed on for the Gunners no matter what happens, it's not the high-pressure contest it might have been.
In theory this should suit Arsene Wenger's in-form side. While their reputation for tightening up against the very best is on the wane, it's still easier to unleash fast, fluid football when the stakes aren't sky high.
Even if Chelsea shut up shop in search of a stalemate, there's nothing to hold Arsenal back. They can throw everything but the dressing room sinks at Mourinho's men, and enjoy the experience.
Ozil > Fabregas
All eyes will be on Cesc Fabregas when he returns to Emirates Stadium on Sunday. After making a sensational start at Chelsea, the Spaniard's form has plateaued in recent months, but the ex-Arsenal man can still feel satisfied with first season back in English football.
A lot of Gunners fans were desperate for Arsene Wenger to re-sign him last summer, but personally I'm glad he didn't. It would have limited opportunities for Ramsey, Wilshere and Cazorla, and in the number 10 role I certainly wouldn't swap him for Mesut Ozil.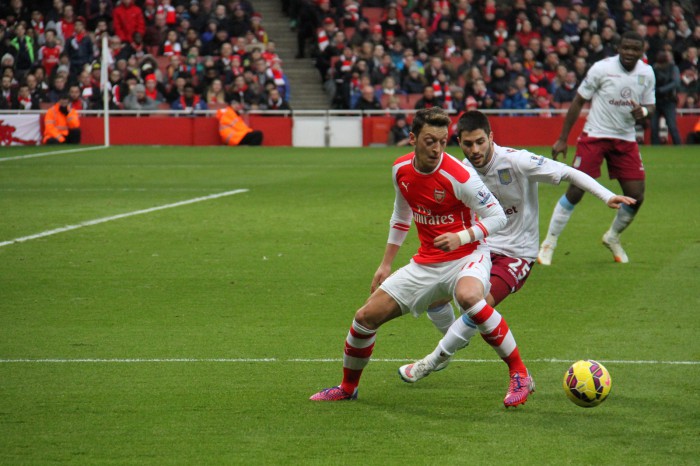 Since returning from injury three months ago, the German has oiled Arsenal's engine magnificently. He is creating chance after chance for his teammates, scoring goals, and making the team tick. On current form he's producing football that's on a different level to most players, including Cesc.
With the former Gunners playmaker in the house, it's a wonderful chance for Ozil to show his supporters who is the boss.
Lessons learned
Arsenal's off the ball work against major rivals was disastrous in 2013/14, but aside from naïve decision-making at home to Manchester United and Monaco, they have improved markedly in that department.
French enforcer Francis Coquelin has patrolled the midfield expertly, and the fullbacks have been less gung-ho in their approach too. When asked tough questions against City, United and Liverpool, no one buckled. They're nowhere near as open as they used to be.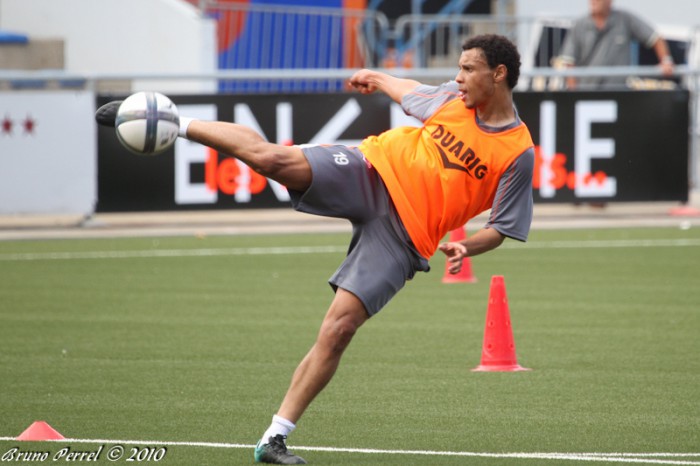 At Stamford Bridge the Gunners switched off just twice and were punished both times. And, as Eden Hazard proved last weekend against Manchester United, he and his ruthless Chelsea team only need one chance, and they'll take it.
While I expect Arsenal to attack with verve on Sunday, I don't believe they will do so at the total expense of stability. They've suffered too many times and been accused of naivety too often, to let their concentration drop in this one.
Winning it for Wenger
Jose Mourinho has flung too many grenades laced with poison in Arsene Wenger's direction, for cordiality to exist between the pair. Neither likes the other, and that's how it's likely to stay.
Having failed to get the better of him in 12 previous attempts, the Gunners boss would love to make it lucky 13 this weekend, and I don't think the importance of that milestone will be lost on Arsenal's players.
It's an Indian sign that's cast an irritating shadow over Wenger's illustrious career, and the time feels right to end it.
Photo credits – Flickr (Creative Commons – Attribution-ShareAlike 2.0 Generic (CC BY-SA 2.0)), Flickr (Creative Commons – Attribution 2.0 Generic (CC BY 2.0)), Flickr (Creative Commons – Attribution 2.0 Generic (CC BY 2.0))
Comments
comments