There's no denying it; I'm a right jammy so and so. During my 40 years and bit on this planet I've been fortunate to see a whole host of sporting greats strut their stuff just yards away from my very eyes.
Going through the list brings back so many great memories; Lara, Tendulkar and Warne, Faldo, Woods & Mickleson, Calzaghe & Hopkins, Hendry & O'Sullivan, Bubka, Moses & Farah, Nadal, Sea The Stars, Maradona, Messi, Platini, Ronaldo and Zidane.
All giants in their field, with each experience leaving its own indelible mark on a very impressed me.
Yet none of those legends took my breath away with quite the same majesty as Roger Federer.
The 17-time Grand Slam winner is the finest sportsperson I've even seen perform in the flesh. By. A. Mile.
Dancing around the court with the grace of Fred Astaire, timing his shots with effortless style, the sight of Federer whipping winner after winner with the most fantastic forehand in tennis history, right in front of me, was the sporting equivalent of sipping vintage Grand Cru on the Orient Express.
I oohed-and-ahhed my way through two phenomenal master class performances at Wimbledon, and from serve to smash he was at times jaw-droppingly brilliant.
I thought I'd seen it all until I got to witness the Fed Express trounce his great rival and nemesis Rafael Nadal 6-3, 6-0 at the O2 Arena in 2011. Although his relentless excellence only lasted an hour in what was a horribly one-sided match, there wasn't a tennis fan that left the Dome that night that felt short-changed.
It was an unforgettably special performance.
Then 30, I did wonder (quite sadly) if that would be the last time I'd see the Swiss maestro play to such an exalted level, but three years on he returns to the ATP Tour Finals this week with an outside chance of finishing the year as world number one ahead of the magnificent Novak Djokovic.
Federer didn't win a Grand Slam in 2014, but some say this is the best the seven-time Wimbledon champ has played in years.
Certainly no one's been more consistent.
He's won the most matches on tour (68) and in 16 tournaments has only failed to reach the last eight twice. His record of five title victories this year, is second only to Djokovic's six.
Considering Federer had slipped to eighth in the rankings 12 months ago, on the back of an injury-plagued season that saw him win just one tournament, the veteran's bouncebackability – just like his A game – has been a sight to behold.
At the season finale starting at the O2 this weekend, the 33-year-old is once again the man to fear, and the bookies have him down as favourite to top Group B which also features debutants Kei Nishikori and Milos Raonic, as well as Andy Murray.
The Scot's clash with the Swiss superstar will be the highlight of the group stages – not least because the Scot is in Federer-esque form himself, winning three of his last six tournaments.
Having lost miserably to 'Baby Fed' Grigor Dimitrov at Wimbledon on his last appearance in the UK, Murray will also be extra keen to showcase his sparkle in this glitzy, music pumping, celeb-fest of a competition.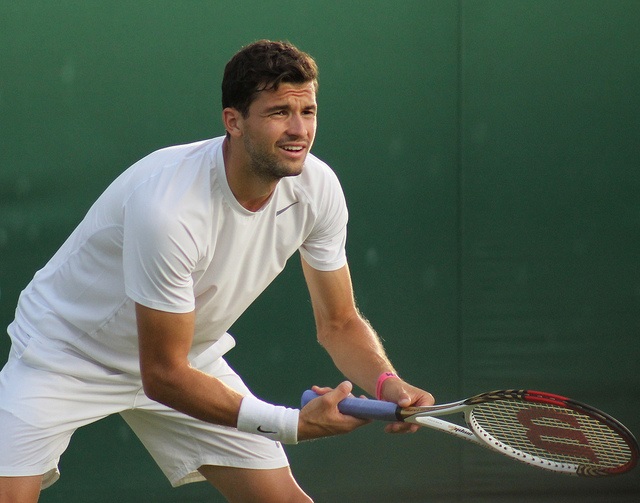 On the other side of the draw, in the absence of an injured Rafael Nadal, the smart money would be on Djokovic cruising into the semi-finals, and if he does that his status as world leader is assured until it all begins again in 2015.
A Djokovic v Federer final would also be the perfect climax to what's been a fascinating season, with two new Grand Slam champions, Stan Wawrinka and Marin Cilic, crowned.
This is a golden age of tennis, but we're coming towards the end.
For my money Federer, Djokovic, Nadal and to a lesser extent Murray, are talents that would all have dominated in previous eras. To have all four on stage at the same time has been a treat that may not be matched for a generation or more.
Everyone that follows tennis has there favourite, and by now you know who's mine. For class, finesse, skill, athleticism, instinct and now of course durability too, there's no one to touch the Fed Express.
Not just in tennis, but in modern day sport.
If you get the chance to watch him live before he retires, please take the opportunity. You won't regret it.
Photo credits: Flickr (Creative Commons – Attribution-ShareAlike 2.0 Generic (CC BY-SA 2.0))
Comments
comments