The Independent's headline reads as following… "Next Liverpool manager: Carlo Ancelotti and Jurgen Klopp among favourites to succeed Brendan Rodgers."
Given poor results and the apparent 'stench of resignation' currently engulfing Anfield, you may assume this story about the Reds boss teetering on the brink, emerged in today's English press. It didn't. It's a splash that dates all the way back to Tuesday 2 June.
The rumours aren't fresh ones. Talk of Liverpool replacing Rodgers with one of the planet's most high profile coaches has bubbled away since the end of last season, and shows no sign of calming down.
Is a change imminent? None of us know, but the next fortnight does feel like its crunch time for the Northern Irishman.
So if Fenway Sports Group take the plunge, who would be the best man for the job? Here are my thoughts…
Carlo Ancelotti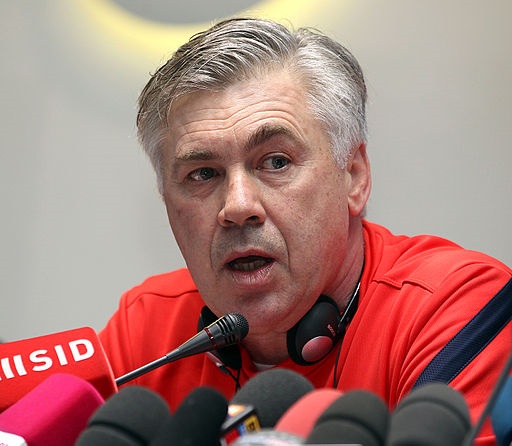 There's a strong argument to suggest the Italian is the world's most accomplished gaffer.
He doesn't draw as much attention to himself as you-know-who in the Chelsea dugout, or catch the eye with the same glamour as Senor Guardiola, but Ancelotti is a tried and trusted, fully certified winner. He's won too many trophies for me to list, picking up prizes everywhere he's been. With it, he's always been coolness personified.
What I admire most about the 56-year-old is his malleability. Whatever squad he inherits, he adapts to, engineering a style and formula to suit the players. He's not a one-system, one-philosophy type of coach. There are no fixed tactics in his dressing rooms.
Being Italian, Ancelotti does know how to solidify a defence. It's in his genes. And although that's not sexy it's what Liverpool need most help with right now. Until they're robust at the back, they'll never have the platform to win things. With AC Milan, Chelsea, PSG and especially Real Madrid, he got gifted players to pull together for the greater good. His organisation is magnificent.
There are two black marks against him; 1) he and his trusted coaching staff aren't getting any younger and may lack hunger, and 2) he's used to working with bigger and better squads. The lack of world-class talent may prove a frustration.
Personally I think he'd be a wonderful choice. Calming, and with a reputation for getting on with his players, he'd be a no-fuss, low-risk appointment.
Liverpool would be very lucky to have him.
Juergen Klopp

To a lot of Liverpool fans, Klopp is THE perfect fit. The prospect of luring the former Borussia Dortmund boss to Merseyside has well over 50% of the support base salivating in excitable anticipation.
I understand why. Working his way up with Mainz, he then rejuvenated a struggling Dortmund side – turning them into Bundesliga champions (two years in a row) on a budget a fraction of the size of giants Bayern Munich. Beyond that, he also took them to a Champions League final, proving that miracles do sometimes happen.
Klopp's chosen brand of football also conjures up memories of SAS and the title tilt of of 2013/14.
That season Rodgers' Liverpool pressed from the front, counter attacked at pace, and blew opposition teams away with in-your-face, aggressive football. In the bright yellow of his former employers, that's how the German's side used to go about their business. They roughed up teams, in a beautiful way.
Is Klopp is the man to revive those just-shy-of-glory days, and maybe just maybe, take Liverpool one step beyond? Plenty believe he is.
At 48, he's a young coach with passion and charisma coursing through his veins. Eccentric but likeable, he'd also be the perfect antidote to Rodgers' Brent-esque business-speak that's grated on Liverpool fans. English football will love him and his quirks.
One bad season with Dortmund last year, shouldn't ring too many alarm bells. Very few managers have the ability to maintain excellence over a longer period, in an Arsene Wenger style way, especially when the financial playing field constantly tugs you back.
Even last year though, when morale was low, his players still showed fight to climb the table. He's a gaffer that inspires players, and gets them to run through brick walls for him. Reds fans want to see that desire from their side. Tactically, he has proven himself to be as sharp as any at the highest level too.
Just like his rival for the job, I believe it would be some coup for Liverpool to convince him to take the helm.
Verdict
Brendan Rodgers hasn't gone yet, so this debate feels a tad unfair, but sooner or later (probably sooner) the Reds board will have a major decision to make.
If I were involved in the process, my head would pick Ancelotti, but my heart would cheer for Klopp.
Either way I'm not sure Liverpool could go too far wrong. Based on what their team has produced on the pitch during the last 16 months, they'll be punching well above their weight no matter who takes the hot seat.
Who would you pick?
Photo credits – Flickr (Creative Commons – Attribution 2.0 Generic (CC BY 2.0))
, Flickr (Creative Commons – Attribution-NoDerivs 2.0 Generic (CC BY-ND 2.0))
Comments
comments