What is a football accumulator and how to bet on one?


A football accumulator has become one of the most popular Football betting markets in recent years, with many football fans up and down the country trying their hand with an accumulator.
So, what does a football accumulator consist of? You can find out all you need to know about them below.
 How does a football accumulator work?
In a nutshell, a football accumulator is a bet which consists of two or more selections in a single bet and you only get a return if all your selections win.
To place an accumulator bet you simply have to add two or more selections to your betting slip and the combined odds will appear before giving you the option of how much you would like to stake on the accumulator.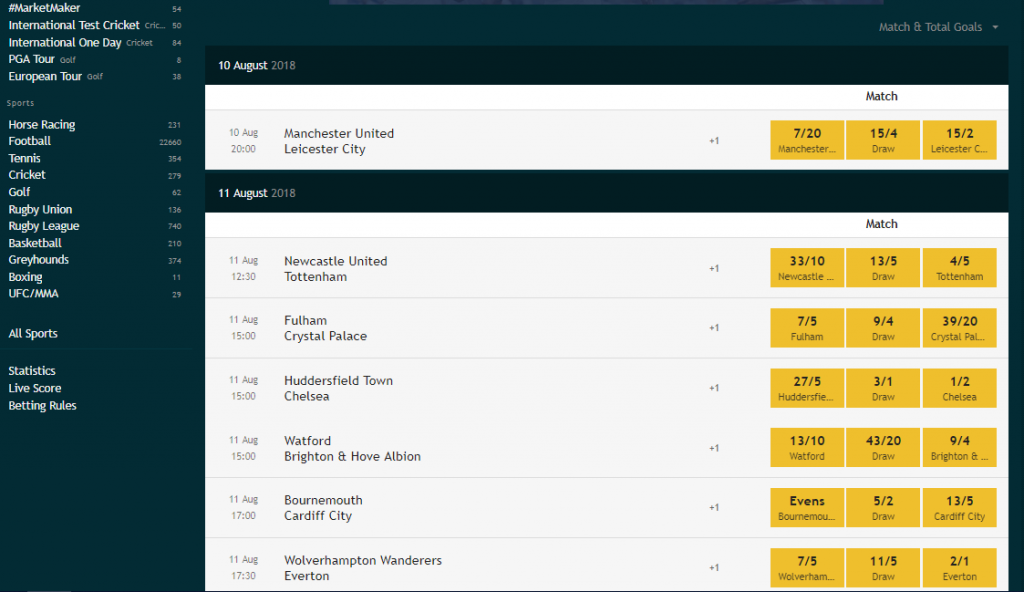 With the Premier League season not too far away, there are opportunities for plenty of accumulators
For example, rather than just betting on individual teams, you can combine the likes of Manchester United, Manchester City, Spurs, Chelsea, Liverpool and Everton all to win (see picture below) on the opening weekend of the season for 25.30/1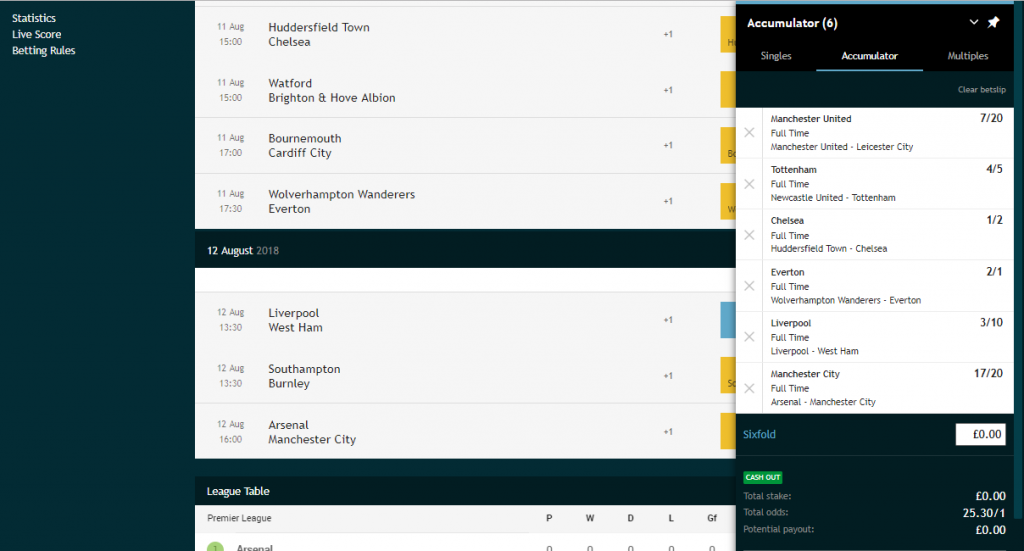 Also, here at Grosvenor Sport each and every week we enhance a number of accumulators ahead of kick-off  to boost your potential winnings and you can see them all in one place each and every week of the football season here.
Why should I place an accumulator bet?
In comparison to a single bet, an accumulator bet increases your potential return, depending on the number of games you opt to include in your accumulator.
The more selections you make, the bigger the return you could receive if all your selections go in your favour but does mean you have to correct outcome of more results right.
With so many live games going on over the course of a midweek or weekend round of fixtures across the globe, it certainly adds to the thrill of football betting.
On numerous times you can be sitting on the edge of your seat waiting for one late goal to turn an unsuccessful accumulator into a profitable one and that type of drama is rarely rivalled in betting.
But what if a game in your accumulator doesn't take place for whatever reason? You do not have to worry on that front because that match will simply be taken off your selection and the odds recalculated on all remaining games within your accumulator.
While all the talk has been football, accumulators can also be placed across several sporting events at one time.
Accumulator Calculator: How to work out your return
Have you ever wanted to work out how much a potential accumulator could earn you if it comes in? Our bet calculator tool is on hand to help you out!
When using the calculator you can vary the bet type, the way in which the odds are displayed (fractional, decimal or American), your stake and finally whether your bet is each way or not.
Rather than just placing a single bet on one result, an accumulator allows you to include multiple outcomes into one bet.
For example, if you were to place a £5 bet on a five fold on Man Utd, Wolves, Leicester, Leeds and Bristol Rovers to win with respective odds of 2/5, 4/1, 2/1, 11/10 and 4/5 the calculator will automatically work out your potential return is £396.90, leaving you with a profit of £391.90.
Are you looking to place wagers on a number of different sporting events? Then our sports betting page is where you want to be.
Comments
comments