There's no rest for the wicked, and while the jetlag from seven weeks in Vegas is still to do one and leave me alone, I'm already looking for some clean clothes and heading to Coventry for Goliath, the best low stakes tournament in the world!
Vegas didn't exactly go to plan, with just two cashes in tournaments and a semi-deep run in the Main Event that could have saved the trip cruelly cut short just before the money late on day three.
With a min cash of $15k, it wouldn't have taken much to level out the trip and send me home satisfied, but really, can you complain about spending seven weeks in Vegas, sharing time with Grosvenor qualifiers, staff and friends and say you're unhappy?
I'm so blessed to have the chance to play the World Series of Poker, and while it didn't go to plan, I'm blessed to be pretty sure to be back again next year and hope to run a little better.
Mental toughness is one of the most underrated aspects of playing poker. It's so easy to lose it and start playing differently, gambling more, playing loads of hands, or on the flip side, go back into your shell, start playing negatively, or stop playing because you're running bad.
As I say to anyone who is running bad, make sure your game is at its best, that you're not making any mistakes, and that you're not hiding behind the excuse of running bad when really you're fundamentally doing something wrong.
But once you've been through those checks, don't change a thing.
I've heard people who say they've started to just call with aces because they keep getting outdrawn with them, that they're folding AK to a 3bet because they keep on losing the inevitable race once the money goes in, or that they're going to take a break because they're running bad and the same things keep happening.
Of course it's ridiculous to start playing a hand differently because of what has happened in the past, it has no influence. There is a time to just call with aces, and a time to fold AK preflop, but not because of what has happened previously, each hand and tournament deserves its own assessment and conclusion.
And while taking a break when running bad isn't a terrible idea, I've never known anyone to start running better while not playing! If you're starting to play bad because of an ugly run, sure, take a break, but ideally be mentally tough enough to give your game an MOT, check there are no fundamental errors, then crack on playing the same and wait for variance to treat you a bit better!
I always keep a spreadsheet of my Vegas tournaments, and I'm brutally honest within it, so when I get back and I conduct a post mortem, I can pick up on anything I need to change.
Looking at the PLO comps I played for example, I got knocked out of three all in preflop with aces. And when I say aces, I don't mean AA27 rainbow, I mean, lovely connected aces.
I bubbled the final of the $600 PLO at the Venetian playing five handed I raised the button with AAQT with a suit and the small blind repopped KKJ8. We got the lot in, he made jacks full of eights and off we went.
Similarly, though not as deep, we were cruising will a big stack in one of the WSOP$1500 PLO comps.
I'd not had any big confrontations, had my table where I wanted them and was close to the money with well over average having flopped top set from the big blind and accepted my opponent's invitation to have a gamble with him and his bottom two pair.
But when the big stack 3bets a new guy at the table and you find AA56 with a suit in the big blind, what are you to do but get more than half your stack in pre and make it obvious the rest will be following should he want to peel.
Eventually the original raiser passed, the 3bettor sigh reraised all in, his KK45 hit two fours and we were out of there.
One of my friends told me it's not good to get it in pre with aces in PLO….I'll let him keep folding them and know that at some point I'll get the lot and go on a very deep run.
I could go on through my tales of woe, but make no doubt, there are a couple of spots I wish I'd taken a different route, and also a couple of things I would do different in general. I'm always working on and assessing my game to try and be the best player I can be, and anyone who doesn't do that will soon be left behind.
The Main Event was a case of coulda woulda shoulda, especially after a dream day one where I didn't play any huge pots yet finished with a pretty monstrous stack of 143k. Remember day two starts at 300/600, so that is plenty of play and really I should have used it to at least cash.
My day two table was a funny one, with the other big stack determined to play every pot and alternate between being on raging tilt and outdrawing people and loving life.
In reality, I just didn't find many hands and the spots were few and far between. The hands I did find, QQ in the sb v AQ on the button, TT v AK, I lost pretty decent pots, and after my table broke in the last level, I could have fared much worse on a table full of strangers.
I defended QJ in the big blind to a young German's raise, found the QJx flop and was ready to play a big pot. He checked behind though, and when the ace hit the turn, I wasn't so in love with my hand, especially when I checked and he bet fairly big. I just called, and check called again on the brick river, to be shown three aces. That could have been a disaster if he bet the flop, because he was never folding to my check raise and the pot would have been much bigger.
Even though I only played an hour on that table, I avoided two other potential landmines, folding AQ suited in the small blind to a raise and 3bet only to find the woman in the big blind cold 4betting and showing aces, and raising with AK, getting calls from both blinds and checking all the way to the river on J88TT. The sb led 5th street, the bb called, I passed having done 2.5bb in the coup and the sb showed JJ for flopped jacks full.
I felt lucky to escape with 110k for day three to be honest.
Blinds started at 1k/2k on the third day, and with over 50bb I was still comfortable, but straight away a shortish stack decided his A6o was a good hand to 3bet shove over my open when he didn't have enough to make me fold. He hit some sixes against my 44 and we were down to 35bb and not loving life as much.
As dinner break approached, I'd played very snug and felt I'd get plenty of respect if and when I got my chips in.
Pocket tens under the gun seemed perfect, I shipped my 50k stack in, and the A6o guy from earlier reshipped for 100k. I felt that would be a race at worse and I was due against him (and in general) so didn't mind. Then the button started thinking. He had about 230k total and was clearly pained. This wasn't one of those "I've got aces or kings and I'm trying to lure the blinds in" dwells, this was a "i've got half a hand here and don't know what to do".
The longer the dwell, the more I was sure it wasn't jacks or better and he wasn't sure about risking around half his stack – it may be an underpair or AQ or AK. Either way, I felt like I was going to be in a race, maybe against two AKs or maybe against a smaller pair and one AK. I'd be decent favourite to treble up and have nearly 50bb at the new level coming back from dinner, where the bubble would either burst or be very close and I'd be able to seal my third Main Event cash and hope to go on a run better than my personal best of 110th.
The button eventually called, and he did indeed have AK. I don't hate his call, but he must have known he definitely didn't have the best hand, and while he might be flipping, it was very possible he had the same had as one of us.
As it turned out, the other guy had 99, the perfect hand for me to take on with my tens.
We saw the maximum pain run out of 5443K to give the overcaller the pretty meaty pot and send me off to think about what might have been.
Fortunately throughout the Vegas trip, the cash games had been very good to me. I was only playing 2-5 or 5-5, mainly PLO or Big O (5-card hi/lo) but the games were great.
Three sessions running I got it in in Big O for stacks with top set against just a low draw and scooped, and I only had one losing session over the whole seven weeks.
All the way back in May we had headed to Sin City and met up with the Grosvenor qualifiers, all ready to play the Colossus and represent Team Grosvenor.
It never ceases to amaze me what great groups we get, all ready to work hard at the tables and play hard off it.
We had Blair Matheson, chip leader in the Colossus for much of day two, who spun his online entry into a week in Vegas with the team and a lovely $5k-plus payday for his 161st place finish.
Tom and Imran from Grosvenor did a great job keeping the qualifiers fed and watered, and we were there to offer any advice and tips that were needed, with the group comprised of a mixture of experienced players who are regulars on the GUKPT circuit and old hands at doing Vegas, to Sin City virgins who were not sure of the simplest things. It's always good to have someone you can ask the basics to without feeling daft.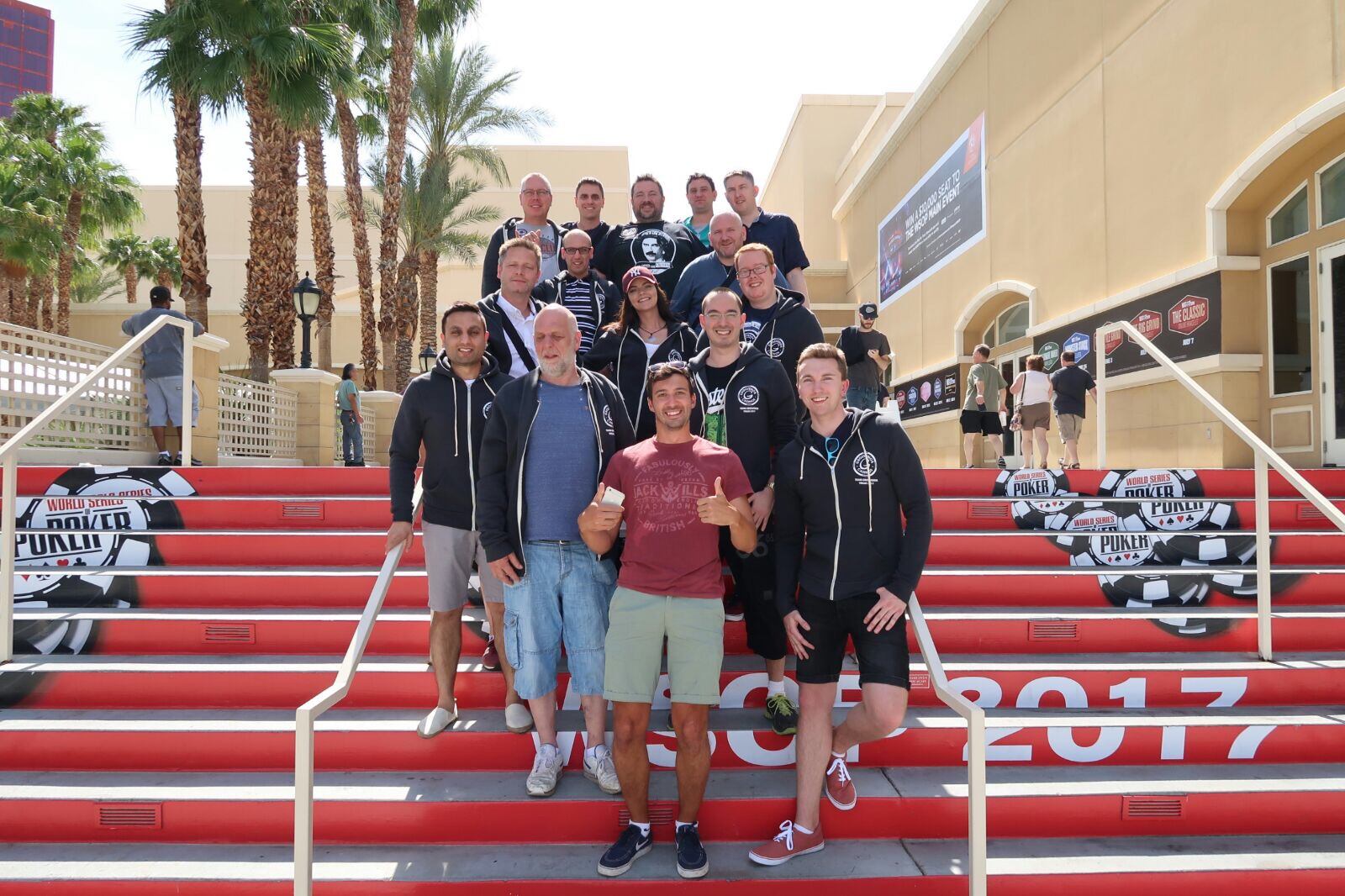 If you've not made it out to Vegas yet, then make sure you start planning to qualify with Team Grosvenor in 2018. They really look after you, and as I know all too well, qualifying online and enjoying some decent results in the subsequent tournaments can really boost your profile and bankroll and send your poker to the next level.
And if you're missing Vegas, or have never been, I can honestly say that Goliath, starting on July 27th (for the supersized 25/50 £200 side event), or the 29th (for the first of six start days!) is the closest thing you'll get to the World Series of Poker outside of Las Vegas.
The huge conference room under Coventry's Ricoh Arena houses tables as far as the eye can see, and the atmosphere is more like a home game than a normal tournament, with everyone there to have a good time, as well as enjoy their game.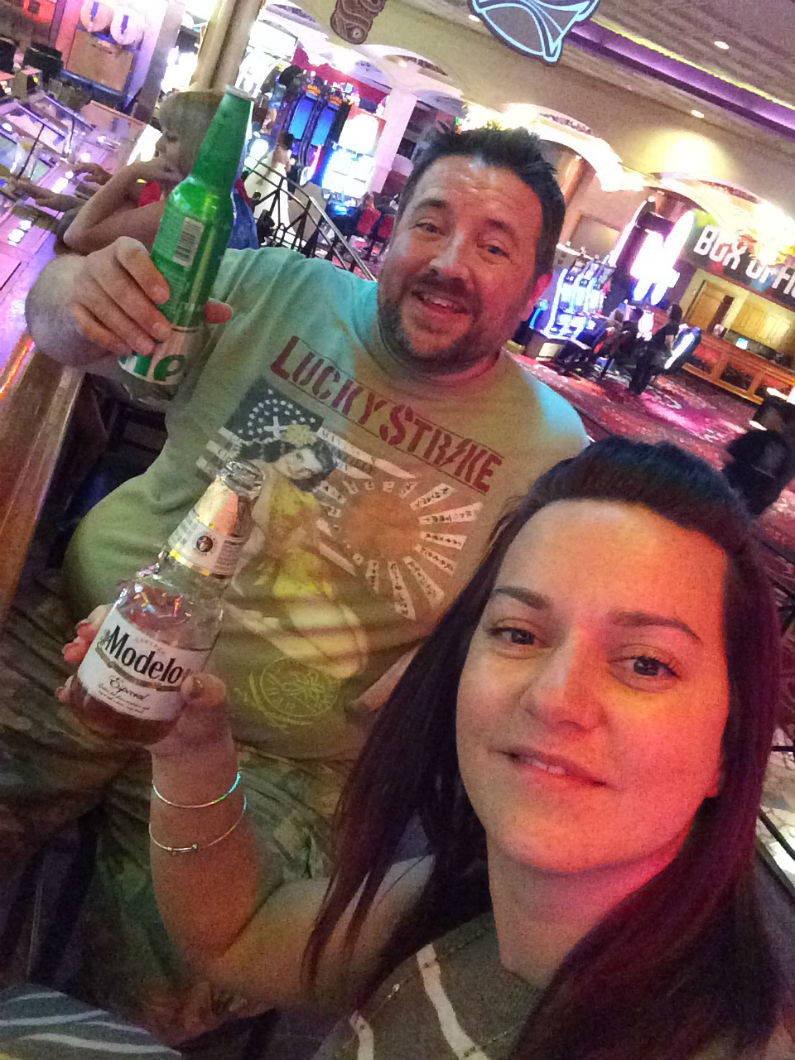 For £120 you will never get a better team of tournament directors and dealers than Grosvenor provide, and while it's tricky to navigate your way through over 5000 runners to win the £80k or so first prize, it's not impossible and someone's got to do it, why not you?
The Goliath is the best low stakes poker tournament in the world in my opinion, and we're so lucky to have it on our doorsteps in Coventry.
You'll meet players from France, Denmark, Sweden, Canada, the USA and beyond, and the whole week of events and atmosphere in the casino is second to none with cash games everywhere and the bar buzzing.
It's always a bit of a downer coming back from Vegas, but Goliath is going to be another cracker and something to really look forward to.
Come along and enjoy the best low stakes tournament in the world, and maybe you'll be £80k richer by the end of the week too!
Comments
comments