Las Vegas. Those two words carry very different meanings to people from all walks of life, but to most poker players it means the chance to win the golden ticket, the opportunity to make a huge score and get setup for life. To other players it means fun, because frankly Vegas is a blast. Whether you're into grinding in soft games, smashing up the tournament scene, partying or plain old gambling, the city delivers.
For myself, Vegas holds very fond memories. The first time I went to the series I was part of a big stable, the pokerfarm. Whilst sadly the company no longer operates, that summer was a lot of fun. Some huge names were on the roster that year, who have gone on to become giants in the game, Matt Perrins, Jake Cody and Sam Trickett were amongst that crowd.
I had a good series that year (the only profitable trip despite a handful of subsequent efforts to replicate the success) and had the only big live tournament score I've ever binked, coming 5th in a $1,000 WSOP event for $100k. Poker was a fair bit softer then, but the team had some huge results and a lotttt of fun. I do regret not doing better, but I still probably wouldn't have come home with any more money……
I no longer play poker, due to shocking bankroll management, a lifestyle that didn't suit my personality and the fact the games got a lot tougher; but running grosvenorpoker.com as part of an awesome team gives us a lot of opportunities to give players what they want.
We are aiming to become the destination of choice for online satellite qualification to live events, for all of the excellent Grosvenor tours and comps on UK soil (25/25, GUKPT, Seasonal Specials, UKSPC, Goliath etc) alongside European events in the form of the awesome MPNPT and of course Vegas.
Vegas Experience – #TeamGrosvenor
This year grosvenorpoker.com are taking in total 35 poker players, including 25+ online qualifiers and our 6 sponsored pros, on a raiding party to Vegas, to compete in the "Millionaire Maker", plus have a healthy dose of quality fun along the way.
Over the years I've realised much of the enjoyment associated with huge amounts of money is thinking about how you will spend it, opposed to the (lets be frank) unlikely chance of actually getting the monster score. It is nice to have a chance though as occasionally dreams do happen, as Rich Trigg recently found out after banking an insane $700k, coming second in the Sunday Million.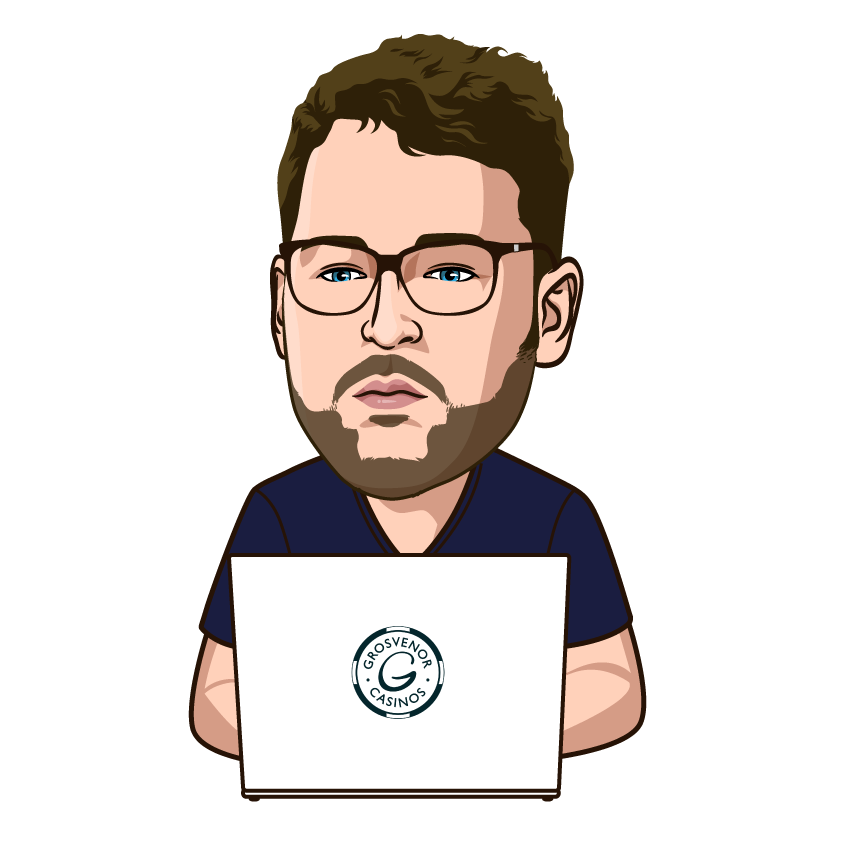 This year myself and esteemed colleague Kit Goodman-Edwards will be co-hosting the trip (by popular demand), alongside our growing stable of sponsored pros:- Jeff Kimber, Joe Beevers, William Kassouf, Andy Hills, Katie Swift and the man on fire himself, Richard Trigg. All these guys are on hand to help coach our satellite and other package winners (last one is this Sunday at 9pm, feeders still running daily) and ensure this is a trip to remember. We have welcome drinks, plenty of activities, nights out and of course plenty of POKER on the cards, so give it a shot if you haven't yet. For all the details on the package, click here.
The key point is, going to Vegas is a privilege reserved for the lucky few who can afford it or win a package. We want to give opportunities to players of all levels to compete in all of our big events, hence the chunky guarantees we stick on all our online satellites and the Grosvenor Live steps format that makes it possible to (not that difficult, I've seen the numerous success stories first hand) gain entry to huge tournaments like the GUKPT from as little as £0.25p. Most players won't be coming back from Vegas with an extra $1,000,000 in their bank account, but the fun of dreaming can often be better than the reality (be nice to test though right).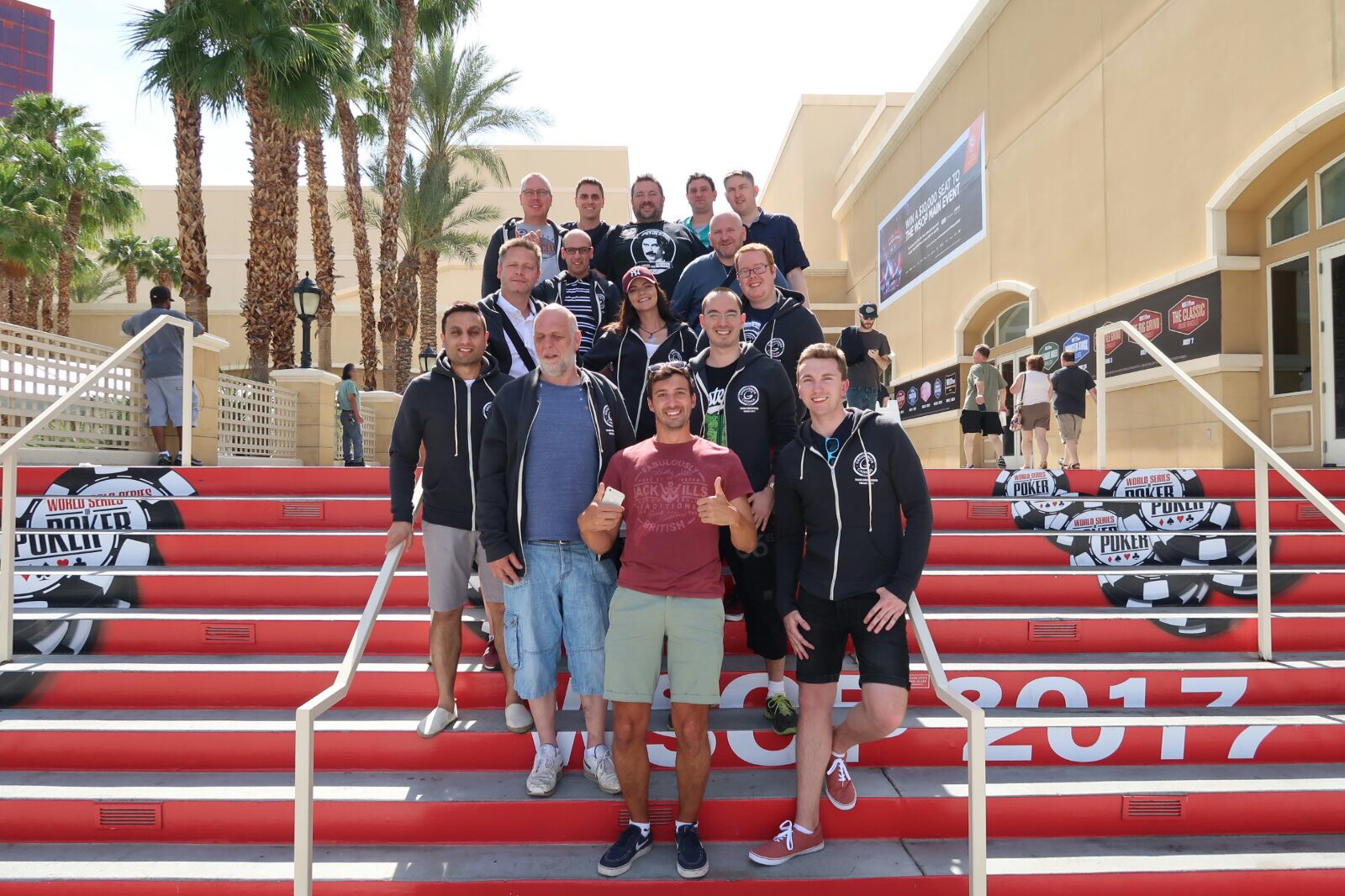 The only other way you can join the team after Sunday's final satellite leads me onto next week's big online tournament series, exclusive on grosvenorpoker.com, GCOOP- Road to Vegas. When we ran the initial GCOOP late last year, it was a huge success, players loved it. We talked to the players, listened to their feedback and have come back with an even better week-long series that now incorporates some high-rollers, PLO events and other fun formats. These tournaments don't take days to get through, have decent guarantees (likely some juicy overlays) and the top 3 performing players in the 18-tournament series will win £3,500 Vegas packages and join #TEAMGROSVENOR this summer, to make memories in Sin City. For more information check out the details here.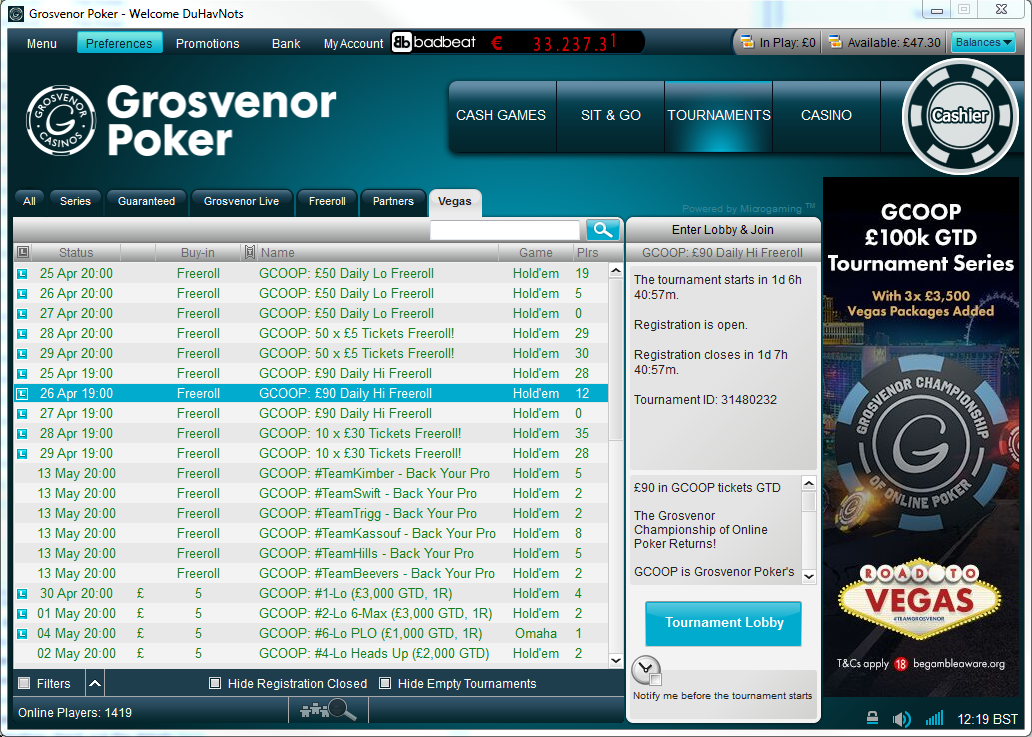 You can find all these tournaments in the Vegas tab in the client. It's worth noting Grosvenor Live tickets can be used to enter all of the £5, £30 and £225 (25/25 tickets) events. There are some jumbo freerolls in the buildup to GCOOP, so ensure you login this week and over the weekend to get full value ahead of the series (definitely don't miss Saturday and Sunday, when 120 totally free tickets are being given away). There's also a fun little "back your pro" promotion (my money's on Trigg) to get involved with.
As with all our activity here at Grosvenor, we are aiming to give players of all levels a fair chance, so clear your schedule, reserve part of your payday or bankroll to give yourself your best chance and hit the felt at Grosvenor Pokernext week. You could end up joining the team and winning a million in Vegas this year (or at the very least having a lot of fun trying)!
Comments
comments