It's become a "norm" for me to visit Vegas every year, yet every time I go I'm filled with excited anticipation like it's my first time!  That's because I never forget how lucky I am to annually make the trip that to a lot of people is a simply a dream holiday destination.  If it's on your bucket list, then why not get involved in the latest grosvenorpoker.com promotion and win your way to Vegas this summer!  Around 20 qualifiers will be taken on an all expenses paid trip of a lifetime to Las Vegas for a week from 31st May, worth over £3,000.  For poker players, Las Vegas becomes a magnet during the summertime with the WSOP being the biggest draw.  This is a fabulous opportunity to experience it, with #TeamGrosvenor playing the special one off WSOP 50th anniversary event "Big 50".  I'm so excited to have been selected again for my second summer to represent #TeamGrosvenor, if it's even half as good as last year, then it will be superb!

Last Monday evening saw "WillieWonka" free roll his way to victory, winning the 'Golden Ticket' and securing the very first package won and becoming the first qualifier to join #TeamGrosvenor this summer when we head to Las Vegas to take on the WSOP! As part of a Cheltenham promotion, John's sports staking gave him the shot. It's no coincidence that "WillieWonka" happens to be GUKPT regular, John Bousfield and has previously qualified for a Vegas package with grosvenorpoker.com online, in 2017.  He isn't alone in the repeat qualifiers category, Blair Matheson and Emma Wilkinson have both amazingly qualified for "The Road to Vegas" in two consecutive years, 2017 and 2018.  However, it is Cody Wagner that has become the first ever player to complete the hat trick, winning a package on Sunday!  He will be joining the team, for the third time, again this year – Simply WOW!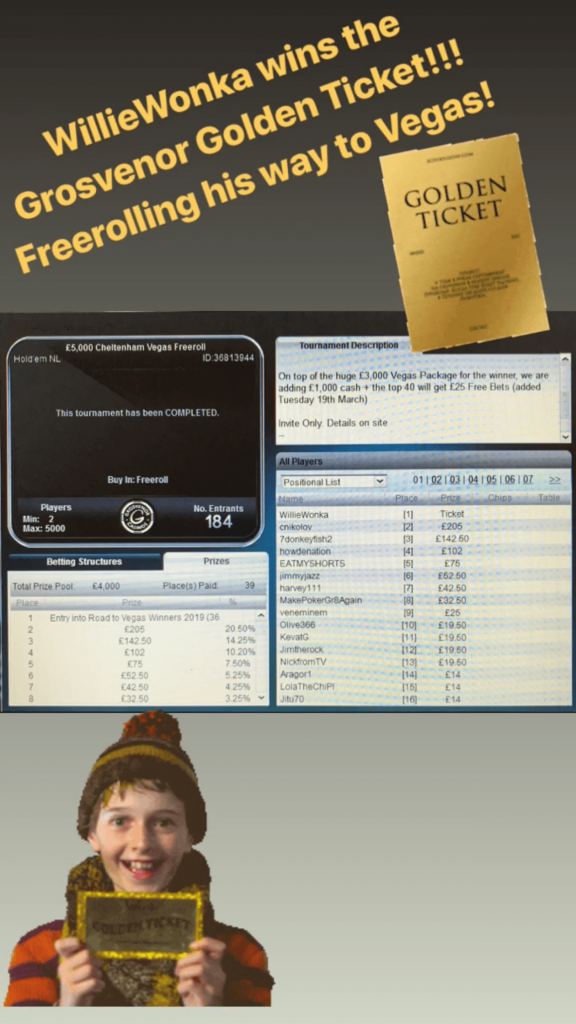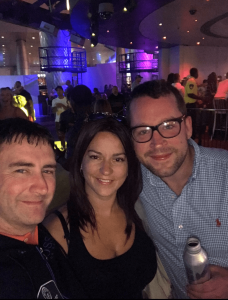 Cody the Crusher
Last summer, Cody actually managed to navigate through a field of 356 players, in the $1,500 Limit 2-7 Lowball Draw event, to reach his first ever WSOP Final Table.  I decided to go and rail Cody to offer some support and encouragement, and was soon joined by my fellow Pro, Jeff Kimber, making it even more enjoyable.  Unfortunately the majority of qualifiers and #TeamGrosvenor were departing Vegas on that morning, otherwise a huge rail would have been in place.  It was a momentous achievement and just fantastic to see Cody within touching distance of one of the coveted bracelets.  I am certainly not surprised that he has managed to win a package already this year, he is pure quality.  It's an honour that he returns year after year and opts to choose GrosvenorPoker.com.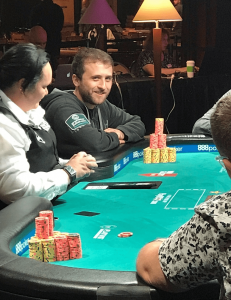 It was also great to see another decent female player, Brynn Kvinlaug, qualify alongside Emma last year too.  She loves all the mixed games and enjoyed competing in a whole host of formats during the week, in addition to the WSOP Millionaire Maker, which was part of the qualifier package.  Every time I spoke to her she had a beaming smile across her face, whilst enthusiastically describing the events and hands, her energy was truly contagious.  She was a great addition to the team, I loved having her there.  It would be fantastic if even more females managed to secure packages this year to be part of the trip!  So come on girls, get playing and win the trip of a lifetime!  The satellite step stages can be entered directly at any level, from 25p, and run daily.  Ridiculous value!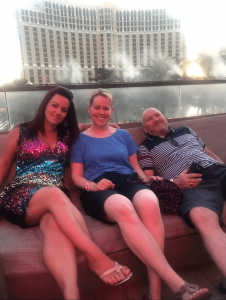 Winning a package is worth much more than just the cash equivalent of what the trip would actually cost.  The sheer experience of being united as a team is brilliant, which is typically alien to any poker player considering the game is very much an individual sport.  I instantly felt an inclusion and pride when I joined the team for the first time last year.  It's a feeling you can't buy.  An achievement.  That's the real true value of these packages.
As poker players, the volume of poker on offer in Vegas during the summer months is incredible.  You won't struggle to find a game to suit any budget either, for both tournaments and cash games too.  Some of my personal favourites outside of the WSOP events include: The Wynn Classic festival, The Venetian Deepstack Extravaganza and The Aria where the WPT is usually hosted.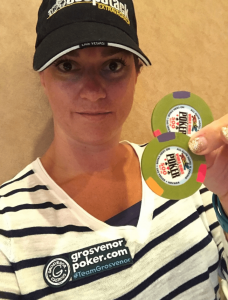 When not playing poker, with such a huge group of Pros, qualifiers and their optional additional guest each, it wasn't hard to find a company during the week.  Whether it be to meet for breakfast, attend the same poker comp or just hang out by the pool.  There was always a friendly, familiar face nearby.
Each time I visit Vegas I always manage to find something new to experience and enjoy and yet I have still only skimmed the surface!  Luckily last year many of the #TeamGrosvenor trips were things I hadn't done before and included a nice variety of activities.
Party Time
Welcome drinks started at the cocktail bar '3535' inside the Linq hotel, but swiftly moved to the VooDoo lounge at the top of the Rio, courtesy of a stretched hummer limo party bus!  The views across Vegas were simply stunning!  During the course of the week, team breakfasts to start each day became a regular occurrence.  Some people then set off to play poker for the day, with so many quality tournaments being offered in mulitple casinos, we were incredibly spoilt for choice.  Chilling by the pool or seeing the sights also took some people's interest.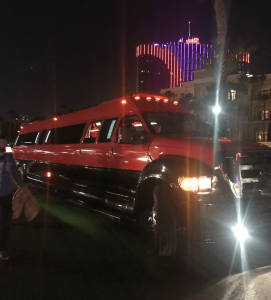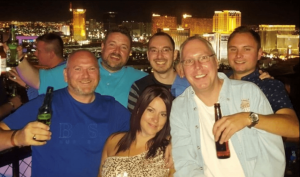 Jam-packed schedule
Kindly, Grosvenor organised additional excursions, including heading Downtown Las Vegas to visit the 'Neon Boneyard', as it's commonly referred to.  A few of us decided to stop by the 'Pinball Hall of Fame' en route and enjoyed spending a few hours playing dozens of machines.  In my opinion, this is a little hidden gem in Vegas and well worth visiting for a couple of hours.  By the time we arrived at the Neon Museum, it was dusk and just the most perfect time of day to fully appreciate the beauty of the enormous signs and understand their detailed history.  The guided tour took a little over an hour, so there was plenty of time after to enjoy some drinks and visit a fab little bar 'Hogs and Heifers', that reminded me of the bar in the film Coyote Ugly.  I am yet to play any poker Downtown, but I certainly always enjoy the difference between the original Las Vegas compared to that of the Strip, both beautiful locations in their own right.  Considering the magnitude of the WSOP at the Rio nowadays, I just can't quite imagine how intimate it would have been only 50 years ago, in Binions Casino, where the WSOP was born.  However, inside there is a great section displaying the history and it certainly helps paint a picture, which I appreciated.  It's admirable the transition and development of the WSOP over the years.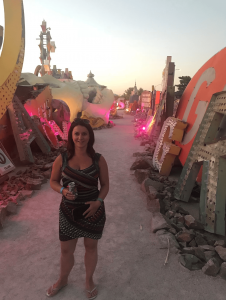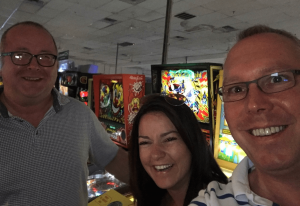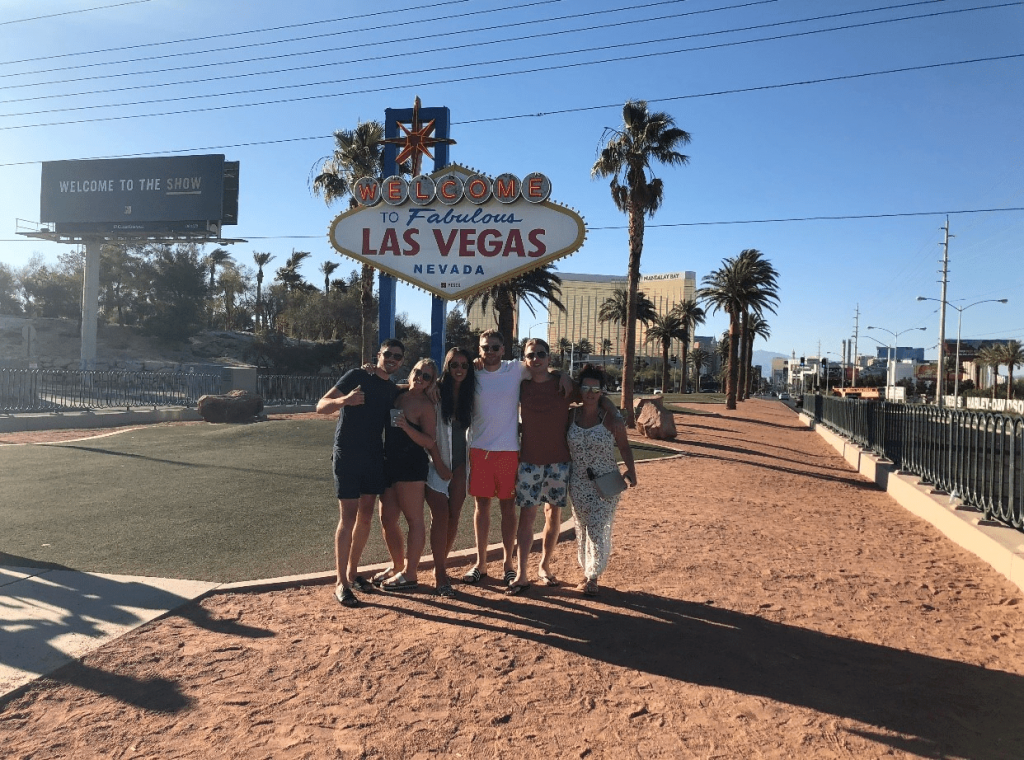 Midweek saw the entire team meet up at the 'Beer Park', situated underneath the Eiffel Tower of Paris Hotel and overlooking the world famous Bellagio fountains.  A VIP section had been booked by Grosvenor for us to enjoy and with over 100 beers available to try, the drinks were soon flowing! It was an ideal setting to relax, catch up with the team, eat, drink and enjoy some games too.  By this point, some players were ready for a break from the tables and all qualifiers and Pros had been eliminated from the Millionaire maker, where Jack Oliver lasted the longer out of the whole team, not only cashing in the WSOP event, but also taking a chunky last longer side bet that everyone decided to put into!
This Time Around
For me, I transferred to a Villa, away from the bustle of the strip, once the qualifiers all went home after their week concluded.  It was another entirely new experience again, one that I am set to repeat this year.  The group of friends that stay together are just brilliant, making it an easy and enjoyable house share.  If there's one thing I've learnt from all my Vegas trips, it's that surrounding yourself with positive people is absolutely essential!  Running good at the poker tables isn't guaranteed, but having genuine friends around you gives the guarantee of a great experience regardless of poker results – it's my top tip!  We found a great balance between playing poker, focusing on some study sessions, chilling and partying too.  Qualifying through Grosvenor will provide that positivity, support and balance in bucket loads too.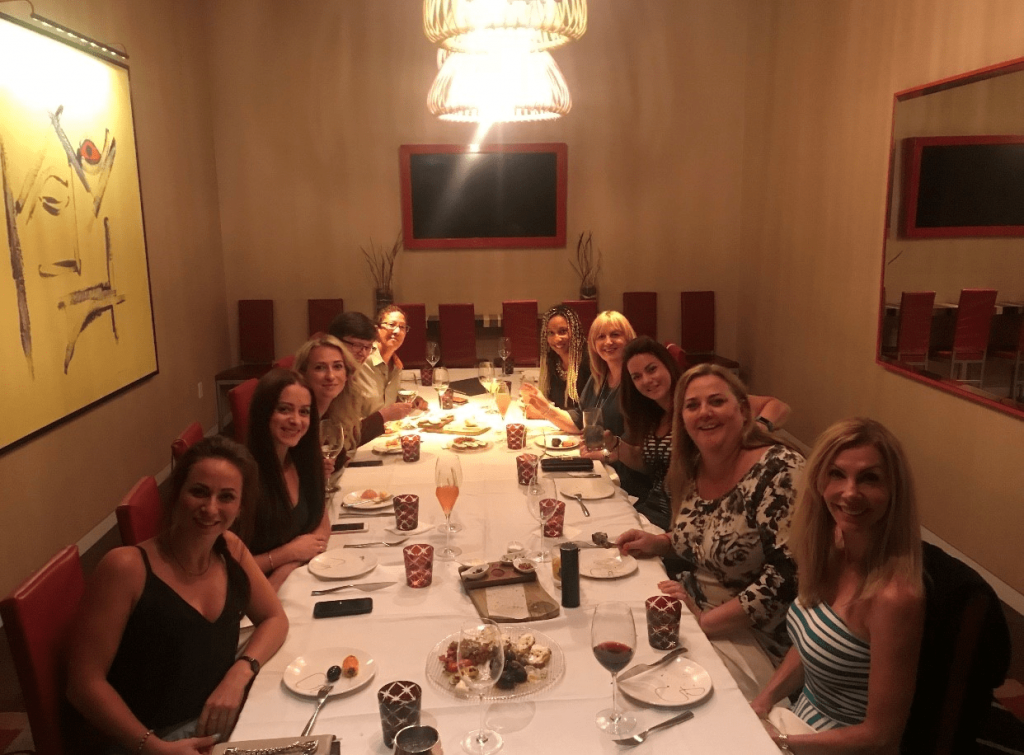 I look forward to meeting the new group this summer! Until then, good luck with the satellites and becoming one of the prestigious qualifiers joining us all.
Comments
comments