Earlier this year, Grosvenor Poker held the very first Goliath University League where one lucky/skillful university would win a £5,000 Goliath package, including 20 x £125 Goliath entries, 6 Hilton Hotel rooms and £1,000 expenses!
The 10-week online league saw phenomenal numbers with almost 1000 entries and over 25 universities taking part, but in the end one university rose to the top…University of Warwick. We caught up with Cam Warwicker, Uni of Warwick Poker Society committee member, to discuss his university's victory.
Firstly, congratulations on winning the Grosvenor Poker Goliath University League and securing the £5,000 package for your university poker society! How does it feel and how did you do it?
Thank you! It feels great, as soon as we saw Grosvenor announce the league we knew it was a great opportunity for us as one of the biggest Poker societies in the UK. The main reason for our success was our continued participation, every week we were successful in encouraging new people to play the tournaments and we kept increasing our proportion of the field every week.
Were there any key moments in the league that propelled you to victory?
There weren't really any key moments behind our victory, the only week were we completely dominated the standings was the last one, where it had essentially boiled down to a two horse race between us and De Montfort. It was our consistency that was the driving force behind our victory, we had 9 people that played at least 9 out of the 10 weeks and loads more who played whenever they could, and as the fields got continually smaller and smaller, we increased our turnouts.

Clearly University of Warwick are no fish at the felt! Is there a big poker scene at Warwick University? What do you tend to play?
Yeah there is a big poker scene at Warwick, we run a tournament and cash games on campus every Wednesday, we make sure to keep the tournaments varied with cheap buy ins and fun formats. The tournaments are normally NLHE with occasional variations, but next year we're gonna look to introduce more mixed games into the fold. We get a lot of demand for 6 card PLO cash every week as a lot of people at the society love to gamble. In addition to the Wednesday sessions there are going to be strategy groups run from next year by our more advanced players, and there are regular home games happening in Leamington Spa.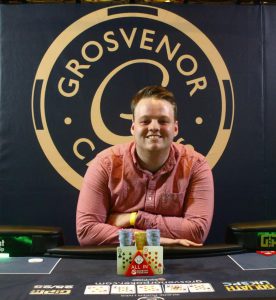 Are you excited to be taking on this year's Goliath tournament as a society?
That's the most fun thing about it – we've all decided to have 1% action in each of the 20 tickets we are receiving, so we have a sweat in everyone. Even if only 1 of us gets to Day 2 then we're all be there supporting them on the Saturday and having fun. It'll be great hearing everyone moaning in the group chat about getting sucked out.
How many from your society will be entering the monster tournament?
We'll be taking full advantage of the package and sending 20 people, we thought it'd be more fun with more of us going and it'd be nice to give people a chance to play a tournament so much bigger than the ones they usually play.

Goliath is the biggest poker tournament outside of Las Vegas. Will you be using a certain strategy taking on an event of this size?
We have players that have played £10,000 tournaments and players, such as our Head of Events, Euan, who still grind play money. I'm sure some people will be employing strategies specific to more rec-heavy large field events but a lot of us will just be there to have fun. The only piece of strategy that we will all try and uniformly adhere to is to treat it like any other buy-in tournament and not be too daunted to make correct decisions due to the money at stake.
This year 1st place is guaranteed to win £100,000! What would you do if you won the Goliath?
Put it all on red.
Do you have any side-bets or last-longers within your society for the main event?
We haven't really discussed it yet but we'll probably have a little last longer and also the opposite where we pay out the first to bust.
Do you have any poker idols?
Not really personally, a lot of people in our society like Doug Polk, but our president thinks that Daniel Negreanu is a good role model on and off the felt and spends hours studying off his old Poker After Dark hands.
2018 marks grosvenorpoker.com's first full year of huge student promotions. It started with the Student Road To Vegas that saw UK Student 'Jack Oliver' win a £3,500 Vegas Package and land himself a nice $4,518 score in the WSOP. Your University, University of Warwick, have managed to top the Goliath University League winning a massive £5,000 Goliath package! And later in the year will be the first ever Grosvenor Poker UK Student 'Become A Pro' promotion where one talented student poker player will win a sponsorship package with Grosvenor Poker. It seems like a good time to be a student poker player. Would you agree?
Yeah it really is a good time, obviously Grosvenor have gone above and beyond to provide this opportunity for us to play the biggest Poker tournament in Europe that only a few of us would have played otherwise. There are also other Poker companies following the lead that have Grosvenor have set, creating competition which really is giving us lots of opportunities as student poker players.
We'll catch up with Warwick after the event to see how their society got on in the monolithic tournament.
There are weekly student freerolls every Sunday on grosvenorpoker.com and the first ever Grosvenor Student 'Become A Pro' competition will take place later this year! To stay updated join the UK Student Poker Forum Facebook Group . 
Comments
comments