This year's GUKPT came to a close on March 15th with its winner, British legend Ali Mallu, scooping the £59,000 jackpot. After coming 2nd and 3rd in the 2008 and 2010 GUKPT clashes, this is Mallu's first jackpot win at GUKPT.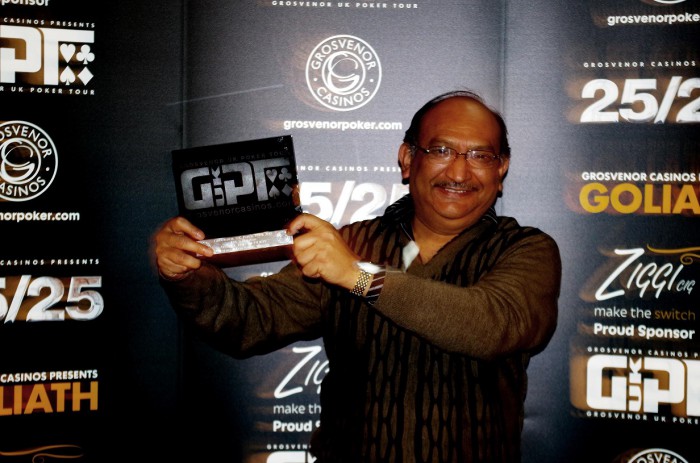 A regular at the GUKPT table, Mallu has become known for his particularly loose playing style, sometimes even committing an entire stack to any set of cards. In his post-match interview, Mallu confirmed he had changed his playing style to see what happened – and this may have been just the ticket! You can see the full interview here.
To sweeten the pot, this win came exactly a year after he won the Grosvenor 25/25 series title! This is his greatest win to date, with other big wins coming in during 2008 at the Bolton Main Event where he won $53,870 and $52,240 at the Genting Poker Series of 2014. The GUKPT is the longest running Poker Tour in the UK and offers a consistent high standard with large jackpots of £100,000 (for £550 main events) and £200,000 (for £1090 main events).
198 players took part in this GUKPT Main Event and, with a £200,000 guarantee set by Grosvenor Casinos, it was sure to be a fight to the finish. Tough competitors at the table included Jake Cody, Tom Middleton, Paul Jackson and Grosvenor Casinos' team of players including Ellie Biessek, Jeff Kimber, Joe Beevers and Ross and Barny Boatman. By Day Three there were 9 players left standing, seeing 5 top players narrowly miss the final: Michelle Mercer, Alex Lindop, Osman Mustangolu, Andreas Olympios, Alex Golubevs.
A diverse mix of players entered the GUKPT this year. In 8th place was Asif Choudry, a new player who has only played his hand for one year. In 6th place, Mark Davey won his £1090 seat by an online satelliete he held on Grosvenor Poker Online. – seeing his £10 buy-in turning into £8,200. Nigel Venture, a pub landlord who came 5th, qualified at Grosvenor Casino Bury New Road casino earlier in the week.
Weekly online satellites make it easy to get involved, and, if you want to do what Mark Davey did with just a £10 buy-in, the satellites are a great way to rake in the money! Visit Grosvenor Casinos for more information on this.
The third leg of the 2015 GUKPT takes place between April 19th-26th in our Grosvenor Edinburgh casino. This main event will feature a £100,000 guarantee and you can qualify by looking at our Grosvenor Poker page.
GUKPT 2015 Results
1st – £59,000 – Ali Mallu
2nd – £38,800 – Tom Dunwoodie
3rd – £24,400 – Liam Hooks
4th – £16,600 – Tim Hickling
5th – £11,000 – Nigel Ventre
6th – £8,200 – Mark Davey
7th – £6,600 – Jorge Rosa
8th – £5,600 – Asif Choudry
9th – £4,800 – Katie Swift
10th – £4,200 – Alex Golubevs
11th – £3,600 – Andreas Olympios
12th – £3,200 – Osman Mustangolu
13th – £3,200 – Alex Lindop
14th – £2,800 – Michelle Mercer
15th – £2,800 – Mike Hill
16th – £2,600 – James Walsh
17th – £2,600 – Hamid Rowshanaei
Comments
comments