We're back with our top five poker faces, but before we do the big reveal, The Face Whisperer, Adrianne Carter has let us in to her top tips for pulling the best poker face…
Become aware of your own face when you are winning or losing, your face will feel differently in each state
Practice feeling blank – it'll help you recognise how your face feels when you are developing your best expressionless poker face
Don't set your face rigid – this turns into a look of anger
Relax your facial muscles and think of something that raises no emotion in you
Don't fake an emotion you don't feel (to bluff the other players) – research has shown the general public can reliably detect an emotion that's faked 7/10 times
So, when you're next playing online either alone or with friends, you're now fully prepped to pull the perfect poke face.
Now, back to our top 5 celebrity poker faces of 2019:
Mel B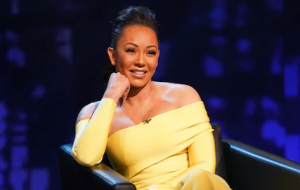 Piers Morgan's Life Stories interview – Monday 25th November
Scenario: The interview was an instant viral hit, as Mel B revealed that she had allegedly slept with fellow Spice Girl, Geri Halliwell, during the 90's. Geri responded to these controversial claims saying that they were completely false. Was this all a tale from Scary Spice?
The Face Whisperer says: This is what you call the happy thinker face.  It is the pose of the thinker (chin resting on hand).  The face is showing two emotions – happiness around the eyes and the cheeks and fear in the smile.  The smile is not turned upwards as much as you would expect but is more straight across as seen in a fear facial expression. She appears to tell the truth but fearful of the reaction and thinking of how next to respond.
Elon Musk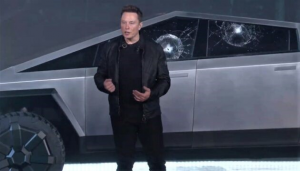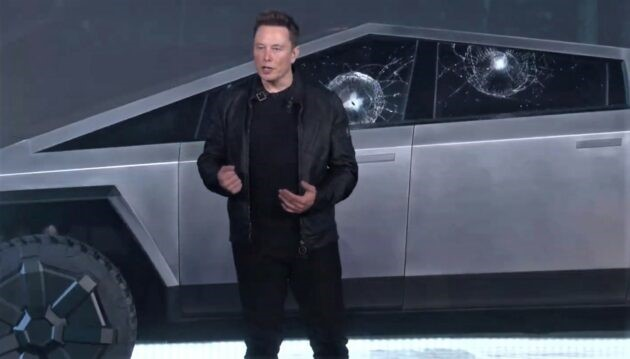 Elon Musk unveils new Tesla cyber truck – Monday 25th November
Scenario: It was billed as 'unbreakable' by Tesla billionaire, Elon Musk, at a global press conference. But during testing the large metal Cybertruck's armoured windows were shattered leaving Elon with the task of convincing people to continue to invest. Stocks fell 6 per cent. Did he successfully keep his cool or did the cracks begin to show?
The Face Whisperer says: The message is loud and clear – Elon Musk is angry.  Hard staring eyes, the tightened lips and the fisted hand all give the message of aggression.  He is ready to fight which is also revealed by the beckoning hand, bring it on.
Beyoncé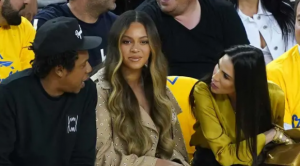 Golden State Warriors basketball game – Wednesday 5th June
Scenario: There has been lots of speculation about Jay-Z's infidelity and during a basketball game, his wife Beyoncé was spotted becoming very visibly irritated by his talking across her to another female spectator. What was she really thinking?
The Face Whisperer says: The right side of Beyoncé's face is showing a half smile, however this is the face of contempt not a half smile.  Contempt is shown when we feel either disrespect for someone else or we think we are superior.  So, the question is, is Queen B feeling superior to the woman next to her or disrespectful of the situation? Many people miss this facial expression and as one side of the face is neutral, they may think she is using her poker face – you now know different.
Miley Cyrus and Liam Hemsworth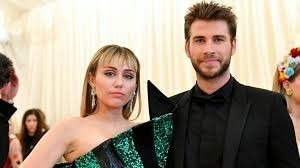 Met Gala – May 2019
Scenario: The 2019 Met Gala was one of the last appearances the former childhood sweethearts made together. The months following saw Miley saying she 'doesn't like the word, wife' and was spotted on holiday without her ring. Had the celeb favourites already split by this time and was their appearance all an act? 
The Face Whisperer says: Good contender poker faces from both Miley and Liam, but, on analysis, Miley is showing a defiant posture and face (you can almost hear her say 'what?' in an aggressive tone) and Liam is showing the classic muscle movements associated with anger with the clamped together lips.  In his eyes is sadness, loss of focus.  All in all, not a happy couple… but pretty good poker faces.
Now for our ultimate poker face of 2019…..
Theresa May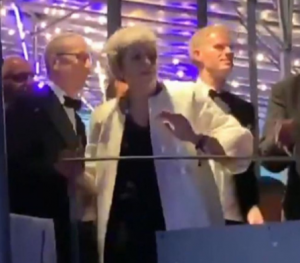 The 'Maybot' dance – Saturday 13th July
Scenario: By 2019, Theresa May had already made a name for herself as a Dancing Queen with her awkward moves that many refer to as 'The Maybot'. Once again, she whipped out her dance moves at Henley Festival but was this a deliberate attempt to humanise the heavily criticised Prime Minister, and if so, did it work?
The Face Whisperer says: This is the closest to a true poker face we have seen with these 10 scenarios.  Although her body language looks stiff and awkward her face is relaxed, which would indicate there is no internal discomfort.  So, if she is feeling uncomfortable in any way – Theresa has her poker face down to a fine art!
That's it, our summary of the best (and worst) poker faces of 2019. Check back next year when we're sure to have a whole host of other celebrity's to dissect!
Image sources
Comments
comments