Resident Grosvenor Poker PLO specialist Joe Beevers, who came 14th in a World Series of Poker PLO event for $11,746 back in June this year, guides you through his top ten tips for PLO starters. With Joe's advice on board, why not download Grosvenor Poker and test your new-found PLO prowess with our festive Oh Oh Omaha promotion.

Beevers' Top 10 PLO Pointers
A few people have recently been asking me for some PLO advice or tips. I thought I'd share ten of the best things to think about when starting out in PLO. This advice is for full-ring live Omaha. Looser, shorthanded games online mean you can be more liberal with your holdings and the way you play your hands.
1. Play position and play four cards that work together. Don't play things like 78KQ. Two playable hold'em hands do not automatically make a good omaha hand.
2. Don't draw to second best flushes or bottom ends of straights.
3. Don't overplay top two pair or bottom set (sometimes even middle set) when facing a raise on the flop. That's what you want others to do when YOU have top set.
PLO $565 down to 70 players up to 309,000 @GrosvenorPoker #TeamGrosvenor #WSOP pic.twitter.com/2wp13cP57T

— Joe Beevers (@joebeevers) June 10, 2017
4. Be aware in multi-way pots (multiway = 3+ players) you will probably need the nuts to win at show down. The same can be said, and even more so, if you are playing six card PLO (or 5 card too) where you will usually need to showdown the nuts to win.
5. Don't overplay straights made on the flop that are going nowhere. The nuts on the flop often changes at turn and river and re-draws are important.
6. Don't be scared to raise your button frequently, 6789 10JQK etc are examples of good hands to button raise with.
7. Very rarely raise from the blinds unless re-raising for 50%+ of your stack with good aces (see below).
8. Don't overplay bad aces and don't re-raise aces if stacks are deep; you give your hand away so you either win a small pot or lose a big one. Bad aces are where the side cards are unconnected and you have no flush draws.
9. If you raise pre-flop and hit a flop well then don't slow play; follow through, you win the biggest pots this way.
10. Don't tilt and be patient when you have to.
WSOP $565 PLO -OUT- finished 14th/ 3170 when AA46 lost to KK59 cashed for $11,754 thank you all for the rail and virtual rail #TeamGrosvenor

— Joe Beevers (@joebeevers) June 11, 2017
Be lucky at the tables and run good!
Joe
You have until 23:59 on the 17th of December to take part in our Oh Oh Omaha promotion. Unlock cash prizes and win a ticket for the €12K of Christmas freeroll on grosvenorpoker.com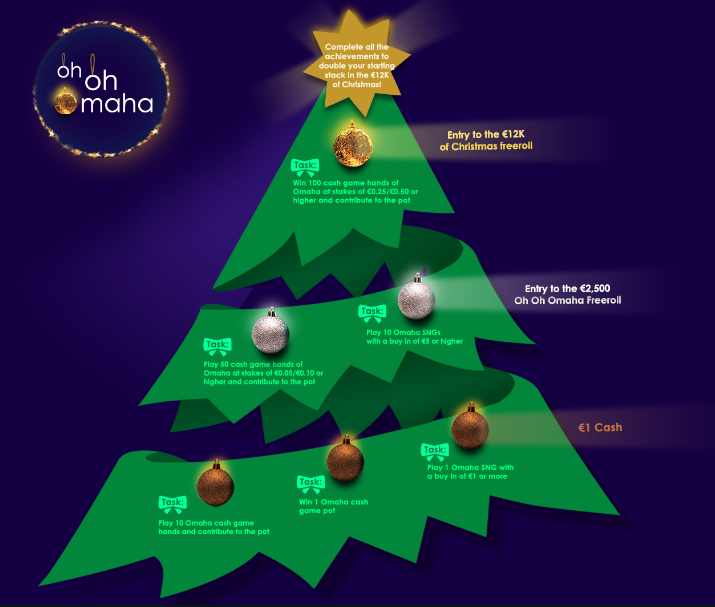 Comments
comments