Bored of your local? Put down your glass and head for somewhere a bit more exclusive this summer. These temporary offerings should keep you distracted, and some might even take you on a cultural journey. You have been warned…
Go green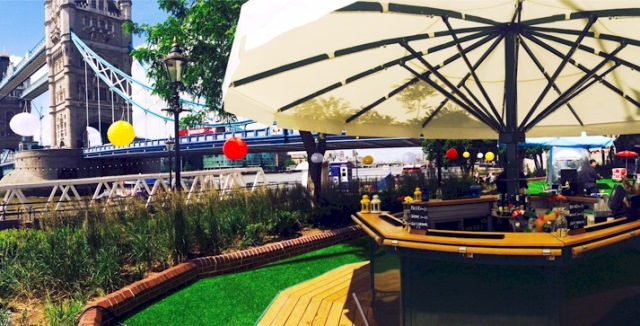 There's a new way to enjoy a Pimms post-work – The Lawn at The Tower, situated riverside, right next to the famous Tower Bridge. Watch the boats glide by from the comfort of the outdoor garden, handily served by a large outdoor bar. Feeling peckish, too? Camper Catering serves delicious street food featuring classic British favourites, as well as sweet crepes! Just make sure your boss knows about this place, as you can hire it for meetings too. 
Now – End of summer
At the front of The Tower Hotel, St Katharine's Way, E1W 1LD
We're going on a beer hunt
It may have already begun at the weekend, but there is still time to join in with The London Beer Hunt. Just sign up online and await an email with instructions.
It really is a treasure hunt; solve the clues to find the next bar and try the next beer. The hunt is great for large groups and it is free to take part, with the first one hundred hunters to uncover the liquid booty able to claim a unique reward. You can't really go wrong with beer and prizes!
Free; Now – 16th August
Sign up here and start at Old Street Station.
It's a gin thing 
The Bombay Sapphire Ultimate Gin & Tonic Terrace (a long name, I know) is the place to impress someone. Tucked away behind the stunning Rosewood Hotel, this discreet and intimate outdoor terrace promises to convert you from a gin-drinking novice to an expert. The experience will take you on a cultural journey, with the bar offering up G&Ts with a twist. Opt for the Chinese version with crème de violette, garnished with dehydrated orange – it's my new favourite way to drink gin.
Now – 29th August
Rosewood hotel, 252 High Holborn, WC1V 7EN
Just for crafts…
Line your stomach and get yourself over to Bethnal Green for The London Craft Beer Festival from The Evening Brews. Over twenty-four breweries are gathering to pour their very finest, so expect beer, beer and more beer, plus a side of great music and food (triple-smoked Ginger Pig steaks, to be exact). Featured UK brewers include Brewdog and Redemption, but there is hefty American competition too. The ticket includes your own glass and plenty of, you guessed it, beer! What better way is there to spend an afternoon?
All inclusive tickets, £35; 14th – 17th August
Hit the bleach…
Best mates Alex Brownsell and Sam Teasdale own hip hair-dye empire, Bleach, and after several successful private events in their salon, are now taking it one step further with a ten-week pop-up bar. Cocktails will be provided by TART London, and there are also plans for alcoholic ice lollies. David White, who has previously worked with Louis Vuitton, has taken care of the décor, and plans on giving it a "Blade Runner-esque, psychedelic acid trip" feel. It's worth a visit just to see what that means!
14th August – 26th October; Thurs – Sat, 6pm – 2am
Bleach Bar, 28 Kingsland Road, Dalston
Comments
comments