Visit a tiki bar or ski lodge this week without leaving your beloved London town. Whether you want to wear board shorts or lederhosen, these themed bars will provide an unforgettable night. And if you do happen to over-indulge in a treasure chest cocktail or two, at least there will be some memorable photos to remind you…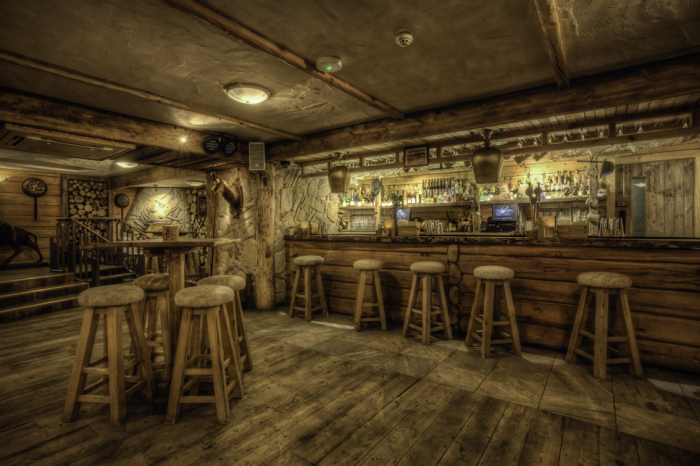 An Alpine-themed venue in the heart of Kensington – what's not to love about this? As a restaurant venue too, sit in snug wood panelled seats and roll up for schnitzel and steak before moving on to their incredible drinks. Big Bodo Schloss spenders can splash out on their never-ending Ice Castle cocktail, which costs a whopping £5,000! A more manageable option is the Shotski, £80; 10 flavoured schnapps shots, balanced on ski, naturally. Remember to wear your Lederhosen for free entry!
Over 21s only

They say 70s Manhattan was reborn in Soho, and they're not wrong. Disco should satisfy any inner diva. The central venue includes its very own Pan Am Airlines check-in desk as well and cocktails with names like the Charile's Angelic Cointreaupolitan. Music is classic disco of course and there will be a few choreographed numbers you can get involved in – just make sure you sign the online guestlist before you check in!
Over 21s only

Pizza, karaoke, and plenty of limoncello: These are the foundations that Bunga Bunga is built on. The Italian-inspired venue is just over the river from Chelsea and Prince Harry is even said to be a fan. It's decorated with plenty of Italian memorabilia, including low-hanging Vespas and drinks inspired by Italy's most famous sights – fancy a Colosseum, £120, anyone?
Book their legendary Saturday brunch which includes pastries, antipasti, breakfast pizzas and a DIY bellini kit with two hours of unlimited refills. Expect to stagger home by 4pm.
Over 21s only

If you want to see acrobatics, trapeze artists and burlesque on your night out, Circus is the place. Nestled in the heart of Theatre Land sits this cool cocktail bar and cabaret restaurant. While you nibble on Asian cuisine, take in the varied entertainment which happens spontaneously throughout the night. As midnight approaches, the restaurant is turned into a slick club with DJ's playing big tunes right through until morning.
Over 21s only

Renowned for its A-list clientele and potent tropical cocktails, Mahiki's the only club with an island vibe. The club is decked out like a bamboo-lined Tiki bar, and drinks arrive in coconut grenades or balanced on ocean waves – it has to be seen to be believed.  On Mahiki Mondays, guests are encouraged to don grass skirts and board shorts for the ultimate beach party – and it wouldn't be a beach party without a champagne-filled treasure chest, £150, right?
Over 21s only
Comments
comments