As the ninth season of the Grosvenor UK Poker Tour comes to an end, I can honestly say the original and best British poker tour is in rude health and going from strength to strength.
The Grand Final was a massive event, a who's who of poker, bracelet winners and EPT winners everywhere you turned, and a huge prizepool, the biggest in the history of the GUKPT.
Following on from GUKPT Blackpool, where numbers were up massively across the week, and their main event that went from 181 runners a year ago and a £19k overlay to a massive 275 this year, everyone at Grosvenor should give themselves a massive pat on the back for a job well done.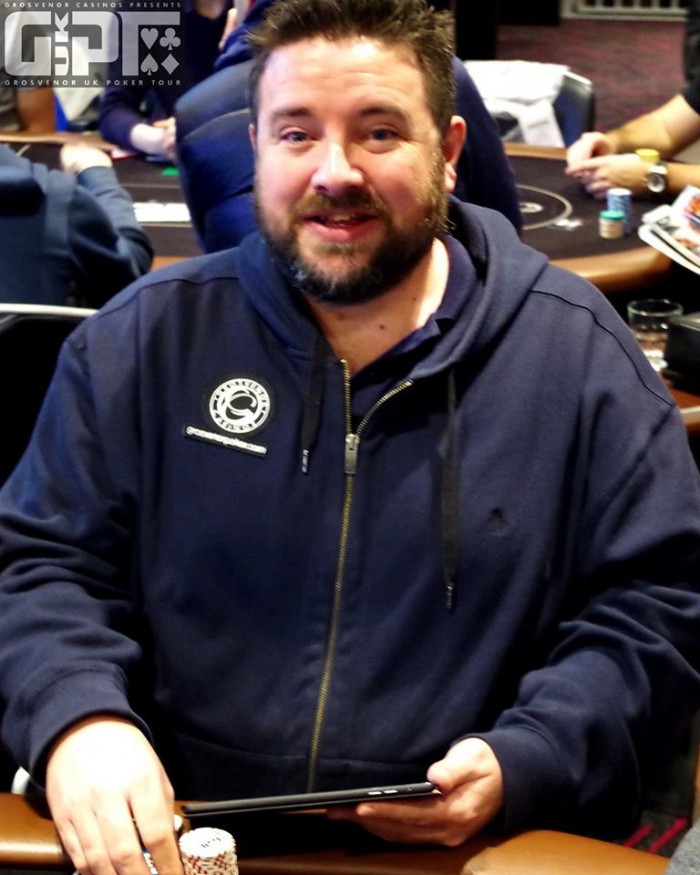 I noticed it a year or so ago, the positive view poker players, notorious for grumbling and complaining about any little thing that isn't perfect, had started to have on the GUKPT.
Where others were charging at least 10% juice, the GUKPT charge £90, and include a free buffet on day one and a full meal for the final tablists.
Where others take a % out of the prize pool, Grosvenor don't touch theirs.
There was 275 players in Blackpool – guess the prizepool? It was £275k. Believe me, the maths isn't as simple with rival tours! Where others fill their field with house players playing for a small % of themselves on freerolls, Grosvenor swallowed any overlays they had and went about fixing them the right way, planning so it didn't happen again, putting on more satellites, qualifying more people. Where there used to be the odd mistake by dealers and floor, now there's no better team. Where coverage might have been patchy at best, and still is elsewhere, the GUKPT media team, led by the legendary Tower, is the best in the business.
I could go on, but all of these things have brought the players back to the GUKPT, and see the tour enter its 10th year with talk of celebration, special events and positivity all around the people in charge. Tour manager Ian Bryan is a proud man, and so he should be.
After a fantastic time in Blackpool, still the most enjoyable place to go for a festival, I was planning to play every event in London, but something threw a spanner in those works.
Winning event one!
I didn't get to the Poker Room at the Vic until a couple of levels in, and after grabbing a meal in the bar, managed to delay my entry further by realising I now no longer had the iPad I'd brought with me!
A quick chat with Henry at the poker desk and he invited me to come and look at the cameras to see if we could spot it.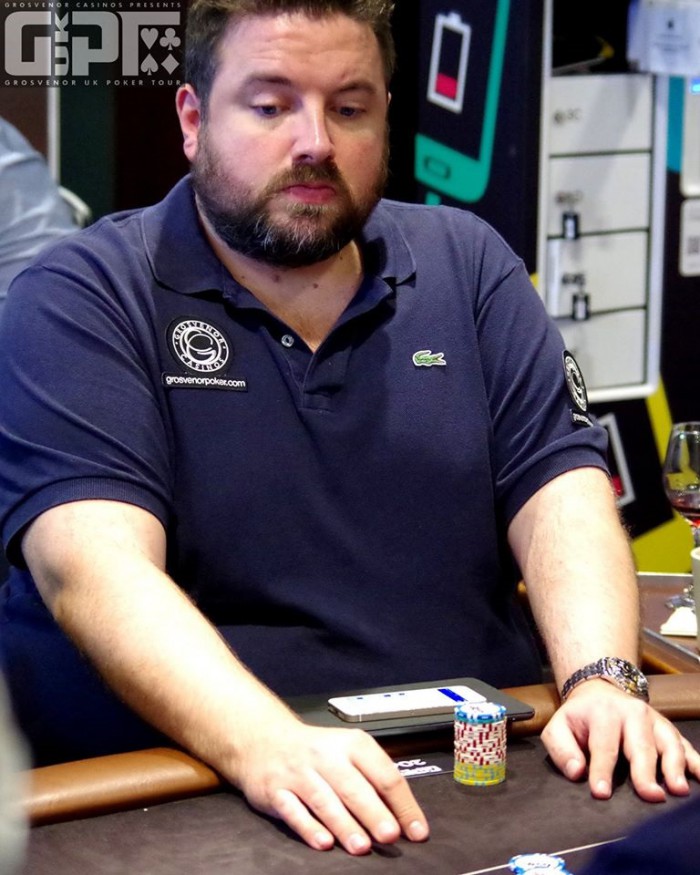 Their system is fantastic, a quick scroll through all the camera names, we focused on the central one in the bar. I pointed out the table I'd eaten at and we scrolled through the footage. We could see my iPad still there on the empty table after I'd left, then all of a sudden a man walked past and grabbed it!
We rewound again and watched to see who it was….the barman had noticed it was unattended and grabbed it and put it behind the bar!
Top man, his honesty was much appreciated as I got my little baby back!
I entered just before the first break, and having sat beside the lovely Katie Swift in Blackpool when I exited the Main Event there in my last game of poker, I was drawn beside her again on our new table in this event, a £200 hold 'em side event.
I hoped it wasn't a bad omen, and it didn't feel it as I won a big pot almost straight away, just calling with JJ in the small blind and managing to find the AJxxQ board against the raiser's AK and Katie's peeled AQ.
It felt almost like a bad beat not getting the full double up against those hands, but Katie just called on every street, she's too smart to overplay even a hand as big as top two at that stage.
I love the way Katie plays.
Male players chat to her and try and take advantage of the girl on the table and she smiles sweetly while bashing them up, three-betting in position and picking and choosing her spots perfectly.
So much so that by the time our table broke and we moved to a new table and sat beside each other a second time, her stack had recovered and she was flying too.
Our table broke again and it was time to go it alone, and I got to sit beside another good pal, Chaz Chattha.
Chaz is a great player, and always seems to be there or thereabouts.
Don't forget he finished 50th in this year's WSOP Main Event for $137k, and only got knocked out then when Zivi Stern went off his box and four bet all in preflop with 78 against Chaz's aces and got there. Stern won $1.9million for coming fifth. Justice?
Anyway, having established how good Chaz is, and noted he was chip leader with three tables left, it probably wasn't the best idea to tangle with him, but with AK and a Chaz raise already out there, I three-bet his 4k open to 11.5k and quickly called for my 50k when he shoved.
His jacks survived the flop but not the ace on the turn and all of a sudden I had double average and Chaz, having flirted with a massive stack was back to average.
From there I could pick and choose when to get involved, and as Katie was moved to sit beside me for a third time, we played hand for hand on the cash bubble.
All the short stacks were on the other table, to the extent that big stack James Mitchell folded his big blind to a 3bb shove as he was hoovering up chips.
As the bubble did eventually burst, James, my mate Marc Foggin, playing only his second game at the Vic having won the previous one, a London Super Stack, and me had two-thirds of the chips in play.
A couple of shorties soon departed before I hit a bump in the road.
I'd raise-folded twice but the third time I got involved I had pocket kings. Katie shoved her with AQ and after she'd hit all three of her outs to make quads, I was left with only 7bb, shortest of the seven left and under it!
I was lucky enough to find AK straight away and a 3bb raise in front of me, his eventual call with A8 fruitless, and I was back in it.
I found the aces when the same guy moved all in to mop up his stack, and generally ran pretty well.
James had the biggest stack but it was noticeable he'd passed the button numerous times, as Marc and I had been left battling in the blinds a lot.
When James did eventually raise the button, I found pocket jacks and an average stack of 18bb. I decided, given the amount of passing the button he'd done, he must have half a hand so shoving was correct, and it worked out well against his pocket eights.
James was left with less than 2bb, and while I doubled him up once, his presence played a part in the pot that won me the tournament.
Katie raised the button while James was in the sb with his 2bb.
The next pay jump was £1000 so all of us knew she was doing this with a hand she couldn't pass, probably a monster.
James passed but having found 45hh in the big blind, and with 60%+ of the chips in play, I decided to take a flop and try and crack her monster or force a pass, with the ICM consideration of James hanging on in between.
I found the perfect flop J65 with two hearts, a pair and a flush draw and now I wasn't going anywhere. I was a coin flip with monsters like aces or kings, beating AK and AQ and not in terrible shape against anything. Given the ICM pressure, it was the perfect flop to check-raise all in…but Katie, sat with JJ, had also found the perfect flop and sat with the nuts, she just had to avoid a heart to take the chip lead and send me back to average.
A heart on the turn and a bricked river gave me 85% of the chips in play and sent unlucky Katie out, and after I'd mopped up James, I got to play my old mate Foggs heads-up.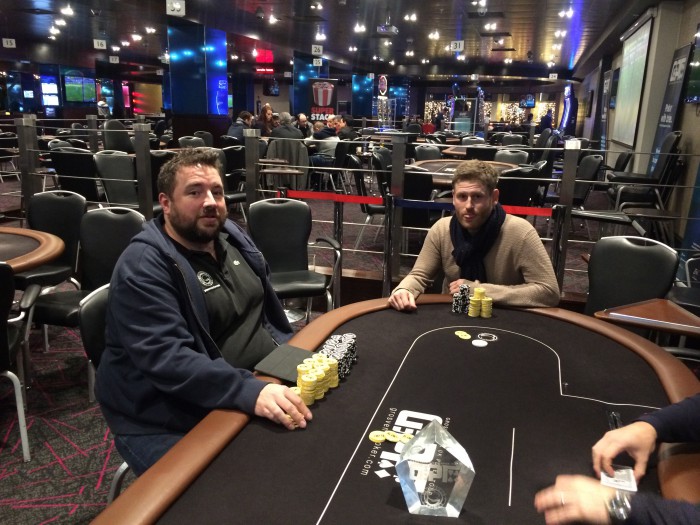 It was now past 6am but neither of us mentioned a deal given the chip stacks. He started off aggressively and nibbled a few chips back, but about 45 minutes in I found QQ on the button, he defended Q8 and we got it in on a 983 flop. No funny business and I took it down, £7900 to begin the week and a lovely trophy.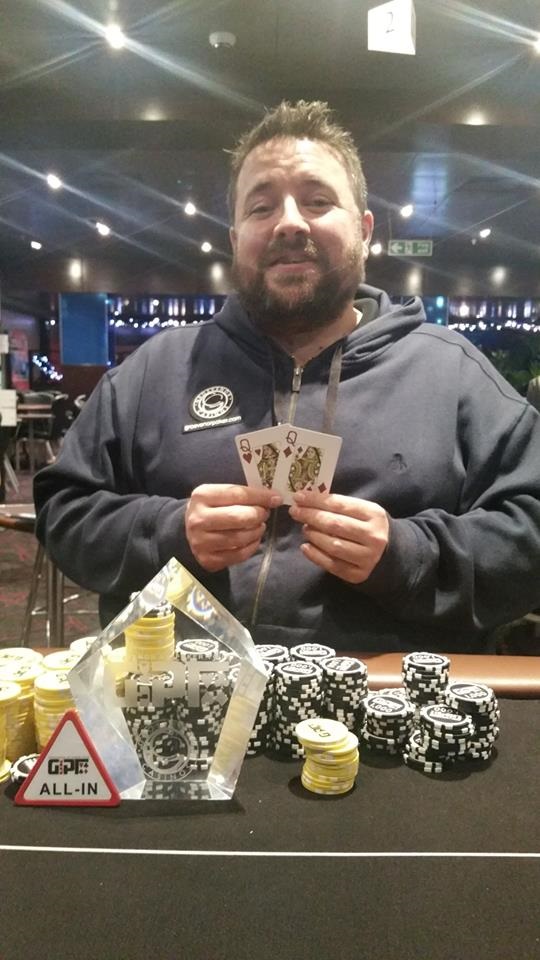 Getting to bed after 8am wasn't ideal, getting up again for a Sainsbury's delivery at 11am was far from ideal, so I decided to take Tuesday night off. I intended to play Wednesday, but then remembered the important meeting with the media team on Wednesday night which was so important it went on til 3am Thursday morning, and all of a sudden my next chance at glory didn't come til the PLO on Thursday.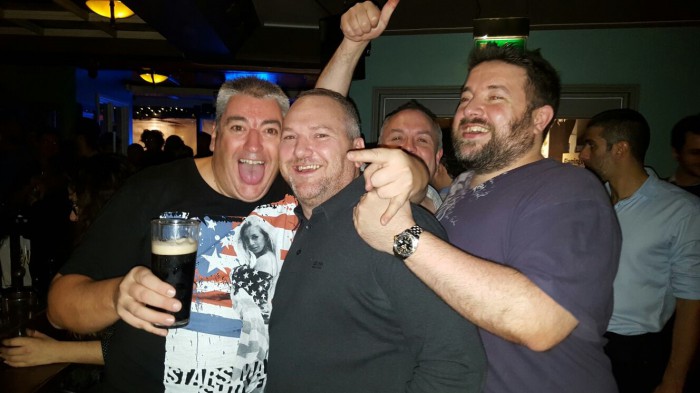 I love the 4/5/6 format of the PLO tournaments we've had this year on the GUKPT, it brings so many more people to play and they make big mistakes.
As it was, I didn't really get going though, and somehow contrived to three-bet AKQJ97 with two suits, get two callers, get it in on a T32 flop and get it in against a wrap that contained a pair of fours. I remember that because the turn and river came running 10s and the pair of fours beat my AK. Takes some doing losing to a pair of fours in six card, but I managed it!
The Main Event was a fantastic occasion, superstars of poker everywhere. I loved my starting table and had built my 25k starting stack up to 45k when I clashed with eventual final tablist Ronaldo.
I three-bet my AQ, found the Q hi flop and bet again. He check-called and we saw the 4h on the turn. This put three hearts on the board, and with the Ah improved my hand so I bet again. It didn't improve my hand as much as Ronaldo's though…he must have known it was coming to peel preflop and again on the flop with two black fours! I hated the way he played it, but was more cross with myself for paying off his 10k river bet when he gave off every tell that he was strong.
We had one amazing hand where a new guy got to the table, buying in late, and raised the first hand under the gun. He looked at every chip carefully, looking to be reading the numbers, before making it 600 preflop.
Two players called before it got to me on the button, and I made a fairly loose call with 97 of spades, bringing in the big blind too.
The flop came K82 with two spades and I immediately started thinking about how to play the flush draw when the action checked to the preflop raiser.
With about 2.5k in there, he bet 5200!
I was already confused when Adrian Mateos asked how much more the guy had and then smooth called!
Now this guy is some player – WSOPE champ for €1million, EPT Grand Final champ for even more – so I know he knows what he's doing.
The danger of a bigger flush draw being out there led me to fold, although if I'd got to see the red 10 on the turn giving me an up and down as well things might have been different!
As it was, the raiser fired another 6k and sigh called it off with AK, admitting he misclicked the flop, and was dead against Mateos's set of eights.
I moved to a new table and started to run pretty hot. I ran AK into a smaller ace on an ace-high board, then flopped a set against the same opponent on another ace-high board which must have hit him.
As we approached the last level, I had 75k and was well above average. I spent the last break laughing at my mate Mark James as he had just about the worst seat in the room, with Fabian Quoss to his left and James Akenhead left of him.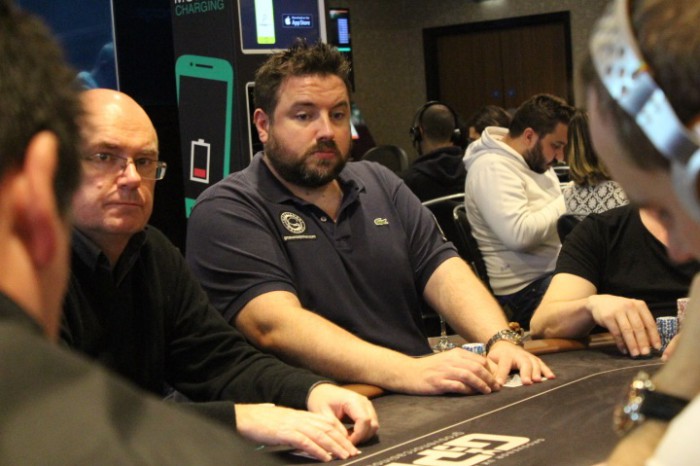 Of course the poker gods were listening, as I got moved almost immediately to Mark's right, with Quoss and Akenhead in position against me too, and that just about shut me down for the last level.
Fabian bust out pretty quickly, but James was wielding a big stack and playing a lot of hands and I decided discretion was the better part of valour, finishing day one with 66k.
Day two's starting table was a toughie, with reigning champ Charlie Carrel in seat one and Goliath winner Mikka Toikka to my left, along with Stevie Watts, who gave us the latest on his girl Louisa in X Factor! For those who don't know, Steve manages Louisa, while his wife has vocally trained her for years.
I quickly won a big one to knock Charlie out, my set of queens holding against his nut flush draw, but after that it was all second best hands.
I isolated a limper with AJ and found the J83 flop heads up. He had limp-called 88….it could have been worse, he check-called the flop then led the turn and river pretty small. Soon afterwards the same guy flopped a set of sixes against Steve's KJ on a jack-high board and got the lot on the king turn, running good huh!
I raised again with AJ and found another jack-high board. I checked behind for some reason and just called turn and river, JT turning two pairs to defeat me again.
As I dwindled to 15bb I shoved over a serial raiser with AQ, only to find Paul Dunne behind with AK, two kings not even giving me a sweat.
My last 3bb went in with QT and somehow I had the best of it when the button called with J9. However, the K99 flop left me wondering how I could win, given the jack for a straight houses him up. By the time I'd worked out what to shout in I was already out and on my way to the commentary box with the Tower.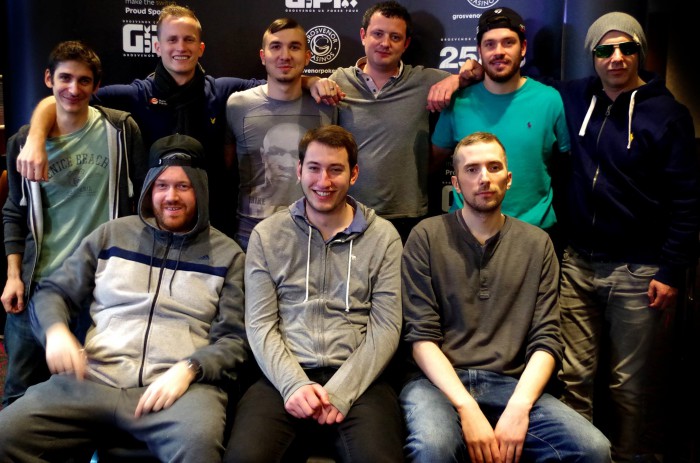 If I can't win, commentating with the Tower is the next best thing, and we had hundreds of viewers tuning in and joining in the fun in the chat box, with a great final table featuring Akenhead, Simon Deadman, Luton winner Will Davies and eventual champ Ben Winsor.
Ben eventually took the title after a great final table performance, pocketing £178k and the trophy, besting a field of 321 that created the biggest ever GUKPT prizepool, £642k.
A fantastic end to a fantastic tournament, I can't wait to do it again….which is good, because season X starts in just eight weeks time, back at the Vic again.
I'll take winning one event a week….but I wish it was the last one!
Comments
comments