Cardiff will be this weekend's next stop for the 2015 GUKPT Tour. Expect a packed out casino full of professionals and budding amateurs alike, all playing for the coveted £100,000 guaranteed Main Event jackpot!
This is the fourth time the biggest UK poker tour will be hitting Cardiff's Grosvenor Casino and will feature some of the biggest prizes to date!
Lithuanian born Vaidas Sirionas defeated his poker friend Mick Corrigan in last year's Main Event, pocketing himself a cool £24,000. It's also fair to say Sirionas is no newbie to the Grosvenor poker circuit, sweeping two 25/25 titles in Leicester and Bournemouth that same year!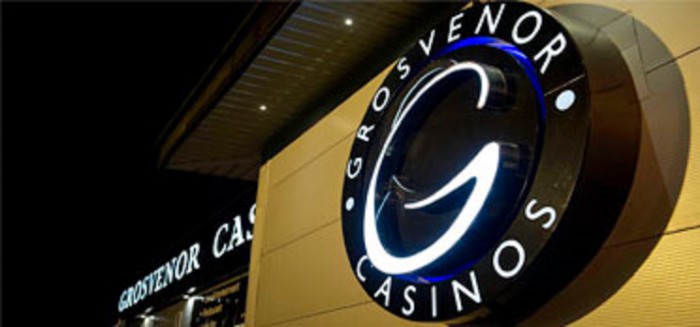 So who will win the title this year?
You could be in with a chance when you take part using one of our online or live satellites. You can take advantage of this Thursday's (21st May) satellite at Grosvenor Casino Cardiff, where you can guarantee 2 x £500 Grosvenor Casino vouchers. Also try your luck with the Super Seat Satellite this Sunday (24th May), where you can guarantee 10 x £550 Main Event seats. Alternatively, you can play our direct online satellite , which is on this Sunday too.
Are you up to the challenge?
Follow in the footsteps of former GUKPT finalists and take home BIG bucks. Just last week, former GUKPT finalist Charlie Carrel won the EPT high-roller for €1.2 Million and other former finalist Adrian Mateos won the EPT Main Event, also for just over €1 Million.
So will GUKPT be your first step for whopping winnings? The GUKPT is a proven breeding ground for poker talent and we look forward to the next generation of poker players at our event this weekend!
GUKPT Cardiff Schedule
Day
Event
Buy – In + Reg fee
Chips
Start Time
Sunday
NLH Unlimited Re-Buy + Add-On, 10 seats guranteed Super satellite
£20 + £5
2,000, with a double Add-on
7.30pm
Monday
NLH Unlimited Re-Buy + Add-On, 1 seat guaranteed Super satellite Turbo
£20 + £0
2,000, with a double Add-on
4.00pm
NLH Re – Entry
£50 + £5
7,500
7.30pm
Tuesday
NLH Unlimited Re-Buy + Add-On, 1 seat guaranteed Super satellite Turbo
£20 + £0
2,000, with a double Add-on
4.00pm
NLH Re – Entry, 2 Day event
£150 + £15
12,000
7.30pm
Wednesday
NLH Re – Entry, Re Start
N/A
N/A
2.00pm
NLH Unlimited Re-Buy + Add-On, 1 seat guaranteed Super satellite Turbo
£20 + £0
2,000, with a double Add-on
4.00pm
NLH 6 max Re – Entry
£100 + £10
10,000
7.30pm
NLH Super Satellite, 1 Re-Buy or Add-on + 1 re-Entry, 3 seats guaranteed
£50 + £5
7,500
9.30pm
Thursday
NLH Main event day 1A
£500 + £50
20,000
1.00pm
NLH Unlimited Re-Buy + Add-On, 1 seat guaranteed Super satellite Turbo
£20 + £0
2,000, with a double Add-on
4.00pm
Omaha 4/5/6 card, Round of Each
£75 + £7
10,000
6.00pm
Friday
NLH Main event day 1B
£500 + £50
20,000
1.00pm
NLH Bounty (£50/£50 Split)
£100 + £10
7,500
9.00pm
Saturday
NLH Main Event day 2
N/A
N/A
1.00pm
NLH Re – Entry
£100 + £10
10,000
6.00pm
Sunday
NLH Main Event Final Day
N/A
N/A
12.00pm
NLH Re – Entry
£50 +  £5, + 1 £25 re -buy or Add on
7,500
4.00pm
Comments
comments