There's something special about the GUKPT Grand Final, and season eight's, at the Poker Room above the Vic, did not disappoint.
It's almost like a standalone tournament from the rest of the tour, with a unique mix of players, possibly half of which don't play any other GUKPT.
International superstars rub shoulders with rich independent players who wouldn't dream of playing outside London, and anyone who can come through such a tough field can't be anything other than fully deserving.
The GUKPT is a tour, but a lot of the time it's about taking a great tournament, the best dealers and floor staff, and a bit guaranteed prizepool, to different regions.
If you play poker in Blackpool, the most important tournament of the year will be the November visit of the GUKPT.
Similarly, for London's well off individuals, and top players who generally don't play £500 or £1k buy-ins, the GUKPT Grand Final is the stop on the tour for them.
My starting table was a classic mixture, with a couple of older guys who must play at the Vic regularly, and honesty wouldn't look out of place in a £20 comp, and some fantastic, world renowned players, who wouldn't look out of place on the biggest final tables anywhere.
Paul Vas Nunes, winner of the Reading leg, and therefore free rolling this £2k buy-in Grand Final thanks to the seat added to each leg by Grosvenor, was sat two to my left, while a young Spanish guy, who ended up as chip leader after day one, was sat one seat further on.
The guy two to my right was bugging me, I knew I recognised him but couldn't place him.
Eventually it struck me; I'd watched this guy play before but from a distance. It was Antoine Saout, who made the WSOP Main Event final table in 2009. Of course James Akenhead also made that final, and I'd travelled to Vegas to sit on the stage in the Penn & Teller theatre to cheer on the Sickdog and boo all his opponents!
James also made the WSOPE final that year, along with Praz Bansi and Saout, and I'd railed that one too, Praz eventually coming third behind Daniel Negreanu and eventual champ Barry Schulman.
Saout made life difficult all day
But I played him aggressively and didn't let him push me around, and think in the end I got the better of him.
As ever, it seems, it was the less skilled players that caused me problems, and eventually led to my demise two hands from the end of day one.
I reached the first break with just under my 25k starting stack, the only hand of significance being QQ. I flopped top set but only got one bet out of the big blind, disappointed to see him swiftly fold the turn.
I'd played with one of the older, local guys in one of the side events, and knew he liked a gamble, but my first tangle with him didn't go well.
I raised with 88 under the gun, and he three bet the button
Normally an older guy three betting would be a scary proposition, but I'd seen this guy be aggressive with less than premium hands, so I decided to take a flop.
The 552 flop was one of those that could be great for my hand, or could get me into trouble. Either way I called the 1400 cbet. The turn was a seven, and I checked again. He bet 3k very quickly, and I just felt like he wasn't that strong. I did consider folding, I didn't really want to be in big hands at the 100/200 level out of position, but I couldn't pass what I thought was the best hand.
I called and we both checked the 10 on the river. As last aggressor, it was him to show first, but he declared 'One pair'. Get in, I knew I was good, he's just got the pair on the board, must have had AK or AQ. I flip my 88 to claim the pot….he digs out AT to ruin my plan!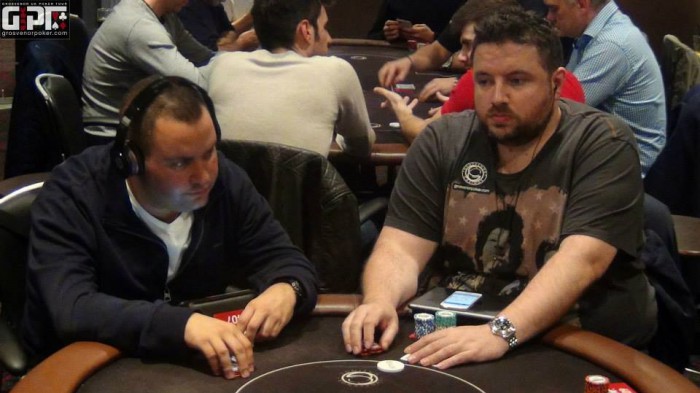 I was a bit tilted, I had no idea why this guy wanted to play such a big pot so early, never mind the slowrolled rivered two pairs!
Down to 18k and I tightened up
The one premium hand I did get was two black kings, but having just called Ben Windsor's raise, the ace high all heart board wasn't great! I did win the pot, but it was very small!
The last hand before dinner, I clashed again with my AT enemy, and again he got the better of me.
Playing 100/200, he made it 825, a big open. Ben called in position and I peeled A7 of spades.
I flopped the nut flush draw, K84ss. I checked, the old guy who raised preflop checked, and Ben bet 1200. Maybe I should raise here, but raise folding wouldn't be great, and I wasn't sure I wanted to get 18k in with just a draw in a comp with such a great structure, so I called. The old guy came along too.
A red nine on the turn missed me, but I was hoping it would get checked round. However, after my check, the old guy bet 6k! This bet made no sense. I guess a set of nines was about the only thing that did. Either way, I was resigned to folding.
However, Ben decided to call the 6k.
Now I had a decision
I had about 16k total. If I hit I was pretty sure I could get the other 10k in and get called by the old guy. Maybe Ben had a flush draw too and I'd get called twice?
There was 25k in there and potentially another 30k to follow, so, and I still haven't decided if I like this play, I called, and check folded when I missed the river.
With 10k left at the break I felt I was playing well and not particularly running great. I went on the dinner break and regrouped.
As soon as I returned I raised to 500 first hand in the cut-off with 44, calling Paul Vas Nunes's 5k all in. I knew I'd have to call if he shoved before I raised, and was happy to see only one overcard in his A2. A turned 4 saw him drawing dead and I was up to 15k and moving in the right direction.
Paul obviously ran a bit better on his second bullet, because he went on to finish second for £96k after reentering!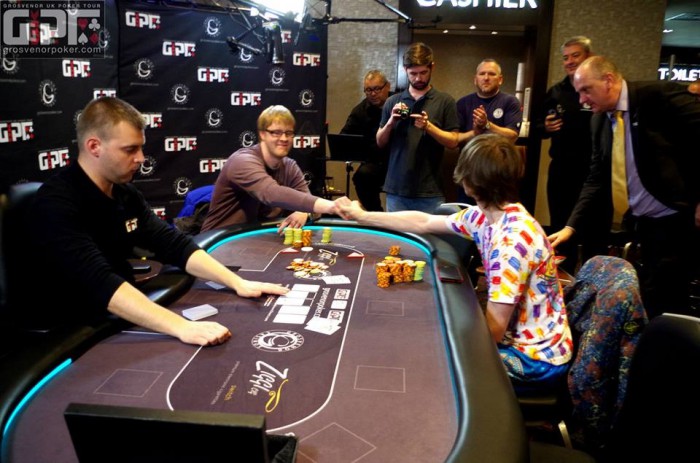 I kept on progressing the right way, up to 18k, before I played the following hand. I raised with JJ utg, and a new player calls, along with one other. I cbet the QT6 rainbow flop 1300 and the new guy calls.
I'm pretty sure he's got a queen, and most of his range is exactly KQ, which made the jack on the turn the most perfect card, giving me a set and my opponent what I thought was top pair and an up and down straight draw.
If I was right, I could bet big
And sure enough he quickly called my 2600 turn bet. The river paired the six, so even if he'd made a straight on the turn he was losing. I bet 4800 and he quickly called and mucked when he saw my house.
Having made it to the dizzy heights of 30k, I had drifted back to 20k when I got a full double up.
The guy to my right made it 1300 under the gun, I peeled with two nines, my older friend called and Saout came along from the bb. The T92hh flop looked perfect to me, though I was worried I had too much of it when the action checked to me. I bet 2k, which ignited the touch paper. The old boy called before Saout made it 6500. I had about 10k more, so had a little think and shoved. The old boy passed and Saout called with his AT. He was just about drawing dead…until a ten on the turn. Suddenly it was a massive sweat, but I survived and was back over average as we entered the last level.
A couple of raise/folds and raise/cbet/give ups saw me back down to 27k when the last three hands were called.
I survived the first…I did not survive the second
There was a raise and two calls, so I took a flop with KJdd in position.
It came AdQd3c, a royal flush draw, and I felt like even though the board is ace high, I must get it in if I can. An ace might even fold to enough aggression, especially as I've played pretty tight.
All three players checked to me, and I actually started to think maybe no one has an ace and I'll just pick this up anyway, betting 4500. The first two players folded, but the last guy, the guy to my right who has been playing very strangely, decides to check my stack before raising all-in.
I had to call, though I had to hit, as I'm sure I must be losing to a big ace or an even better hand.
He flips…KQ off?! I can't believe his hand
He's found me with the one hand I would bet and call off there, and he's still only a 55/45 favourite. That can't be a great position.
As ever of late, I find myself on the end of a bizarre play, and I can't win the flip to get to 60k and have a great chance of doing something in this great tournament.
I headed straight for the door and straight home to bemoan my luck. It's been a tough spell these past six months, the cards haven't been kind, but that's the nature of the beast with tournament poker.
My involvement wasn't quite over, as whenever I'm out I like to help out the fantastic media team by commentating with the Tower.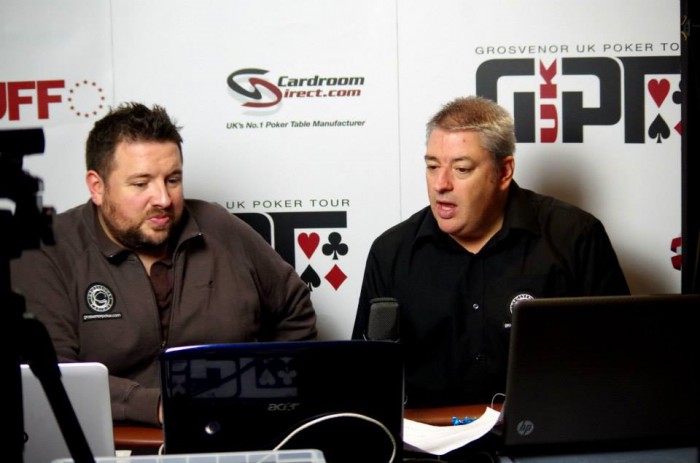 We get some great feedback when we commentate together, and I know from a viewers' perspective, having two commentators really brings the final table to life.
And what a final table it was, with Vas Nunes joined by the likes of Ben Vinson, previous finalists in this event Tamer Kamel and Will Kassouf, and a name not so well known on these shores, but someone I watched win their WSOPE Main Event gold bracelet last summer (along with a million euros) Adrien Mateos.
It was one of the guys we didn't know so well at the start of the day, Charlie Carrel, who went on to lift the Grand Final trophy, following in the footsteps of Kevin Allen, Fabien Quoss, Tony Cascarino and Sam Grafton.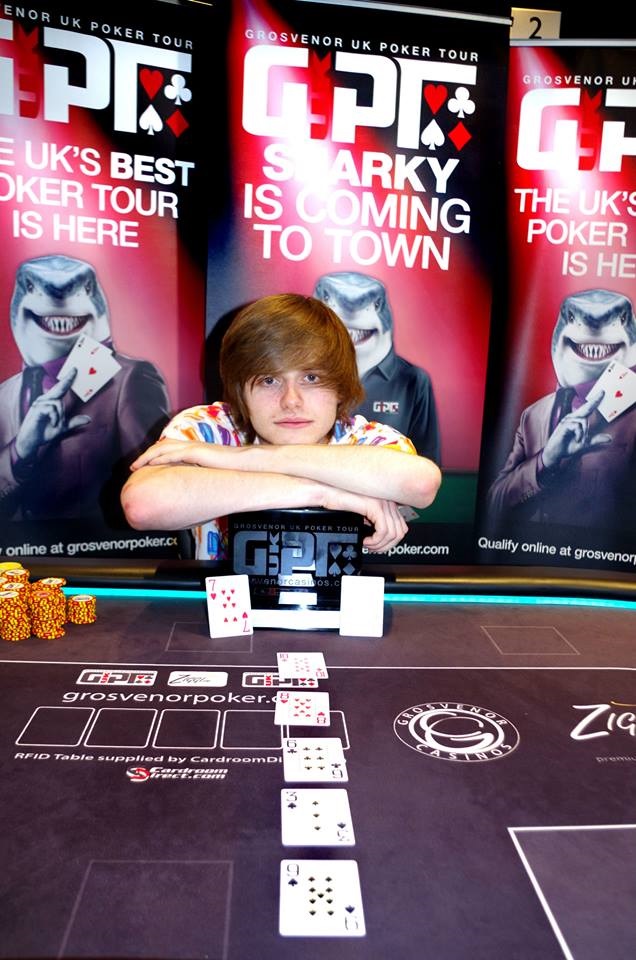 So another season of GUKPT action comes to a close, and for me probably the last comp of the year before a good few weeks off for the festive period.
I'm close to agreeing a new contract with Grosvenor, a fantastic sponsor and one who's name I am proud to endorse, so while the poker hasn't gone perfectly over the last few months, this is the time of year we're thankful for the things we do have.
In a world where young guys can go out to play a game of cricket and never come back, where killer diseases can be passed on just through touch, and when some don't have friends and family, or even a home to celebrate Christmas in, it's time to feel lucky, whatever the results on the poker table.
Comments
comments