The over-30s were feeling pretty smug when Serena Williams and Roger Federer were busy teaching youngsters a thing or two at Wimbledon last week, but as much as it hurts to admit it, those type of veteran exploits aren't exactly the norm.
Elite sport is a young person's game. And if we learned anything from the first Ashes Test, it's that inexperience shouldn't only be perceived as a weakness. It can also be an extremely destructive weapon too.
Fresh, fit, enthusiastic, unscarred by failures of the past, and ravenous to show the world what good players they are; England's uninitiated XI well and truly obliterated the Aussies by 169 runs.
Taking the bull by the horns, their invigorating and ultra-positive display was a triumph for the fearlessness of youth.
I loved every minute of it
And as a fan with tickets for day two of the upcoming Test at Lords more of the same would do very nicely indeed.
It was noticeable that six English players involved at the Swalec Stadium didn't feature in the crushing 381-run defeat in Brisbane that kicked off the last ill-fated Ashes series in Brisbane 18 months ago.
That's more than half the team.
Purely from a cricketing perspective the involvement of Adam Lyth, Gary Ballance, Ben Stokes, Jos Buttler, Moeen Ali and Mark Wood signals a dramatic refashioning of the side, but that's not where their influence ends.
By replacing half-a-dozen seasoned internationals, all in their 30's (with strong characters, old habits and plenty of preconceptions) these six also shaved off an remarkable 42 years between them.
Would any team, or dressing room, fail to be re-energized by that kind of seismic change? Each of those spots taken by a man seven years younger. With that in mind it shouldn't be such a surprise to see how appreciably attitudes have changed.
I wonder if the tourists have taken notice of that incredible statistic?
If not, they probably should. When their former player turned coach Jason Gillespie, labeled them 'Dad's Army' ahead of the opener, he didn't mean it as a compliment.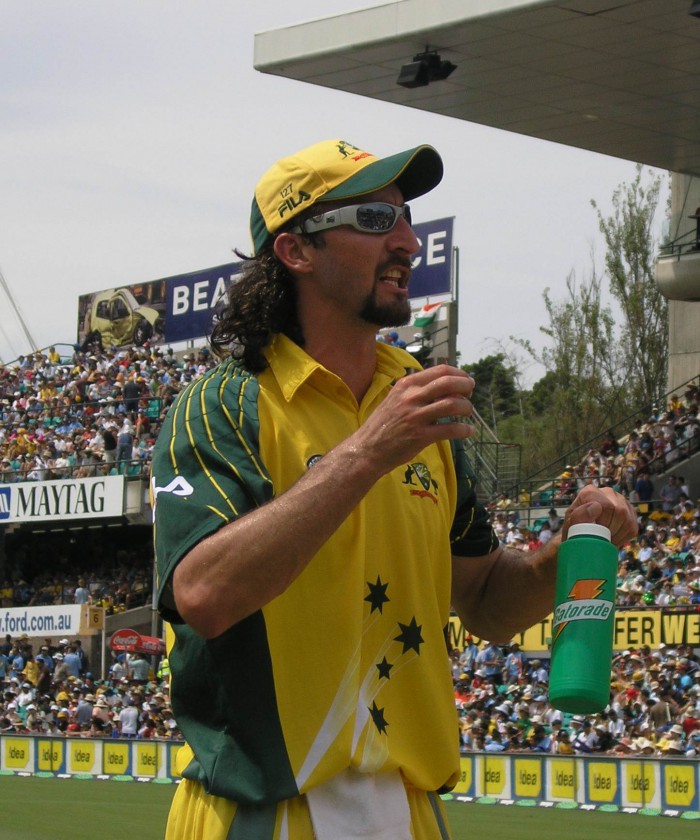 One heavy defeat doesn't mean a previously fearsome Australia side is suddenly all washed up of course – and the Baggy Greens boast enough talent and pride to come back fighting at Lords – but changes are surely afoot in the visiting dressing room.
According to reports Brad Haddin (37) will be replaced by 29-year-old back-up Peter Nevill at Lords, and the likes of Shane Watson (34), Adam Voges (35), and Mitchell Johnson (33) might be shifting uncomfortably in their seats too. If that trio were to be dropped for Mitchell Marsh, Peter Siddle and Pat Cummins respectively, it would trim 27 years off the Aussie XI.
When it's their young guns that are shining brightest, that will be food for thought when Darren Lehmann sits down to select his next team.
Mitchell Starc (25) and Josh Hazlewood (24) bowled best in Wales, and even though he didn't hit a big score, Steve Smith (26) is still ranked the number one batsman on the planet.
The longer they delay replicating England's policy, the better it might be for the fledgling home side.
I've seen too many Ashes battles to know that one swallow doesn't make a summer, and that it's folly to write off a talented Australian side after one poor performance – but based on what we saw in the first Test they have to shake things up.
Many of Australia's older heads have won just two of the last 16 Tests held in England. How gives this squad of players the best chance of bucking that trend?
When I heard that Michael Clarke had declined England's traditional request to share a post-match pint with them last week, it was a clear sign that the tourists are getting worried.
It's early days but England's rookies seem to have their old enemy, just where they want them.
Photo credits – Wikimedia (Creative Commons – Attribution-ShareAlike 2.5 Generic (CC BY-SA 2.5))
Comments
comments