Could you fool a panel of poker experts in our bluffing booth? I couldn't!
You're invited to test your bluffing skills on poker professionals at Exchange Square, near London's Liverpool Street station today from 7am until 8.30pm.
The fascinating challenge sees members of the public being invited to pick three statements and make one a bluff, from "What's The Most Dangerous Thing You've Ever Done?" to "What's the Weirdest Thing You've Ever Eaten?"
I tried to #BeatTheBluff in the booth yesterday, but I lost out to the eagle-eyed poker professionals.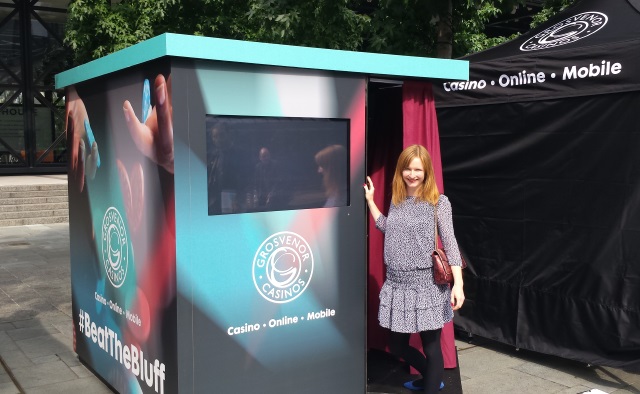 My "bluff" was that the most dangerous thing I'd ever done was hot-air ballooning, but the poker panel knew it was untrue because of the lack of detail I gave in my answer. They also pointed out that hot-air ballooning wasn't really all that dangerous…
So what makes a great bluffer? TV star Katie Price and London Mayor Boris Johnson topped the list of the UK's best bluffers in a recent survey by Grosvenor Casinos. And when it comes to professions, almost half (45%) of those quizzed said that estate agents were the best at bluffing.
A core skill used by professional poker players, bluffing is the art of impressing, deterring or intimidating by a false sense of confidence. "Some of the best bluffers are actually those in the limelight who use their bluffing skills to give the impression they are more talented or more capable than they really are", says Grosvenor Casinos Head of Poker Russell Tamplin.
If you think you can beat the experts, put on your best poker face and meet the team in London's Exchange Square today between 7am and 8.30pm for a chance to win a VIP experience for you and three mates. You can opt to have your experience videoed and uploaded to our Facebook app for your friends to see. Don't miss it!
Comments
comments