Did the golfing stars align to tell us something last Sunday?
Possibly not, but the sight of a pained Tiger Woods gingerly exiting the Firestone Country Club with another back injury, on the same day Rory McIlroy – a picture of sporting health – was majestically striding his way to a second successive tournament victory did feel a touch symbolic.
With the neatest of symmetry, you sensed a changing of the guard.
Ever since he took the world by storm in his early 20's, golf has felt it's needed Tiger Woods – and they've been right.
Having one of the planet's most iconic sportsmen blazing a trail of unrelenting excellence has inspired millions to play the game, or take an avid interest in it. He's box office gold.
Even now as the clock ticks down on the American's career, his rivals are still desperate for Tiger to get back to his best. Putting aside their self-interest, several of the world's top stars this week urged him to rest up, get fit, and come back strong next season. They want him to add to the 14 Majors he's won already.
Sadly, I fear the glory days may never return.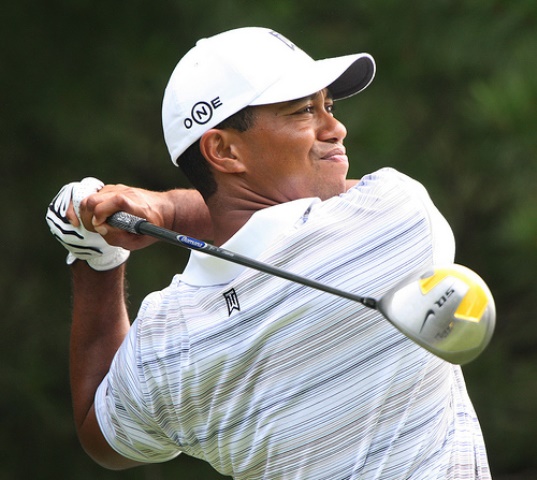 At 38, his creaking body is struggling to cope. Weary from decades of thunderously punishing swings – and a surgical history to make you wince – last weekend's withdrawal wasn't his first, and is unlikely to be his last. With young guys coming through, he's really up against it.
Fortunately, golf finally has a prince in waiting. While many have doubted Rory McIlroy's status as the rightful heir to Tiger's throne (and the Irishman himself is too modest to lay claim to it) any arguments against his future coronation are weakening by the hour.
For charisma and class, I believe the 25-year-old is ready to rule.
Since McIlroy plucked up the courage to end his high profile engagement to tennis star Caroline Wozniacki in May, his game has been on a whole new level.
Focussing on trophies rather than (perhaps) the prospect of babies, the golfer seems to have fallen in love with sporting competition all over again – and as a spectacle it's been a sight to behold.
Booming his drives an average of 334.8 yards at the WGC Bridgestone Invitational event last weekend – further than any player has managed all season – he's every inch as spectacularly destructive off the tee as Woods was in his pomp. With a driver in hand, there's a wow factor.
Not only that, he's been scarily accurate too. Last weekend, McIlroy also topped the 'Greens in Regulation' charts, with an inspirationally pinpoint performance, repeating the sustained brilliance that helped him land the BMW PGA and Open Championship's earlier this summer.
He's playing phenomenal golf. Not the type that's simply part of a hot streak either – more of a prolonged mastery of the game, the kind we only ever see from one or two dominant players per generation.
This Thursday, McIlroy begins his quest for a fourth Major at the US PGA Championship, and he'll start as the overwhelming 9/2 favourite in the betting odds. Adam Scott, the next closest in the market, is a distant 12/1 shot. Not since Woods was bossing the sport in his heyday have we seen pre-tournament odds this one-sided.
It's easy to see why people are making a fuss…
* He's the first European ever to win three different Majors.
* McIlroy, Woods and Jack Nicklaus are the only golfers to have won three Majors by the age of 25.
* When landing the 2011 US Open he won with a record 16 under par score.
* His 2012 US PGA success came via an unprecedented eight-stroke winning margin.
* He won this year's Open Championship having led the tournament from start to finish.
Should McIlroy complete the set by winning the US Masters at Augusta one day, golfing immortality will be his. For only five players in the history of the modern era have won all four Majors; Gene Sarazen, Ben Hogan, Gary Player, Jack Nicklaus and a certain golfer that goes by the name of Woods. It's quite a gang.
Nobody can deny that Tiger Woods has had a magnificent career.
Jack Nicklaus might lead the way with 18 Majors, but it's the Californian who's regarded as the greatest talent of all-time, and rightly so.
But that doesn't mean golf can't crown another king. And in my view, golf doesn't need Tiger Woods like it used to.
It has a young, likeable, self-effacing and brilliant world number one that's entertaining enough to keep us coming back for more.
Rory McIlroy is the present, and the future. My money's on the Northern Irish star to make it three wins in a row in Kentucky this weekend.
Photo credits: Flickr (Creative Commons – Attribution-ShareAlike 2.0 Generic (CC BY-SA 2.0))
Comments
comments