Club before country. This is the result of a Grosvenor Sport survey asking whether Premier League fans would rather see their team lift the domestic trophy or see England claim World Cup glory. 63% of English Premier League fans would choose a successful club title-win over a World Cup win for the Three Lions.
With the Premier League season kicking off today, and the World Cup 2018 less than a year away, almost two thirds of all UK footie fans would prefer to see their own club lift the Prem silverware at the end of the season over England or Wales claiming the World Cup in Russia next year.
At the top of the club-over-country ladder were Burnley fans, after 88% of Clarets followers admitted they would rather show off the Premier League trophy at their home of Turf Moor than see Gareth Southgate's men snatching World Cup glory next year.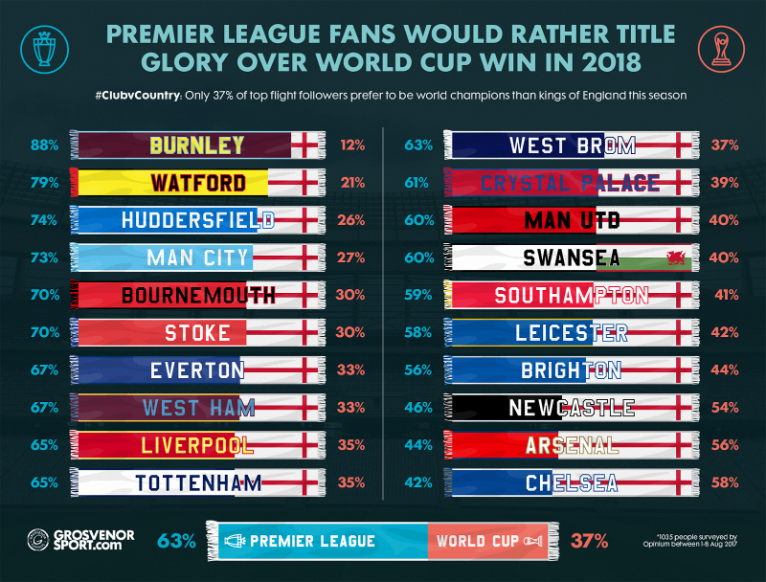 Second from the top came fiercely loyal Watford fans, with 79% of supporters choosing local success over national victory. Huddersfield rounded off the top three, with only 26% of fans choosing England success over club triumph.
Turning the statistics upside down, Chelsea and Arsenal supporters topped the list of fans who would prefer a win for England over a Premier League victory.
Of the Blues fans, a full 58% said they would choose an England World Cup win over a second successive Premier League title but more surprisingly, 54% of Gunners fans would rather see England lift the coveted World Cup trophy, despite their team not winning the Premier League since 2004.
The extensive footie survey was done by leading research company Opinium, involving 1,000 Premier League supporters across the entire country. Catching up with Head of Digital Marketing at Grosvenor Casinos, Aaron O'Sullivan, he told us the following:
"The 'club versus country' debate has always sparked healthy discussion among football fans. Despite this season culminating in a World Cup tournament, it's clear most Premier League supporters want their club to triumph over their country.
"England's last big celebration came over half a century ago, however all of those years of hurt seem to have caught up on football fans and the survey shows expectation and support for the national team is low compared to backing for club teams."
North versus south
The infamous and ever-looming north versus south debate has also been settled, with northern fans claiming the rights to having more passionate club fans. The northern clubs dominated the top half of the club-win survey with 66% saying they would rather see their own team win over an England victory on a world stage, compared to 61% of southern based club supporters in the Premier League.
London
Looking specifically at the London clubs, West Ham showed the least support for the Thee Lions national team, after only one third said they'd rather see World Cup glory over a Hammers league win. West Ham fans often laud the England World Cup winning team of 1966, which featured legendary captain Bobby Moore, hat-trick scorer Sir Geoff Hurst and versatile midfielder Martin Peters.
Manchester
Elsewhere, in Manchester, City fans may have reason to shout from the rooftops about being the most passionate club supporters in the footie-proud city – 73% would rather see Pep Guardiola's men demolish the league over England winning the World Cup, compared to 60% of United fans who picked club over country.
Would you rather your club win the Premier League

or England win the World Cup?

Club  
Country

Burnley

88%

12%

Watford

79%

21%

Huddersfield

74%

26%

Manchester City

73%

27%

Stoke

70%

30%

Bournemouth

70%

30%

Everton

67%

33%

West Ham

67%

33%

Tottenham Hotspur

65%

35%

Liverpool

65%

35%

West Bromwich Albion

63%

37%

Crystal Palace

61%

39%

Manchester United

60%

40%

Swansea

60%

40%

Southampton

59%

41%

Leicester City

58%

42%

Brighton & Hove Albion

56%

44%

Newcastle United

46%

54%

Arsenal

44%

56%

Chelsea

42%

58%
Full data tables including regions available upon request.
Think your club has what it takes to lift the title this year? Head over to Grosvenor Sport and you'll find excellent odds with our industry leading live-in play betting.
Comments
comments