When Grosvenor announced they were giving away a £10,000 GUKPT Passport I had to contact HQ to make sure it wasn't a misprint….it looks too good to be true!
But it IS true, win the leader board and you get to play every leg of the 2017 GUKPT on Grosvenor, 10 shots at winning the kind of money that can change lives, plus three night in a hotel at every leg, and £150 to cover expenses.
The GUKPT Passport promotion launched on November 3rd, but don't worry, you can opt in until January 1st so you still have plenty of time to catch up and pass those already on the leader board.
If you have already cashed, especially in one of those valuable 50% live boost tournaments such as the London 25/25 or Blackpool just opt-in and you will automatically be added to the leader board.
Some of these promotions seem to go on forever, but this one runs for just 10 weeks, until January 8th, and you can score points in both live events in Grosvenor Casinos and online events at grosvenorpoker.com.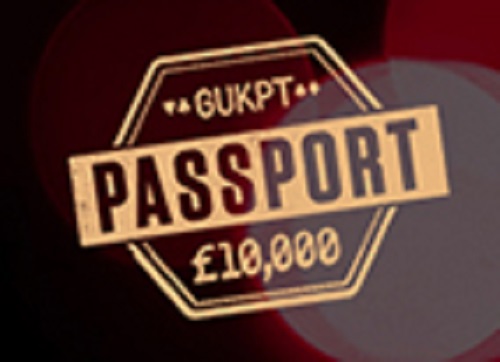 Online tournaments must have a buy-in of least €1 to qualify, and the maximum buy-in is €50, so while you can play tournies over €50, even if they cost €200, they will count as €50 for the sake of the promotion, so the low stakes grinders have got as much chance as the high stakes guys do.
If you're worried the online players have too much scope to score, the differential is counteracted somewhat by the live comps having a 50% multiplier.
There are three special online days that get a 20% boost, December 2nd, 15th and 20th.
Only your top five scores are included (oh to have five scores in 10 weeks!), and while every online comp over €1 counts between November 3rd and January 8th, only certain live ones do.
They are:
● The 25/25 Main Events at:
○ London Victoria Poker Room (3rd November)
○ Glasgow Merchant City (17th November)
○ Leeds Westgate (1st December)
○ Newcastle, Salford and Thanet (8th December)
● GUKPT Main Event and Mini Main Events at:
○ Blackpool
○ London Victoria Poker Room
● The Christmas Cracker
Numerous local events, see local cardrooms for details, these are being held in the first week of December.
Grosvenor's boffins have come up with the following scoring formula:
Tournament points score = 10×(√(Number of Entries)÷√(Finishing Position))×(1+log(Buyin+0.25))
So if you win a 100-runner €10 online comp you would score 10×(√100÷√1)×(1+log(10+0.25))=10×(10÷1)×2.010723865=201.07
Safe to say, just get grinding the online comps, win some live donkaments and let the boffins calculate your score, check it when it's updated every weekday, and get prepared to live the dream, playing every GUKPT next year, on the house!
And if you don't quite make it to the top spot, the top 20 leader board finishers will all win prizes.
The runner-up gets a 25/25 Passport, and will play 12 25/25's of their choice next year. Third gets a £550 GUKPT online token and 4th-9th get 2017 Goliath seats. Places 10-20 receive a £28+£2 Grosvenor Live satellite ticket.
So there's loads to play for, it's a free promo, and the 10-week period has already started. Time to get playing at your local Grosvenor Casino and online at grosvenorpoker.com!
Comments
comments