"If opportunity doesn't knock, build a door." – Milton Berle
The sky's the limit in poker, and there are few players who don't dream of taking 'shots' at a bigger game than usual. Of course, most of us have finite bankrolls which also have to pay for food and beer.
One way to 'make your own luck' is to be proactive in seeking out the best poker promotions. In 2016 when I first heard about Grosvenor's 'Passport' promo, I knew it was a must-play.
One year on, I'd be blogging about how this had been arguably the biggest turning point in my ten-year poker career:
"Winning the Passport has been a game changer. Not only because I got to freeroll £9,275 worth of GUKPT Main Events…"
The Passport consists of free entry into every GUKPT Main Event for a whole year, and is awarded to the highest performer on a tournament leader board. I won the first ever Passport in 2017, and the 2018 Passport was won by Dave Gee. (Grosvenor will soon be giving away a THIRD Passport—more on this later.)
'Game changer' is no exaggeration. After topping the leader board, I would turn my Main Event freeroll into £56,000 of cashes, including 3 final tables, and victory at GUKPT Manchester. Incredibly, this was just the start…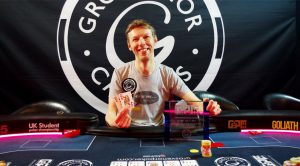 On the back of a £46,988 bankroll boost—together with one of the most enviable pieces of hardware in the business, the beautiful GUKPT trophy—I consciously decided to focus on live poker.
I've never looked back, and the poker gods have smiled on me.
BLOG: From $10 rebuys—to GUKPTs—to international final tables + an $80k month.
And surviving a hairy taxi ride…
😬☠😱 https://t.co/CF6Jah31bj

— Andy Hills (@GrindFromBehind) October 26, 2017
There's a well known saying about perspiration versus inspiration. I'm far from being the greatest poker player, but I put in more volume in live tournaments than 99% of players, and according to the HendonMob database in 2017 I had more 'in the money' finishes at tournament festivals than any other player in the UK or Ireland.
Team Grosvenor
My best ever year at the baize culminated in a full sponsorship deal with Grosvenor for 2018. They even gave me my own custom avatar!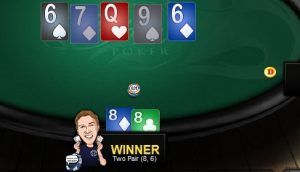 I've supported the Grosvenor tour for several years, as well as grinding Grosvenor Poker online, so it's a natural fit. I'm proud to be a member of #TeamGrosvenor, and we all travelled to Las Vegas this summer along with our 'Road to Vegas' qualifiers. As well as being a ton of fun, this would be my most profitable ever trip to the States.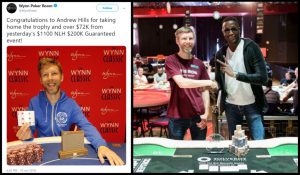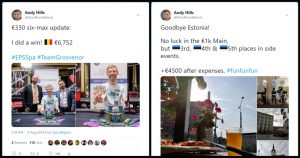 In all, since that GUKPT Manchester haul in March 2017, I've gone on to cash for over $380,000 in live tournaments, playing poker in 20 different countries, reaching 29 final tables, and taking down tournaments in England, France, Belgium and the USA.
To say this year's Passport winner, Dave Gee, has also made great use of the opportunity, would be an understatement. He's already cashed in 3 GUKPT Main Events in 2017, including £27,780 for his runner-up finish at GUKPT Leeds last month.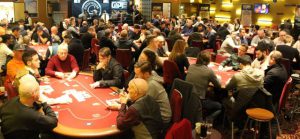 The Passport opens doors. Luckily for everybody else, Grosvenor are giving away ANOTHER Passport!
The package is worth £12,000 including expenses, and as Dave and I have shown, it could be a ticket to even greater things. Once again the Passport will be awarded to a single player who tops the leader board in the upcoming 'GCOOP' festival—the 'Grosvenor Championship of Online Poker'.
Here are a few words I said about GCOOP last year, to sum up the promotion:
GCOOP Facts
Mark the week of Sunday 25th Nov to Sunday 2nd Dec in your diary. GCOOP takes place exclusively on Grosvenor Poker online, and consists of 22 tournaments, with most buy-ins falling between £5 and £30. Satellites are available for the higher buy-ins, including the £25,000 gtd Main Event.
Here are my top tips to give you the best chance of topping the leader board and winning the Passport:
♦ You don't need to play every event, but try to play as many as possible. You receive precious leader board points for every event you enter.
♦ Keep Sun 2nd Dec free at all costs, as there are 4 events instead of the usual 2-3. Don't miss the Main Event (event #18) which awards double points.
♦ If the bigger buy-ins are outside your usual budget, check out the satellites.
♦ Your odds are best on certain 'quiet' nights (look for lower guarantees) as the smaller events award the same points as more popular events.
♦ Remember to pre-register for the heads-up events on Friday, as late registration is not permitted in 'shoot-out' events.
♦ I always say this… make plenty of player notes. You will keep running into some of the same players over the course of GCOOP. Your notes might swing a crucial decision later in the week—perhaps in the Main Event when there's more on the line!
Personally I'm looking forward in particular to the 6-max tourneys, and the Bounty games are sure to be fun.
The GCOOP Main Event has had substantial overlays in the past, so make sure you don't miss out. Even if the buy-in is outside your usual budget, bear in mind this will be a lot juicier than most circa-£100 games on the Internet, particularly as many players will qualify via satellite.
It's that simple.
Grind GCOOP and you can win free entry into EVERY 2019 GUKPT Main Event! There will also be prizes for finishing 2nd, 3rd, … on the leader board.

I myself, and the other Grosvenor Pros, are not eligible to contest the main GCOOP leader board. However we have a friendly competition amongst ourselves, in the form of a #TeamGrosvenor leader board, and Grosvenor are giving away some extra value to their players in the form of a £1,000 'Back Your Pro' freeroll.
To get involved, you just have to vote for the Grosvenor Pro who you think will top the GCOOP #TeamGrosvenor leader board. There are five Grosvenor Pros and you are only permitted ONE vote. For example, if you want to back Joe Beevers to top the 'Pro' leader board, register in the lobby entitled 'GCOOP: #TeamBeevers – Back Your Pro'. If Joe finishes #1 on our leader board, you and everyone else who voted for Joe will get to play in an exclusive freeroll giving away £1,000 worth of tournament tickets.
See you at the tables online. It all kicks off on Sunday 25th November.
Comments
comments