There's another thrilling weekend of Premier League action in store as Leicester welcome Manchester City in what looks set to be an intriguing encounter.
Grosvenor Sport ambassador Jamie O'Hara previews the King Power Stadium clash and two other key Matchweek 14 games.
Leicester v Manchester City – Saturday, 12:30
Score prediction: Leicester 1-2 Man City 15/2
Anytime goalscorer: James Maddison 5/1
This is a big game for Manchester City because Leicester seem to have finally picked up some form, and they now look more likely to find the back of the net than they have done. James Maddison is in decent form too, although I think City will probably win this one, but it won't be a walk in the park. I'll go 2-1 to City, with Erling Haaland to score once again. But I'm also backing Maddison as well, as I think he's looked excellent on the ball lately.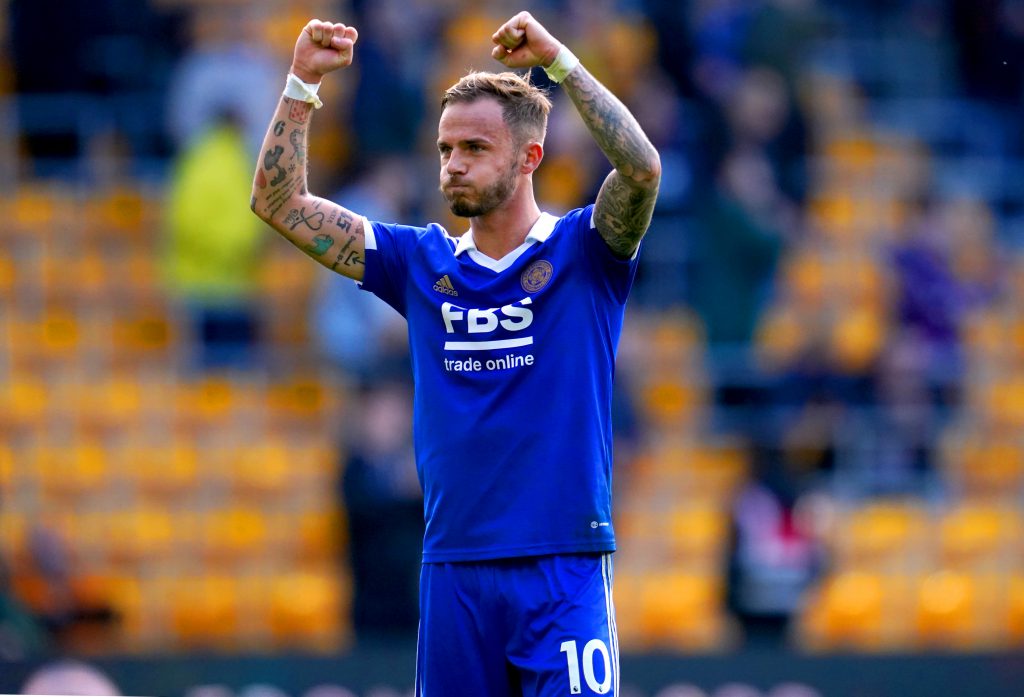 I'm loving every minute of Erling Haaland because he's going to raise the standard of the league, he's going to make the other players better. Just look at Harry Kane, he's picked up this season because he knows that he's always been the top dog, him and Mohamed Salah, but now he isn't. Haaland's the main guy and if you want to be amongst the best, you've got to improve. I've always been an advocate for greatness, and I love footballers that always want to test the boundaries and see how far they can take it and how good they can be. I love Haaland, what he's doing in the Premier League, and he's only going to make it better.
While Leicester will lose this one, they will get out of trouble because of the squad and the manager they've got. They've stuck by Brendan Rodgers. They had to, but they stuck by him and the players are probably realising that they need to sort themselves out and will be thinking that they are too good to be relegated, that they're miles better than Nottingham Forest or Bournemouth with the squad they've got. So I think they'll be fine and will stay up in the Premier League.
Liverpool v Leeds United – Saturday 19:45
Score prediction: Liverpool 3 – 1 Leeds 17/2
Anytime goalscorer: Mohamed Salah 17/20
Normally I'd say this is going to be a comfortable one for Liverpool but they've got so many injuries at the minute and their performance last week against Nottingham Forest was awful. So it depends who is back and who is fit for Saturday, but I think they will win the game. It's not going to be an easy game but I'll go 3-1 to Liverpool, and I'll have Mohamed Salah to score. But they've definitely got problems at the minute, they pick up too many injuries the whole time.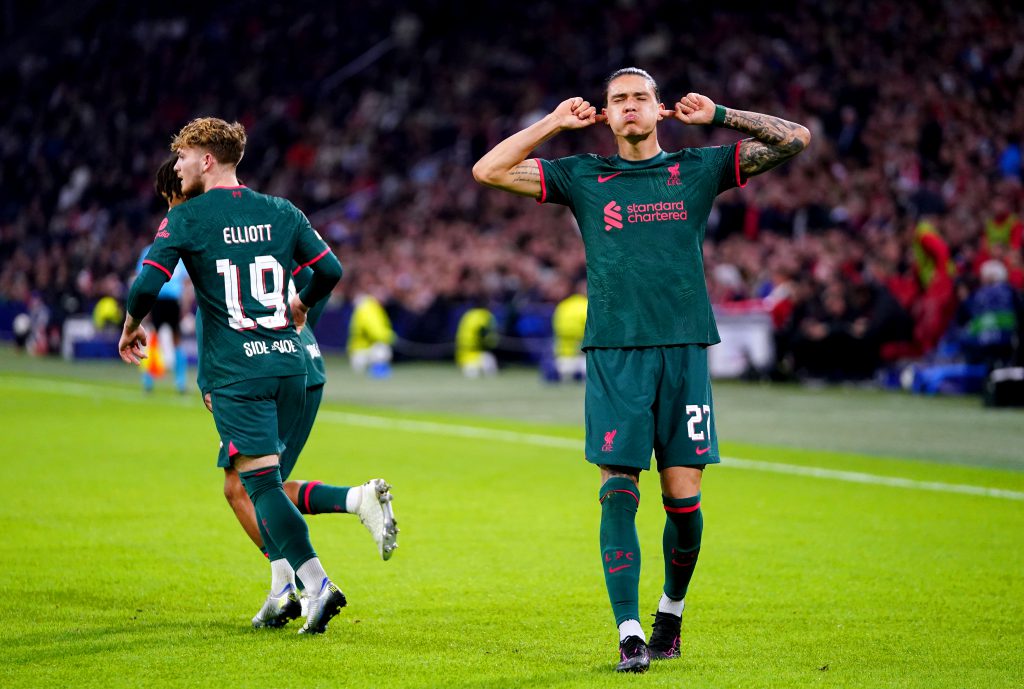 They've been inconsistent this season and their away form has been really poor, which is unlike them, and I think a lot of their players are just running out of legs under Jurgen Klopp now. A lot of them have been there for a while at this point. It's their seventh year under Klopp and it's an ageing squad. A lot of them are 30 or over now and it's a young man's game. If you're trying to play at the intensity they've played at for the last three or four seasons then sometimes it takes its toll on the players and I think you can see that in a lot of them.
Obviously they've tried to refresh the squad, but players have picked up injuries and then they look a bit thin. The players that are coming in I just don't think are quite there yet. For example, Harvey Elliott, he's a great player but he needs a few seasons. Fabio Carvalho needs a few seasons. Darwin Nunez has obviously needed a settling-in period, so I think it's just one of those seasons for Liverpool where they're going to struggle.
Arsenal v Nottingham Forest – Sunday 14:00
Score prediction: Arsenal 3 – 0 Nottingham Forest6/1
Anytime goalscorer: Gabriel Jesus 4/5
Arsenal are cruising through games at the moment and this should comfortably be another win for them against Nottingham Forest. Someone please get this team off the top of the table! Arsenal at home against Nottingham Forest has a 3-0 win written all over it. Forest may have won against Liverpool the other day, but Liverpool did have many chances. It's another week I'm going to have to sit with Arsenal at the top of the league. I can't do it….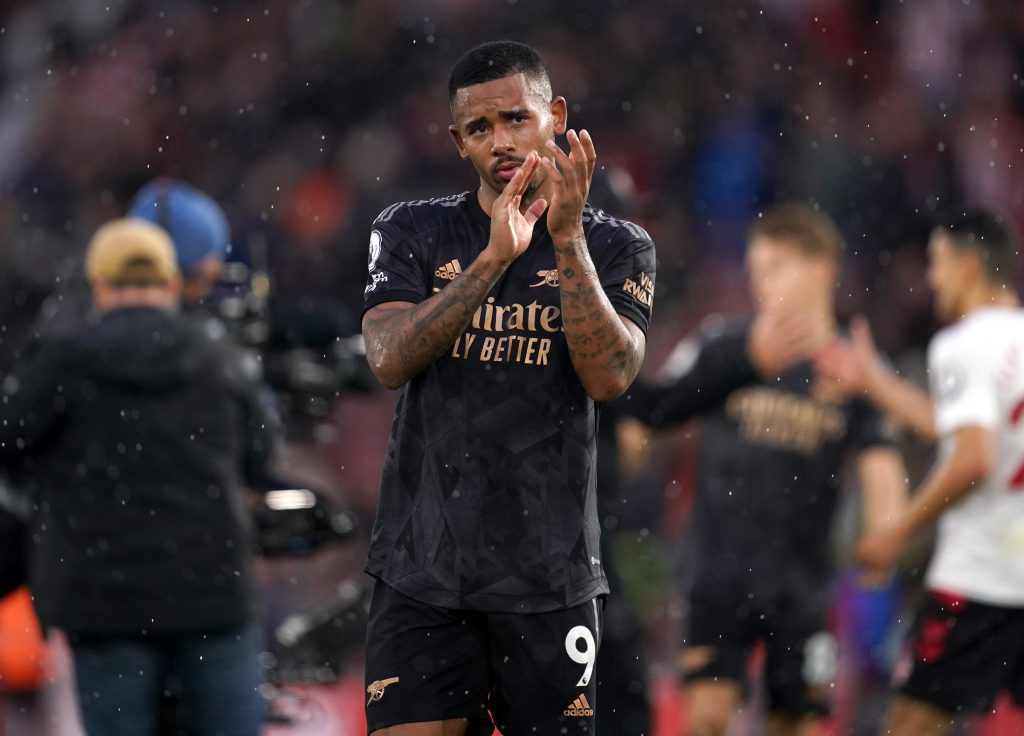 Gabriel Jesus has played well for Arsenal this season and I don't doubt his ability to find the back of the net in this game, despite his recent run. I can tell this is one of those weeks – a goal for Jesus, another win for Arsenal and another week of Arsenal fans giving me stick. Someone beat this team! It's doing my nut in.
They had a bad day and played poorly against Southampton last week, but still got a result and could've won the game. They aren't going to lose at home against Nottingham Forest, it just isn't happening. No chance. But they will drop off, they won't win the title. Manchester City will win the title because as the games keep coming thick and fast you'll see teams like Arsenal starting to look a bit leggy. Bukayo Saka is playing every game, Jesus, Gabriel Martinelli, they're all playing and they will get tired. Arsenal are doing great, keep that 11 fit and it will be unbelievable, but they'll get leggy eventually. I can tell you that won't be against Nottingham Forest though.
Comments
comments