Million Pound Picks is OPEN once again. A new gameweek and a fresh opportunity for you to get your hands on £1,000,000 – just by making a few Premier League predictions. Select 10 first goalscorers this weekend and it could be you walking with a cool cash prize.
Not only is there a £1M jackpot, there's also £2,000 that MUST BE WON. That prize goes to our best effort of the week. Kudos to Kian who won last week – he got four scorers correct but clinched the £2k on a tiebreak. Nice. And there were £10 Free Bets handed out to everyone who got three right.
Want more info on Million Pound Picks? Luckily for you, we've pulled it all together into one handy article here. Check it out when you've got a minute! But for now, we're previewing the weekend's Premier League action and giving you a few fancies. We even got Lewis Dunk right last week – that's how good we are! Would have been a tasty winner too, and step this way for Premier League betting with Grosvenor Sport.
A classic 4-4-2 set-up. Four on Saturday, four on Sunday, two on Monday. Let's go.
When Saturday Comes
Leicester. Liverpool. Two sides fighting for Champions League football, two sides desperately in need of points if they're to put any pressure on runaway leaders Manchester City. We know Liverpool have the quality, you know it, everyone knows it – but their defensive capitulation against the Citizens is a cause for concern. Leicester aren't quite the same without Jamie Vardy either, but we're going for the Foxes' Youri Tielemans here.
Crystal Palace versus Burnley is the 3pm game and we're not anticipating a classic. We'll go for some set-piece magic and make Gary Cahill our man after scoring his first Eagles goal against Newcastle recently.
The evening game pits Man City against Spurs – and that might be a good thing for Mourinho's men. Their failure to break down opposition when in control can be painful at times, but they love to break and they beat City earlier in the season. We're going for it. Harry Kane. Title race on!
Saturday ends with one for the neutrals. Brighton and Aston Villa are both a joy to watch but it's the visitors who have that cutting edge, which is why we're going for the England hopeful Ollie Watkins.
Sunday Best
Southampton's porous defence vs Wolves' non-existent attack. We're struggling to excited about a game between two teams very much on the slide and stuck in mid-table obscurity in February. No goalscorer please!
WBA would welcome a No Goalscorer – they're still without a clean sheet since Big Sam arrived to work his magic. Man Utd should enjoy this trip to the Hawthorns and Edinson Cavani will relish life against that Baggies backline.
Two more games on Sunday. Arsenal v Leeds is an intriguing one – the Gunners have improved but it's still hard to decipher how good they are. We know what we're getting with Leeds though, and they have more than a chance at the Emirates. Raphinha made the highlight reel last week, but not the scoresheet – we'll try our luck once again. And we're going for Dominic Calvert-Lewin against Fulham. Enough said.
Monday Motivation
Get through that Monday of work and you've got not one, but two Premier League games to enjoy. Both in London, both with heavy favourites. West Ham couldn't break down Fulham and Sheffield United are equally stubborn. But the Blades simply have to win and that should help the hosts – Said Benrahma is our pick to break the deadlock.
Finally it's Chelsea versus Newcastle. And wait for it… Timo Werner is going to score. You heard it here first! Get behind the German – he could be the man to clinch you a million!
We need your Million Pound Picks in by 12:25pm on Saturday 13th February. Get your crystal ball out and get to work. Good luck!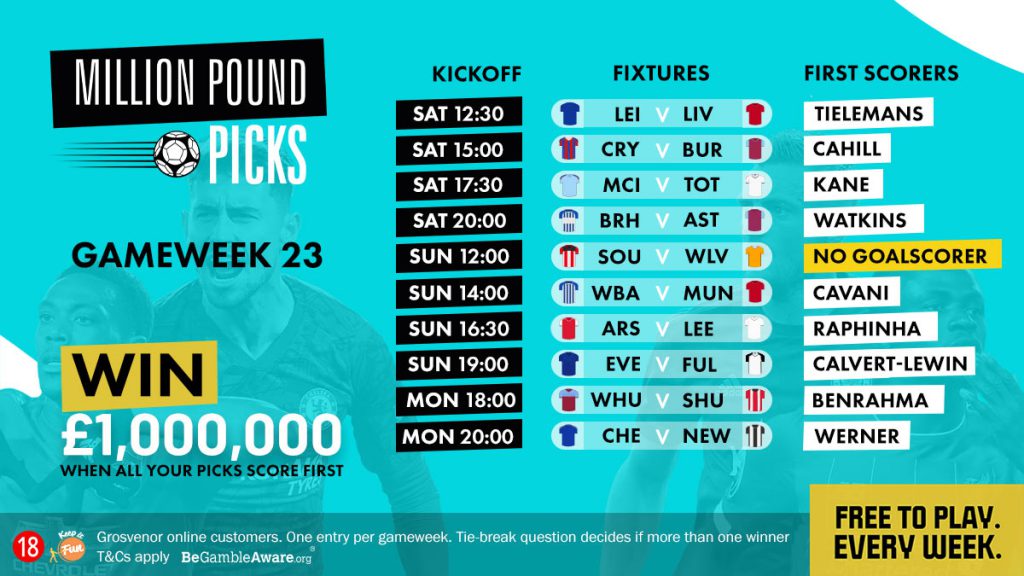 Comments
comments