Willpower. Nerve. Skill. Adrenaline. Excitement. Victory.
I could be talking about a night at the casino couldn't I, but as good as it is to win big at the table, there's little in life that can beat the buzz of being an F1 driver. Well, with up to 5g being pulled through your body at 200 mph, I imagine so anyway.
On Sunday the world's best are at Silverstone for the British Grand Prix, and some of the stars of the show happen to be massive characters too. Ahead of the big-race here's the inside track on four of the pre-race favourites…
Sebastian Vettel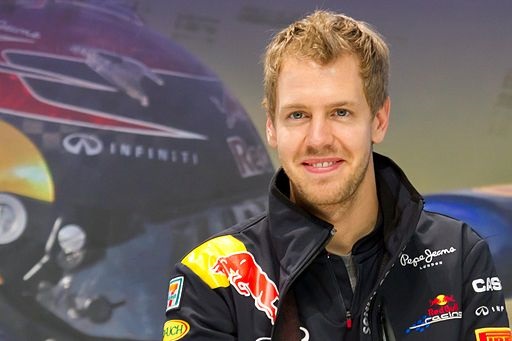 Ferrari's big money signing (he's on £50million a year!) is already an F1 great at the age of 27. Only Michael Schumacher and Ayrton Senna have earned more poles and he's fourth on the list of all-time race winners.
Off the track he's not a boring fella either. Vettel has appeared in a music video with R&B artist Melanie Fiona, he's the German face of Head & Shoulders, did a voiceover for a part on the movie Cars 2, owns a Hofner guitar presented to him by Sir Paul McCartney, and is by all-accounts an amazing badminton player.
Mercifully there's a slightly odd side to him too, which pleases me greatly. At the start of each season he throws a party to name his new car. "It's important to have a close relationship with a car. Like a ship, a car should be named after a girl as it's sexy," he once said. Hmmm.
Anyway, he's driven Julie, Kate, Luscious Liz, Randy Mandy, Kinky Kylie, Abbey, Hungry Heidi, Suzie, and this weekend at Silverstone he'll steering Eva. I'm not convinced.
Lucky Roulette Number – 23
He did start go-kart racing at three years of age, but it's still pretty impressive that Vettel became the youngest world champion at just 23. He's now got four titles in the bag.
Lewis Hamilton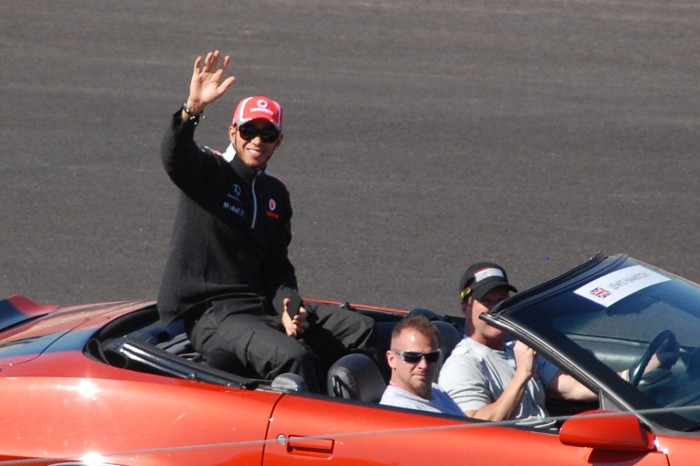 At 30, life isn't treating Britain's best driver too shabbily. Not only is he leading the World Championship, but away from the racetrack he's just as on fire too.
Since getting cold feet over marrying the lovely Nicole Scherzinger (who does that?!) Hamilton has been 'hanging out' with a string of beauties, and this week he took Kendall Jenner on a double date with model Gig Hadid & Joe Jonas. It's tough at the top.
He's not everyone's cup of tea, but I like him and not just because he's an Arsenal fan. At a post-race party with fans in Austria last time out he happily entertained the masses with a set on the drums, he recently joked about being told off for his table manners when lunching with the Queen (yes, the real one), and at the film premiere of Minions he rocked up wearing a set of dodgy, round Minion-style glasses – and didn't get slated for it! To pull off that kind of move you need a level of coolness I can only dream about.
Lucky Roulette Number – 9
Aged nine he asked McLaren boss Ron Dennis for his autograph, and said, "Hi, I'm Lewis Hamilton. I won the British [Karting] Championship, and one day I want to be racing your cars." Dennis signed his book and jokingly asked him to call in nine years' time. By the time he was 13, he already had a deal with the F1 giants.
Nico Rosberg
Often cast in the role of F1 baddie by Hamilton fans, on the back of some dubious on-track behaviour, the Mercedes star cops a fair but of stick BUT he does have plenty in his locker…
The son of a former F1 champion, Rosberg is nicknamed 'Britney' on the grid because he's so pretty, is said to the best footballer, tennis player and triathlete in the paddock, he wire-walks in Ibiza, can juggle three balls on a unicycle, and was accepted on a prestigious course to study aeronautical engineering in London.
As if all that wasn't annoying enough, last summer the driver also had the greatest week of all-time; marrying his childhood sweetheart, watching his beloved Germany win the World Cup, and signing a new megabucks deal with Mercedes, all in the space of seven days.
The youngest driver ever to record a fastest lap, Rosberg is well worth a man-crush.
Lucky Roulette Number – 5
Can you speak German, English, Spanish, French and Italian? Me neither, but multi-lingual Rosberg does. On top of that he's also trying to learn Finnish. The show-off.
Kimi Raikkonen
The Ice Man is great value. He hates being interviewed, and plays games with reporters to see how miserable he can come across, but underneath that cold exterior he's a bit of a legend.
There's a video on the Internet of him falling off a yacht blind drunk, he was reportedly fast asleep 30 minutes before his first ever race in F1, was caught eating an ice cream during a suspension at the 2009 Malaysian Grand Prix, and was once married to Miss Scandinavia. He's now engaged to an underwear model.
Oh, and this one's my favourite; Raikkonen once entered a snowmobile race without his team's permission, and he did so under the name of his alter-ego, former world champion James Hunt.
He's a character.
Lucky Roulette Number – 27
The madcap Finn might be pretty unpredictable off the track, but on it he's Mr Consistent. Between 2012 and 2013 he broke the F1 record for the most consecutive points finishes – you've guessed it, 27.
Now that you know the main characters, give the race a watch on Sunday.
If you haven't got a ticket (I suspect they're sold out) then get yourself down to the nearest Grosvenor Casino to watch it in style on the big screen. You've even got a few lucky roulette numbers to help you on your way. Good luck!
Photo credits –Wikipedia (Creative Commons – Attribution 3.0 Unported (CC BY 3.0))
, Wikimedia (Creative Commons – Attribution 3.0 Unported (CC BY 3.0))
Comments
comments