Floyd Mayweather says the world will stop when he climbs into the ring at the MGM Grand on May 2, and he's right, it will.
Sports fans around the planet can't wait to see if Manny Pacquiao will bring his astonishing 47-fight winning streak to a shuddering end. Most viewers, myself included, will be hopelessly hooked on the prospect of it happening.
Will it? Well, the Pac Man accepted a 40-60 split of the money to give himself a shot at being the first pro to get the better of the unbeaten American – and if you canvas enough opinion from those in the know, that's roughly how his odds are stacked too. He's the underdog, but very few are writing off his chances completely.
While Mayweather, 38, still has that precious '0' to his name, there are question marks over his power.
Since knocking Ricky Hatton out in December 2007, the Money Man has stopped just one opponent, Victor Ortiz, and that was three and a half years ago. He may have schooled most adversaries, but when the Filipino scrapper steps inside to go toe-to-toe with Mayweather (as he inevitably will) he won't be quaking in his boots fearing a knockout blow.
For a fighter that likes to fire off around 100 punches a round that's a relief for the Pac Man, and a possible concern for the home favourite too. If a knockout success is unlikely, he must somehow ensure that most of Pacquaio's punches don't land. If they do, he'll lose too many rounds.
Defence is Mayweather's forte though.
He is quick, intelligent and incredibly skillful. In 47 fights he's barely had a wobble, and that's because he works out a way to elude his opponents' blows, before picking them off on the counter better than anyone else on the planet.
Those backing the US star believe he's just too talented to be caught out by Pacquaio's bulldog style. He'll swerve, duck and jab his way through the fight, blunting the Filipino's punches and burning him out. Based on what we know, the smart money is on this scenario occurring.
In an otherwise tame, surprisingly respectful press conference in LA this week to promote the fight, I did enjoy the seed of doubt, Pacquiao's trainer Freddie Roach dropped into the debate, and it was an interesting nugget too.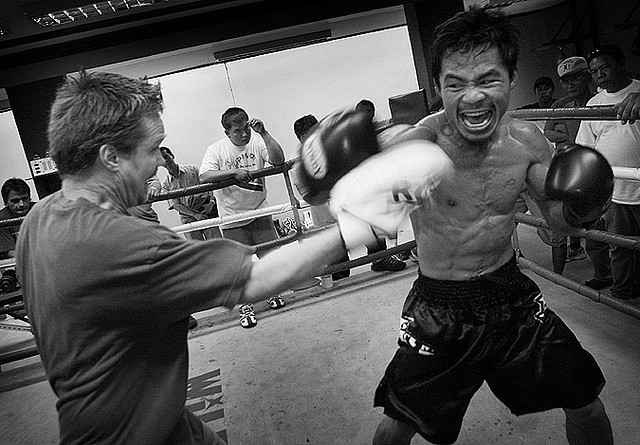 "I think his legs are a little bit shot," he said of the American. "I think he's slowed down a bit. I think we can take advantage of that."
If it's an observation that stands up, it could be more of a 50-50 fight than we think because that sharpness and movement has ensured he's barely collected a bruise thus far. If his speed really is on the wane, a pumped-up 36-year-old southpaw with nothing to lose could be Mayweather's worst nightmare.
Flouting his wealth the flashy unbeaten US superstar (the world's highest paid athlete) won't win too many popularity contests, but inside the ring "Money" is a class act. Polished and poised I don't think I've ever seen a fighter make fewer mistakes.
His opponent, the Pac Man, is considerably more likeable.
A hero in his homeland, he smiles his way into the ring before unleashing a whirlwind of combinations, Rocky-style. The fact he's been knocked out before and shown vulnerabilities makes him even more intoxicating to watch. He will be the people's choice.
When it comes to this monster of a fight, everyone involved in the production is a winner. With an estimated $400m to divvy up, how could they not be?
But for boxing as a sport to triumph, and for this super-fight to go down in the annals of time as one of the true epics, I believe the '0' must go.
I'd love to see the Pac Man gobble up his adversary's unbeaten record, and I shall be setting my alarm to make sure I see it.
Photo credits – Flickr (Creative Commons – Attribution 2.0 Generic (CC BY 2.0)), Flickr (Creative Commons – Attribution-NoDerivs 2.0 Generic (CC BY-ND 2.0))
Comments
comments