Sure to break box office pay-per-view records and live on Sky Box Office from just after midnight on Sunday morning, it's the biggest boxing match of the century as undefeated pound-for-pound king Floyd Mayweather Jr takes on eight-division world champion Manny Pacquiao in a WBC, WBA and WBO welterweight title unification bout at the MGM Grand in Las Vegas, Nevada, USA.
Floyd Mayweather Jr: 47-0 (26 KO)
Born into a family of boxers, Floyd Mayweather Jr compiled an 84-6 record as an amateur, gaining three Golden Gloves titles and an Olympic Bronze medal in the process. The fact that a man now universally recognized as the best boxer in the world only gained a Bronze medal in Atlanta 1996 will come as a major surprise to most people, but it was a highly controversial decision which resulted in an America judge resigning in protest.
Turing pro in late 1996, Mayweather Jr was initially trained by his uncle, Roger, until his father, Floyd Sr, was released from prison. Beating Mexican fighter Roberto Apodaca via a second round KO on his debut, the man nicknamed 'Pretty Boy' was a world champion by 1998, bullying Genero Hernandez into an eighth round retirement to win the WBC super featherweight title.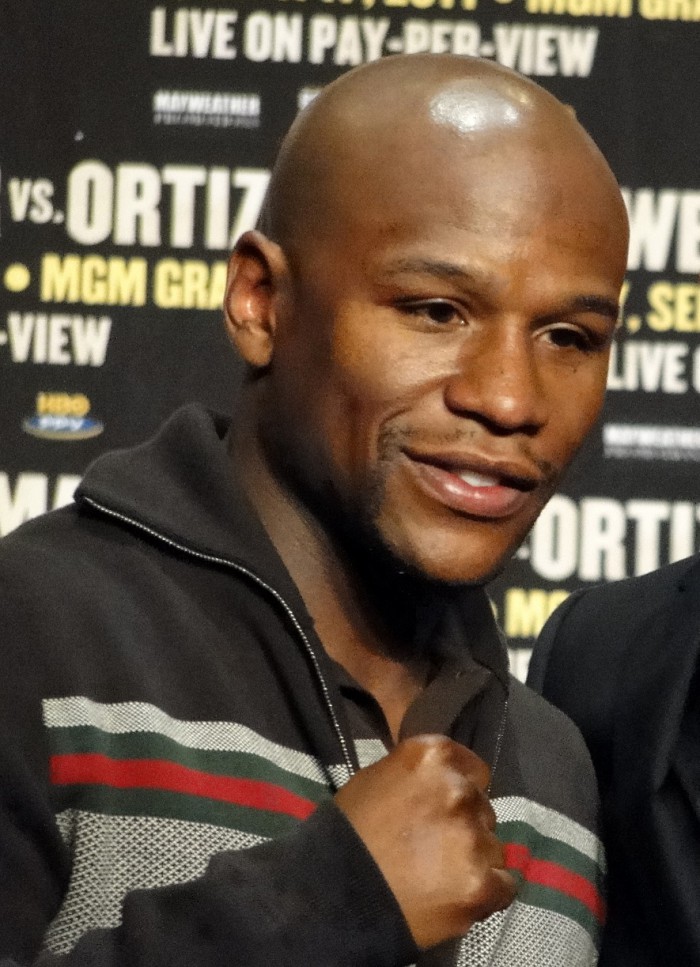 Intelligent, blessed with lightning-quick hand movement and superb footwork, Mayweather Jr was also noted as having a strong punch and an iron clad defence that incorporated a shoulder-rolling technique that's since proved extremely hard to breach. By many, he was touted as being the next great fighter in a similar mould to household names like Sugar Ray Robinson, Muhammad Ali and Sugar Ray Leonard.
Fast forward to 2015 and a Floyd Mayweather Jr now nicknamed 'Money' and claiming to be 'The Best Ever' with his 'TBE' slogan is a five-weight, ten-time world champion and certainly worthy of being put in the same bracket as the boxing greats listed above.
Indeed, you'd be reading a 10,000 word betting article if  went through all of Mayweather Jr's notable fights in any real detail, but to mention just a few, the undefeated fighter has beaten Oscar De La Hoya, Ricky Hatton, Shane Mosley and Saul Alvarez as he's moved through the weight divisions.
All in all, Mayweather Jr is perhaps the best defensive boxer the sport's ever seen and, unless Manny Pacquiao can beat him, he looks likely to gain his wish of beating former world heavyweight champion Rocky Marciano's 49-0 undefeated record before retiring.
Manny Pacquiao: 57-5-2 (38 KO)
Now a politician as well as a sportsman, Filipino Manny Pacquiao boxed for his country and amassed a 60-4 amateur record before entering the professional ranks in 1995. Winning his first eleven fights, Pacquiao was knocked out in his twelfth bout by fellow Filipino Rustico Torrecampo.
Rebounding with twelve straight victories, the man later nicknamed 'Pacman' won his first world title when defeating Chatchai Sasakul for the WBC flyweight belt in late 1998. Losing the famous green belt a few bouts later, Pacquiao eventually became a two-time world champion, gaining his first taste of mainstream media attention when defeating Naseem Hammed conqueror Marco Antonio Barrera in 2003.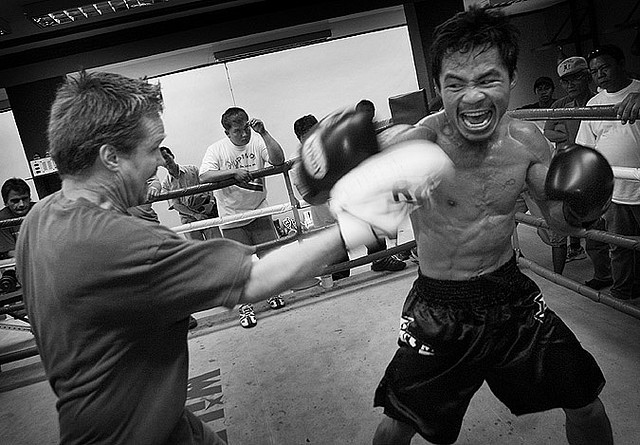 An all-action boxer with a high work-rate that throws punches from unusual angles, many years and world titles later, Pacquiao was voted as 'Fighter of the Decade' for the 2000's by the American Boxing Writers Association and has fought and beaten names such as Erik Morales, Oscar De La Hoya, Miguel Cotto, Shane Mosley and Ricky Hatton on his way to winning a total of ten world titles in eight different weight categories. Like Mayweather Jr, Pacquiao has been adjudged to be the best pound-for-pound fighter in the world at various points in his career and many people think he should still be.
All in all, while you could argue that Pacquiao's opponent this weekend, Mayweather Jr, has been selective and cautious in choosing his opponents in the ring, it's fair to say that 'Pacman' has fought anybody and everybody in the eight different boxing weight categories he's competed in. He's not in Mayweather's class defensively, but then who is?
Mayweather Jr v Pacquiao Betting
WBC and WBA champion Mayweather is priced around 1/2, WBO belt holder Pacquiao is offered at 15/8 and you can bet on a draw at 18/1. As for method of victory betting, Mayweather is 9/2 to win by KO/TKO or DQ and 8/11 on points, while Pacquiao is 11/2 to stop his opponent and around 9/2 to emerge victorious by a scorecard verdict.
The Mayweather Jr v Pacquiao betting Verdict
Without doubt, Pacquiao represents Mayweather's biggest test as a professional boxer and looks like the only man who could stop the American fighter from retiring undefeated, but as much as 'Pacman' has the speed and power to potentially hand 'Money' that first defeat, I've long since been of the opinion that Mayweather is simply too good defensively and can't see him losing unless the Filipino can somehow breach that shoulder-rolling defence and land a haymaker punch to end the fight.
Boxing fans have been calling for Mayweather v Pacquiao for at least five years and over that period the Filipino has lost twice, with one of his defeats being a stunning one-punch knockout by Juan Manual Marquez. Now, Manny had already beaten Marquez twice prior to his defeat, easily avenged his controversial loss to Timothy Bradley in the rematch and has since emerged victorious over decent contenders like Rios and Algieri, but I think that these results only 'paper the cracks,' so to speak, and have concluded that Pacquiao is not as good now as he was five years ago.
As such, if I thought a Mayweather that's shown no signs of decline since would win in 2010 then I certainly expect him to win in 2015. However, with Floyd only priced around 1/2 to win the bout and considering that 'Money' hasn't won by knockout for several years, I think that the most sensible betting offering is for Mayweather to win on points.
Indeed, since Pacquiao hasn't won a fight by KO since 2009, the 'Fight of the Century' looks extremely likely to start slowly and go the full twelve rounds, but with a 3/10 price attached to that eventually I'm happy with my pick.
Recommendation: Mayweather Jr to win on points @ 8/11
Of course, whether you do or don't opt for a wager, have a great weekend and feel free to contact me on Twitter via @JCLaLiga if you have any questions or feedback.
Photo credits – Flickr (Creative Commons – Attribution 2.0 Generic (CC BY 2.0)), Flickr ("Creative Commons – Attribution-ShareAlike 2.0 Generic (CC BY-SA 2.0)
")
Comments
comments