Celebrate the start of summer by checking out one of these sun-splashed pop-up bars.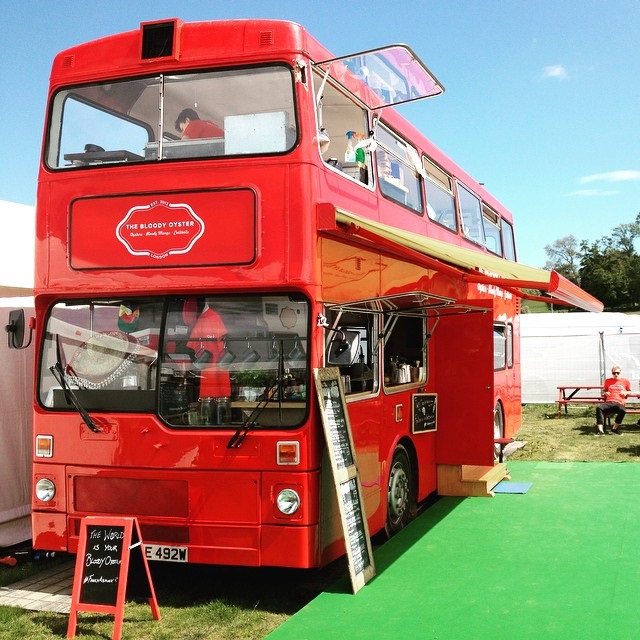 Get in the mood for the Southbank Centre's Festival of Love by visiting this pop-up which will be serving up oysters, Bloody Marys and cocktails from the top of a double-decker bus between the Royal Festival Hall and Festival Village.
Whether you're a first-time oyster eater or a connoisseur, the aphrodisiac will be served deep-fried, grilled, poached, fresh, or as ceviche.
Spread the love by visiting other festival pop-ups, including Look Mum No Hands!, which will be offering coffee, fresh food and British craft beer, on Queen's Walk under Hungerford Bridge. Until 5 Sep
Channel the beach-shack vibe at the tropical-themed Summer Tales which has a sun terrace, swing chairs, hammocks and adventure trails.
There's four different bars and food from London favourites Burger & Lobster, Pizza Pilgrims, Bonnie Gull seafood shack, Nanny Bill's meatballs and Forza Win. Just keep your fingers crossed for sun. Until 29 Aug
Rooftop bar Skylounge has been given a summer makeover so that its guest can enjoy a taste of East Coast island living.
Inspired by the laid-back charm of Nantucket, New England, the bar's outdoor roof terrace has been transformed into an island retreat, with its own lighthouse and swing-bench.
Summery drinks include Snow Queen vodka slushies and Surfside Punch, while the seafood menu includes Lobster mac and cheese, clam chowder and lobster rolls. Top it all off with a heavenly Boston cream pie. Until end of Sep.

With a gorgeous view of iconic Tower Bridge, this riverside pop-up is the perfect spot to spend a relaxing summer evening.
Themed on the Great British summer, there's deck chairs and garden games, as well as tempting street food, such as fish and chips and beef burgers. The bar serves up a mix of cocktails and ice-cold beers. Cheers!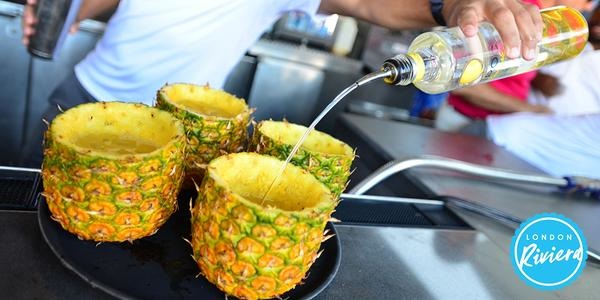 Decked out with palm trees, luxurious day-beds, giant pineapples and pink flamingos, this pretty riverside pop-up takes its inspiration from the outrageous style of Miami's beachside and the chic French Riviera, and was designed by renowned Hollywood film designer Sonja Klaus.
Celebrity chef John Quilter and executive chef Tom Kime are the brains behind the sizzling summer menu, which offers a mix of Eastern Mediterranean street food: think tempting dips and fresh pitta, and baklava-flavoured ice cream. Wash the food down with exotic cocktails, craft beers and fresh pressed juices. 3 Jun-24 Sep
Perched atop Harvey Nichols' picture-pretty roof terrace in London's Knightsbridge, this summer pop-up is hosted by Grey Goose, who are offering its well-heeled guests a mix of martini cocktails and French cuisine. 4 Jun-6 Sep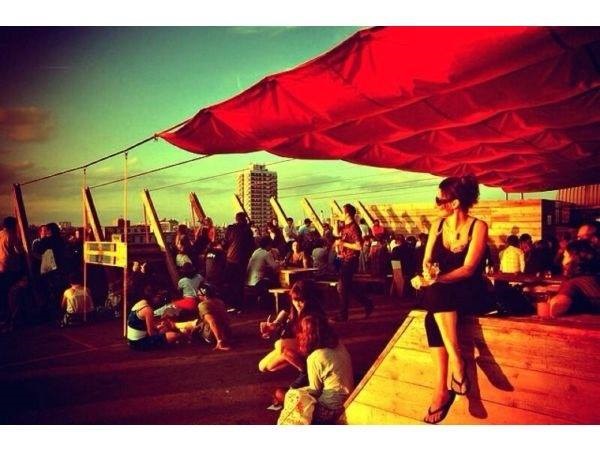 One of London's original summer pop-ups, Peckham's famous rooftop restaurant and bar recently opened its doors for 2015.
Set on top of a multistorey car park, the bar affords eye-popping views of the Gherkin, the London Eye and the Shard among the capital's sexy skyline. Drinkers can also feast their eyes on work by international artists, since the bar is part of Peckham's Bold Tendencies Sculpture Project. Until end of Sep
Comments
comments