Meat and alcohol is a match made in heaven. Carnivores will happily munch on steak cooked in red wine, or steak and ale pie, so why not quaff a cocktail infused with meat?
Bacon and eggs is not just for breakfast as this bizarre cocktail proves.
Have a light dinner before tucking into this carnivore-pleaser, which combines Jack Daniels infused with smoked bacon, maple syrup, orange bitters and lemon juice, and is stylishly garnished with a rasher of crispy bacon.
This gastro-inspired tipple can be quaffed at the London Cocktail Bar, which has a punk vibe with its candlelit bar and walls splashed with grafitti art. The talented mixologists here can create any tipple you fancy if you're not quite brave enough to plump for the Bacon & Egg Martini.

Perfect for the chilly months, this meat-infused cocktail is created using smoked chase vodka, beef jus and dry sherry, and is charmingly garnished with a smoky bacon rasher.
Situated on the riverside near London Bridge, this restaurant offers eye-popping views across to Tower Bridge and the Docklands. This beefy cocktail complements the meaty menu that consists of dishes including whole young grouse, venison haunch, and roast rib of beef.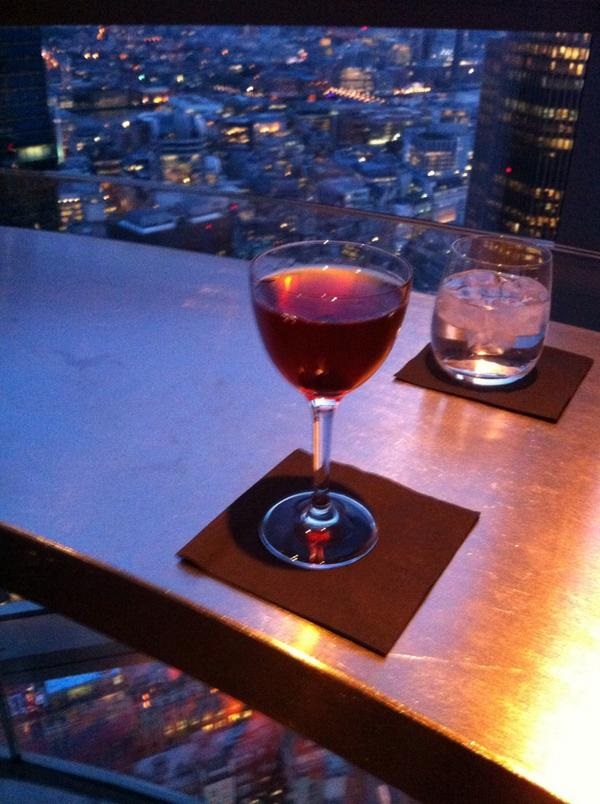 Vegetarians, look away now! This meaty treat of a drink mixes 'piggy' bourbon, salted caramel liqueur and vermouths.
Set atop a 40-storey skyscraper in the City of London, Duck & Waffle is open 24-7 so those with strong stomachs can enjoy this cocktail with breakfast while soaking up panoramic views of the capital.
Served up in a hollowed out Bible, this festive cocktail sheds a whole new light on the Christmas story. This cleverly-named drink is made with cognac infused with untreated cowhide and is served with frankincense and myrr smoke.
Tucked away in trendy Shoreditch's Great Eastern Street next to a kebab shop, Lounge Bohemia is a cosy subterranean bar that seats just 30 people.
With a no suits-policy, there's an air of exclusivity about this bar: its website only reveals its address and it doesn't have a Twitter account.

Set in Camden's Stables Market, London's largest South African restaurant is famous for its exotic meat menu, which includes delicacies like zebra fillets and crocodile springrolls.
To enrich the food, Shaka Zulu has a dedicated meat bar that includes delights like the Bloody Bacon, which combines bacon vodka with a Bloody Mary mix, and Meatequita, which blends tequila with chorizo, vegetable juice, balsamic vinegar, smoked sea salt pepper and port.
Decked out with carved wooden murals and 20ft high warrior statues, this braai restaurant is the perfect dining and drinking destination for meat lovers. 
Comments
comments