Calling all chocoholics! We've scoured London's best bars to find the yummiest chocolate cocktails. Here are a few of our favourites:

The decadent Milky Way cocktail (£7.95) is crafted using homemade white chocolate vodka, coffee rum, amaretto and creamy organic cream for pure naughtiness. Sited in the heart of Clerkenwell, Bar Smith is a chic venue, reminiscent of the type you might find in New York's meat packing district. The bar specialises in house-infused spirits and cocktails, lovingly created by a team of talented mixologists.
Cacao Pulp Bellini at Rabot 1745
Rabot 1745 is a chocolate cafe in London's Borough Market that boasts a tantalising menu of cocoa-centric cuisine. As well as offering dishes that use roasted cocoa as a savoury spice, the cafe has an inventive cocktail menu. Highlights include the delectable Cacao Pulp Bellini (£8) which combines tangy cacao pulp and brut prosecco, and the Fresh Cacao Martini (£9) which blends cacao pulp, vodka and mint. There's even a chocolatey cocoa beer (£7) which is brewed with cacao shells. If you're seeking a warming drink on a frosty day, opt for the Rum Chocolate (£5): hot chocolate with a shot of Saint Lucian rum.  Delicious!
(Taken from the Lounge Bohemia homepage)
Love vodka and chocolate? Then plump for Lounge Bohemia's luscious Russian Breakfast cocktail (£14), which blends vodka and dry chocolate and is served up with dark chocolate and dark beer caviar. Seating just 30 people, there's an air of exclusivity about the bar. You won't even find it on Twitter and the website gives nothing away, if only its address. Tucked away in hip Shoreditch's Great Eastern Street next to a kebab shop, the bar has a no suits-policy and enjoys a chilled-out atmosphere (note: you can hear each other talk here!) and is a great hide-out for those looking for an intimate underground bar.
Hyped as "Badboy mint choc-chip", this scrumptious cocktail blends rum with mint and chocolate liqueurs, complemented with a splash of cream. Enjoy this taste sensation at Anam Bar, a plush cocktail/DJ bar in Chapel Market, smack bang in the heart of Islington's nightlife scene. Set over two floors, this late-night party venue serves a wide range of cool cocktails, wines, bottled and draught beers for its loyal patrons.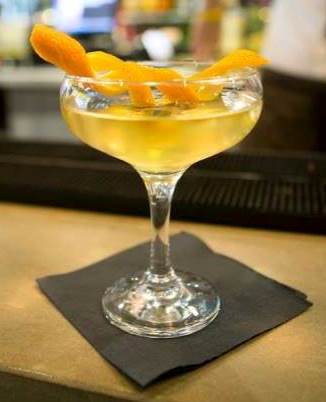 Chocoholics will love Dirty Martini's tasty liquid treat. The blend of vanilla vodka, hazelnut liqueur and crème de cacao is shaken with cream and cocoa powder for a sublime tipple. As the name of this seriously glamorous bar suggests, you can expect martinis galore here, all of which are made with the freshest fruits, purees and most delicate aromatic garnishes. There are also a slew of signature cocktails to sip. Find Dirty Martini across five London venues, including ones in Covent Garden and Oxford Circus.
Chocolate Orange Martini at Core Bar

Indulge yourself by sipping Core Bar's Chocolate Orange Martini (£7.50), a super-sweet mix of vanilla vodka, chocolate flavoured liqueur and Baileys whipped together with liquid chocolate, cream and marmalade. If that wasn't luxurious enough, the cocktail is accompanied by a Terry's Chocolate Orange segment. Set in the City, near Bank Tube, Core Bar boasts a huge range of sweet and refreshing cocktails. Food is also available, including sandwiches, rib-eye steak and mouth-watering burgers.
Comments
comments