I was lucky enough to win the £12,000 GUKPT passport in 2017 by coming top of the GCOOP leaderboard. This gave me the fantastic opportunity to play every GUKPT main event in 2018. 9 events in total.
At the time of writing this I've played 7, Cashed 3 including a 2nd place in Leeds for 28k. Nice 🙂
I've still got the 1k in Blackpool to go and the 2k main event in London. Fingers crossed for some run good.
*David Gee managed to lock up yet another cash in GUKPT Blackpool, finishing 28th and adding a further £2,150 to the winnings tally.*
It's been a great experience  to play badged up and meet the Grosvenor Poker team! An awesome bunch of guys and girls, always happy to offer advice when asked.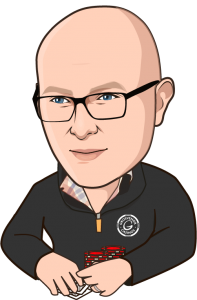 GCOOP 3 is just around the corner with the awesome £12,000 GUKPT passport promotion up for grabs again. This can enable you to win life changing sums and gain some poker notoriety. 
However you'll have to come through me first as I'm gunning for it again! 
Below is some advice for anyone shooting for the win.  Because I'm kind like that 😉
GCOOP Leaderboard tips:
*disclaimer – These tips are aimed at winning the overall leader board and do not increase your £ev in the immediate event.
1. Play all events you can. This obviously gives you the best shot at getting the most points. Points mean prizes.
2. If you're a long way behind deep into the festival, don't give up! I was around 18th on the last day and won 2 events and come 4th in another which sent me a few hundred points clear to win.
3. Bounty event – disregard winning a player's bounty. Just play your normal ranges that you would in freeze out. Widening your calling range to win a bounty will damage your chances of a deep run.
4. Unlimited rebuy events – play as loose as your roll will allow to build a stack during the rebuy period. Always take the add on regardless of your stack size. This will give you an edge to run deeper and accumulate points.
5. Single rebuy events – you can't rebuy unless you're below starting stack. So it's very lucky if you lose a cheap early first hand, enabling you to rebuy straight away. * cough* limp fold *cough*
6. Have a web browser open whilst playing displaying the point system. Sometimes you'll encounter " imaginary bubbles" there might not be a pay jump but they'll be a points jump. So if it's a very close spot in game it could be prudent to fold. Locking up those extra 5 points could be what clinches it for you.
7. To give yourself the best chance don't multi table other games outside of GCOOP.
8. If you're lucky enough to be in contention to win on the last day, keep a close eye on the tournament lobbies paying attention to other players that have a chance to win. See how many points they've accumulated or could still get. You may have to play chip ev and disregard the immediate icm of the tournament you're playing. In short you might have to forget laddering and push for a win/max points.
GCOOOOOOP – let battle commence!
Good luck all,
Dave Gee
GCOOP starts Sunday 25th November and runs until Sunday 2nd December. There's a full week of daily freerolls starting 18th November where you can win your GCOOP entries for nothing! Get involved on grosvenorpoker.com
Comments
comments