They say that we got hit by the tail-end of a hurricane during GUKPT Blackpool week, but to be honest the weather didn't seem much different to any of the other seven or eight times I've been for what was the Northern Lights Festival and latterly the GUKPT.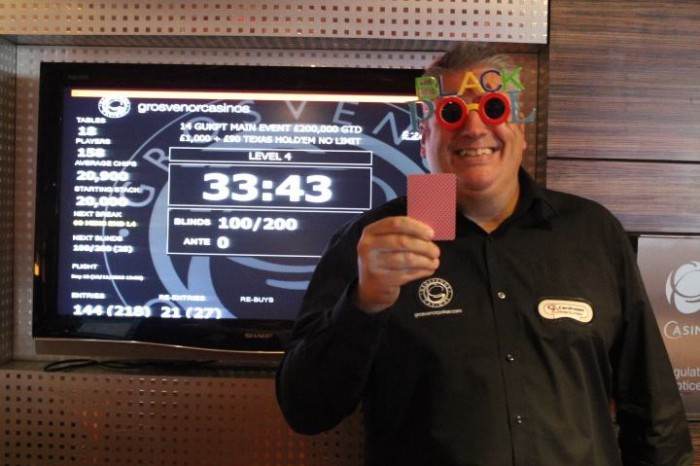 Still, we don't come for the weather, which is a good thing unless you're one of those storm chasers, we come for the poker, and few places do it better than G Casino Blackpool.
From the moment I walked in and saw the numbers for the £30 rebuy super satellite on the Sunday, you could tell numbers were up, the place was buzzing and it was going to be a great festival.
Last year there'd been a £19k overlay in the main event but it was obvious there was no chance of that this year. Tanya and her team had been qualifying people hard for weeks locally, and the support for the side events made it obvious the people of Blackpool were out in force.
Sunday's sat (with 10 seats guaranteed) created over 16 seats, the £100 on Monday had 194 runners, there were 129 in the Tuesday £300, 147 in the £200 6-max, 99 in the £150 PLO and a massive 275 in the Main Event.
For my part I started badly and things didn't improve, but after a few months away from the tables nursing an elderly relative it was fun to be back playing, at least for the most part.
I entered the sat late and passed the first 20 hands, getting it in with A9cc on a low two-club boards against 88 and missing.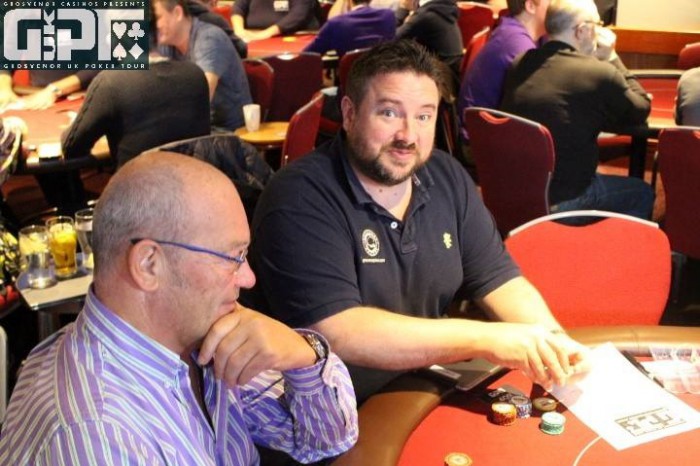 The £100 ended when after a five-hour grind I finally found a pair of jacks, but had to raise-fold when two tens shoved over my raise but a big stack called in between allowing me to fold and watch his aces win.
A few hands later I thought I'd got my reward for a good fold, finding jacks again and raising it to 2k at 400/800. The big blind defended the old 93 and we got it all in on the 973 flop, he made a house just for good measure.
Still, I thought the £300 would be a biggy and so it turned out, with almost £12k for first.
A few slip ups early saw me down to just 1200 chips at 100/200, but getting there against the same guy twice, first with QT v his JJ, then a flush draw v his trips, saw me back to starting, and after day one I was nicely up in the chip counts with 73k and an average of just over 50k.
Day two was not so good.
After tangling with a young guy early on, three-betting his raise on a dead stack's big blind and having to fold to his min 4b, I won a flurry of pots and then decided to this time call his raise on the dead stack's blind in position with A8ss.
We saw an ace high flop with 2 clubs, one spade, and I called his 3500 c-bet into the 6k pot. With 13k in there, the turn was a spade giving me the nut flush draw as well as top pair.
With 49k back (average still around 55k), my ambitious opponent decided betting 22k into 13k was a good idea, and when I instantly set him in with his flush draw, he shrugged and said 'I have to call, I've put too much in,' and flipped the mighty 62cc for a bare six-high flush draw. Getting yourself into positions where you're forced to call with six-high shouldn't be ideal, but it worked out okay for him in a pot that was for the chip lead with 25 left, the king of clubs leaving him with a massive stack and me with 15bb.
I duly shoved them in over a cut-off raise on the dead stack next round with KQ and found the sb playing his first hand of the day with AK and off I went. Of course the kid who took that monster pot went on to….not even make the money. Strange.
I decided it was time to play and run better in the £200 six max, but the very next hand after he'd lost a big pot to the big blind making a house with Q6, the fella to my right looked a little steamy as he raised again in level two.
I just peeled 77 in position, bringing in the Q6 guy and the big blind, and I thought QJ7 rainbow was a good flop for me, but no, the guy who might have been steaming had actually flopped top set, which was fun to find out when I called his flop bet and raised the 'safe' 6 on the turn.
The 4/5/6 PLO never got going for me, eventually someone calling to bust my aces with four random cards, and while I never had aces, I'd just played tight and then potted a big number suited hand that had him crushed, I couldn't get a break.
The Main Event was fun with such a big field taking me back to the good old days (I think I came 37th with 36 paid in season 1 when Ben Vinson beat my Aq with K4o all-in preflop while we were hand for hand, but I don't like to talk about it!).
Every table was full, and the usual local legends were making themselves heard, with Andy Bradshaw singing when he won a pot, Howard Plant telling the same jokes we'd heard earlier in the week and Ali Mallu Ali Mallu-ing people!
I was going along okay, card dead and maintaining a just over starting stack, until I found pocket aces at 150/300.
I raised and found three callers, and the guy who had put in 10% of his stack with 75 liked the 689 flop more than I did, although he hid it very well, including keeping his cards face down while shaking his head after I'd called his raise all-in!
A few hands later I peeled AT in the small blind which brought in the big blind Neil Strike.
The preflop raiser c-bet small on the KQ6 rainbow flop, so I thought I would stick around and try and catch my gutshot to the nuts. Neil called too.
Amazingly the jack of diamonds pinged the turn, and I decided if I checked it may well get checked around even by a king, so I'd best come out betting.
I bet 2200 into 4500 and only Neil called.
I was sure he had a king now, so when a third diamond hit the river, I wasn't too bothered, he had after all called the flop.
I bet 4800 and got the wonderful news that the third diamond was indeed bad news, Neil raising to 10k and forcing me to fold. He later told me he had A6dd, flopping a pair, turning the nut flush draw and getting there on the end.
A serial raiser attacked my blind for the third time, and having shown down T6o the previous round, I decided to shove my 10k with anything half decent. I blame Toby Lewis for making me consider T8cc as half decent, and when I got snapped by AQ an ace high flop meant there was no way I was getting there.
I re-entered at the last possible moment and still had 50bb at 200/400, but after passing for a full level and raise-folding two small pairs to three-bets, I finally exited when a 600 limp was raised to 1500 and I found pocket threes behind with 12,000 chips.
I shoved over the top, hoping the isolator was just isolating, but after the small blind dwelled and passed (later saying he gave up 77), the big blind Wadey called half his stack with the two live players behind having him covered.
As they folded he told me he was sure he had me beat, flipping over AQ. He didn't, but it only took until the turn card for his feeling to become fact, and that was all she wrote.
Exiting the Main Event is tough, and a few of us decided to sample the local nightlife on the Saturday night, which was interesting to say the least.
In one pub we made up a card game where we played face up PLO for a tenner a man, with the worst hand exiting each round.
If you won the final, you then had to pick out someone else's name and chop the pot with them, with one of the cards being a rollover, meaning you didn't win anything and we all played for double stakes.
We played about 10 games of this, and including chops one of the lads got paid eight times.
I got paid zero.
Still, the steak pie was nice in there! Rather be lucky that good? I'll take either at this stage!
At least I got to spend the final evening commentating with the legend that is the Tower, and a battle of attrition it became!
We both picked out Jonny Gray and Yiannis Liperis as top players before the final started, and so it proved as the pair made it to heads-up before embarking on a titanic near five-hour battle, Jonny eventually coming out on top (have I mentioned at the final of GUKPT Edinburgh last year he beat my QQ with 99 all in pre for half the chips in play with four left? No? Best forgotten.)
Blackpool is such a great week of poker and fun, just how it should be, that a number of players were telling me it's the first one they get on the calendar, which they can now do for next year, given the 2016 GUKPT schedule is now out.
Special mention to local legend and all round top guy Derek Kavanagh, who took down Monday's £100 event at about 8am Tuesday, which took so much out of him he was ruined for the rest of the week til Sunday, when he bounced back in style to chop the end of week £100-er too!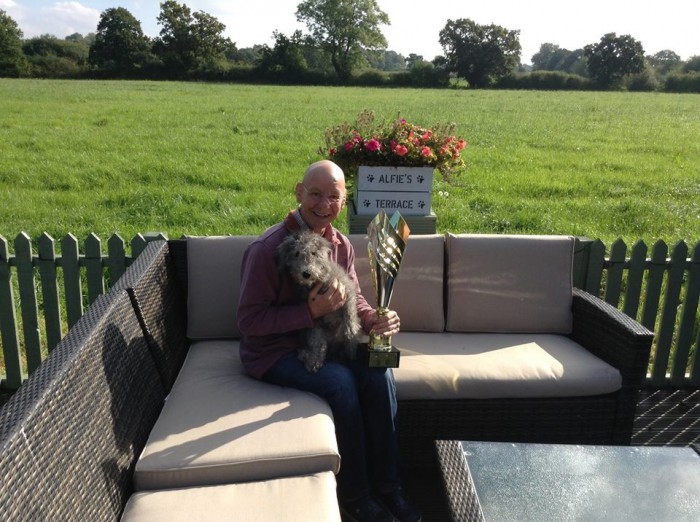 An inspiration of a man, Kav juggles his chemotherapy sessions with playing as much poker as he can and approaches both with a joie de vivre that shames many a moaning poker player, myself included.
Of course Kav has a charity fundraiser coming up again in January, the Kav Cup, which was held for the first time this year and was so successful Manchester G Casino have kindly agreed to host it again.
Last year, the £10k guarantee was smashed, so this year the £50 plus one £50 optional add on comp has £15k guaranteed!
Get January 9 in your diary, a great comp in a great man's name with great craic and great atmosphere, poker is fun!
Comments
comments