After last Saturday's UK super-card in which Tyson Fury hammered Dereck Chisora into submission and Billy Jo Saunders'  beat Chris Eubank Jnr in a thrilling middleweight title bout, we're blessed with yet another bumper weekend of top class boxing.
Lee's got the power
With the WBO world middleweight title on offer to the winner, who then has Billy Jo Saunders as their mandatory number one contender, we start off with Andy Lee v Matt Korobov.
A decorated amateur, Matt Korobov failed to yield Olympic honours, but is a two-time world middleweight amateur champion, a European amateur champion and a world cup champion. The Russian compiled an impressive overall record of 300 wins against 11 defeats in the unpaid ranks and is 24-0 (14 KO) since turning pro in 2008.
33-2 (23 KO) Lee had less success in amateur boxing compared to his opponent this weekend, but he did win a bronze medal in the 2004 European amateur championships and a silver in the EU version that same year.
With 23 KO's from 33 wins, Lee is a strong puncher that can finish a fight in one severe blow. This was very evident when, downed in the first round and almost hammered into defeat in the next four, Lee produced a big right hand to knock his opponent, John Jackson, out and end their bout in the fifth round.
Korobov is not a big puncher and is therefore very likely to try to outbox his opponent. Now, while the Russian has looked technically sound in the pro ranks, he does work a little too slowly at times and it is my opinion that this will allow the harder-hitting Lee time to utilise his punching power and land 'bombs.'
Of course, Korobov should win on paper, and we must note that Lee has twice been beaten in his pro career, but I think this is a closer fight than the odds suggest and see it as a boxer vs puncher contest in which Lee can win if he fights to his strengths.
In conclusion, I'd back Lee to win by KO/TKO, but with his win price big enough at 11/4 I'll take that instead.
You can watch this live on Box Nation from 02:00 on Sunday.
Recommendation:  Lee to win (11/4)
Bradley's a smooth operator
Next up, Timothy Bradley takes on Diego Chaves in another potentially exciting boxer v puncher welterweight bout.
Nicknamed 'Desert Storm,' Timothy Bradley is from the sort of tough American neighbourhood that can force a young man into either being a bully or being bullied himself. Taking on the former approach, the now 31-year-old took up boxing from a young age, and was expertly trained by his father.
Interestingly, Bradley spoke of performing 100 sit-ups in a row at the tender age of seven on a recent boxing TV show, and it's been clear to see that the four-time, 2-weight world champion has led a disciplined professional lifestyle from a very young age. All in all, he's a popular, hard working fighter that's overcome the odds to beat fighters like Manny Pacquaio in the past.
Bradley did convincingly lose a rematch to 'Pacman,' and his win in their first bout was controversial, but the 33-1 (12 KO) American is a superb fighter who's rightly ranked as one of the top pound-for-pound fighters currently in boxing.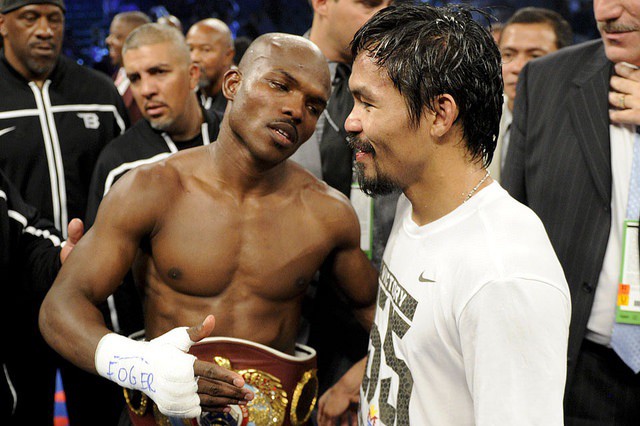 His opponent this weekend, 28-year-old Argentine Diego 'The Jewel' Chaves is a far lesser skilled fighter that's compiled a 22-2 (19 KO) professional boxing record and has only won the WBA interim welterweight title.
It should be noted, however, that Chaves is a hard-hitting puncher with an elite KO percentage. Unfortunately for him he met a harder and better puncher in Keith Thurman to taste defeat for the first time in his career in July 2013, while his second loss came after he was disqualified for repeated fouls in a bout he was winning against Brandon Rios in August of this year.
Chaves is a 'dirty' fighter who's not afraid to use his head (literally) and elbows, and is clearly easy to 'rattle' mentally. The Argentine will look to swarm Bradley and rough him up. Certainly, Chaves is capable of knocking Bradley out, but then the American is a clever man and well aware of his opponents punching power.
Bradley knows that this is a dangerous fight and that his opponent – like himself – is hungry for victory coming off the back of a defeat and, since 'Desert Strom' has only recorded 12 wins by stoppage, bar the Argentinean punching himself out, running out of gas and being stopped or pulled out through exhaustion, the sensible betting verdict is that Bradley will box to his strengths, keep his distance and win a wide points victory against a typically tough and rugged South American opponent.
The bad news is that Bradley to win on points is best priced at 8/15 and too short for a betting recommendation. It should be a great bout, though, and you can always watch some of it and bet in-play.
Quick Khan to earn victory
Finally, live on Sky Sports 1 and expected to start around 03:30 on Sunday, Britain's Olympic silver medallist Amir Khan faces Devon Alexander in a bout that was supposed to take place in late 2013.
At that time, Alexander was a world champion and had agreed to defend his belt against Khan, but the Bolton man cancelled the bout as he expected to be selected to fight Floyd Mayweather – the undisputed best fighter on the planet.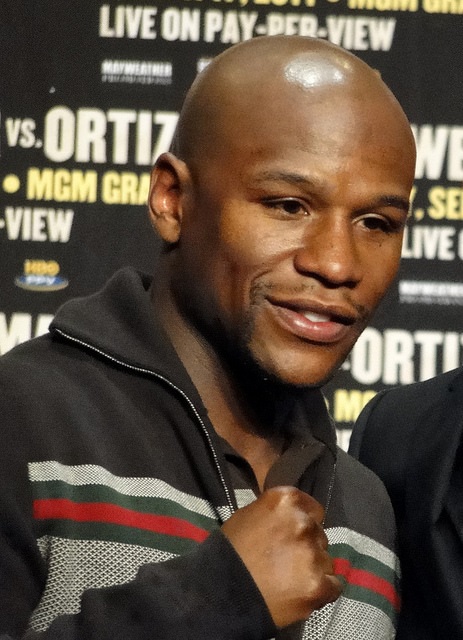 Mayweather v Khan never materialised, however, and Alexander later lost his IBF welterweight title to Shawn Porter (since beaten by Sheffield's Kell Brook). So, like this column sometimes does, Khan gambled and lost.
Beating Alexander without a world title at stake is still a noteworthy addition to the self-titled 'King Khan's' fighting CV, though, and by winning the lightly regarded WBC silver belt that's at stake this weekend, the 29-3 (19 KO) fighter would be back in contention for a world title shot and closer to Mayweather.
26-2 (14 KO) Alexander is a three-time world champion and 2-weight world champion that has only lost twice, to Timothy Bradley and Shawn Porter, and has never been stopped. Southpaw Alexander is well matched with Khan, all in all, but my betting verdict is that Khan will be a little too quick for his opponent, eventually winning a hard fought points decision.
Recommendation: Khan on points (10/11)
Of course, whether you do or don't opt for a wager, have a great weekend and feel free to contact me on Twitter via @JCLaLiga if you have any questions or feedback.
Photo credits – Flickr (Creative Commons – Attribution-ShareAlike 2.0 Generic (CC BY-SA 2.0))
, Flickr (Creative Commons – Attribution-ShareAlike 2.0 Generic (CC BY-SA 2.0))
Comments
comments