In 1970, with fewer than 50 poker tables in the entire city of Las Vegas, a handful of high stakes poker players gathered for what was to be the 1st official World Series Of Poker. It was officially founded by Benny Binion, who had been inspired after Tom Moore and Vic Vickery had originally invited several players, including Doyle Brunson, Johnny Moss and Benny Binion himself, to Reno to attend an annual Texas Gamblers Reunion the previous year, in 1969. When the pair passed on the opportunity to host the annual gathering the following year, Benny hosted it instead, at Binions Casino in the original downtown Las Vegas, and the WSOP was born.
That first year, a handful of players attended and the first champion, elected by a player vote, was Johnny Moss. The following year was a freeze out with 7 players and Moss won again. Amarillo Slim Preston bested a 12 player field the next year and went on a publicity tour to bring attention to the World Series including a film, book and appearances on The Tonight Show.
In 1973 the event was first televised, 1978 saw Barbara Freer become the first female to play, and over time side events were added, the venue changed from Binion's Horseshoe to the Rio, and the buy in was upped from $5,000 to $10,000.
Moneymaker
In 2003, the event changed massively.  Poker had become available online and satellites were being run to enable players to qualify for bigger events.  One qualifier was the aptly named Chris Moneymaker, who invested a tiny $86 and turned that into $2.5million after winning the title from a field of 839 players. The "Moneymaker" effect boomed across the poker world and by 2006 numbers soared to 8773 players who travelled from across the globe to play for a first prize of $12million!
Join #TeamGrosvenor this year
Wetted your appetite and want to start your journey on the #RoadToVegas?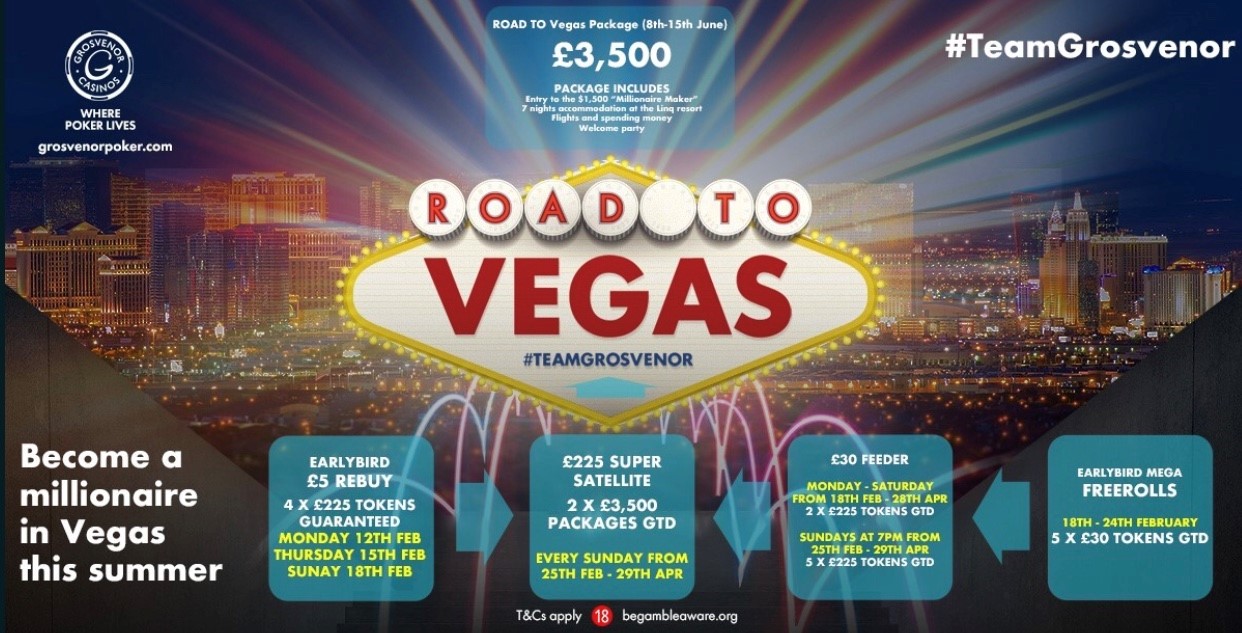 Turn pennies into possible fortunes by qualifying with Grosvenor Poker Online. Two packages, worth £3500, have already been won last Sunday by "ANUKET" and "Weebrick".
There are still plenty of chances to win your package and join #TeamGrosvenor on the 4.2 miles long 'Strip' of gambling and poker paradise to play in the WSOP and more specifically the "Millionaire Maker" event from 8th-15th June.
Until the 29th April, there will be online satellites on Grosvenor Poker with 2 weekly packages guaranteed. You could join #TeamGrosvenor in Las Vegas!!
The super satellites every Sunday at 9pm are £225 to enter but why not try to imitate Chris Moneymaker's step system route and get there for pennies.
You could be one of at least 21 players joining fellow Grosvenor winners and Sponsored Pros, including myself, playing the $1,500 buy in "Millionaire Maker" event, 7 nights at The Linq hotel, flights, spending money, welcome party and many other activities throughout the week-long trip.
I have been playing satellites on Grosvenor Poker for years, winning seats into GUKPT main events. Satellites are an excellent way to play big buy-in events for an affordable price and gives an added sense of satisfaction when you have laddered up through the step stages for mere pennies. I highly recommend the satellite route option. It's open to everyone; all budgets, abilities and doesn't take too much time either. Step satellites are running daily from as little as 25p and feeder satellites every night.
Qualifying through Grosvenor Poker via a satellite really does take the pressure off when playing in a bigger event as you're already a winner!  It's the trip of a lifetime, so enjoy the experience!
Satellites on Grosvenor
I cannot wait to get to Las Vegas this summer. It holds so many fabulous memories for me. My first visit to the gambling mecca was on my honeymoon to celebrate the beginning of #TeamSwift! Ironically we stayed at Imperial Palace, now renamed The Linq, selecting it for its fabulous central location on the strip itself. This is where the team will be staying again this year, its an excellent location first class facilities.
The Sights
Since then, I have returned several times and have always enjoyed every trip, taking in new sights and attractions each time, with still much more to do. A selection of my favourite experiences over the years and sights I would recommend are:
Bellagio Fountains has to be my top choice. It's simple, yet so effective. I never go to Vegas without spending time at the choreographed fountains, where the water performs a synchronised dance with the music every fifteen minutes. It is my ultimate favourite. Come win or lose, I think it's magical to take a moment at such an iconic attraction, to absorb the atmosphere and reality.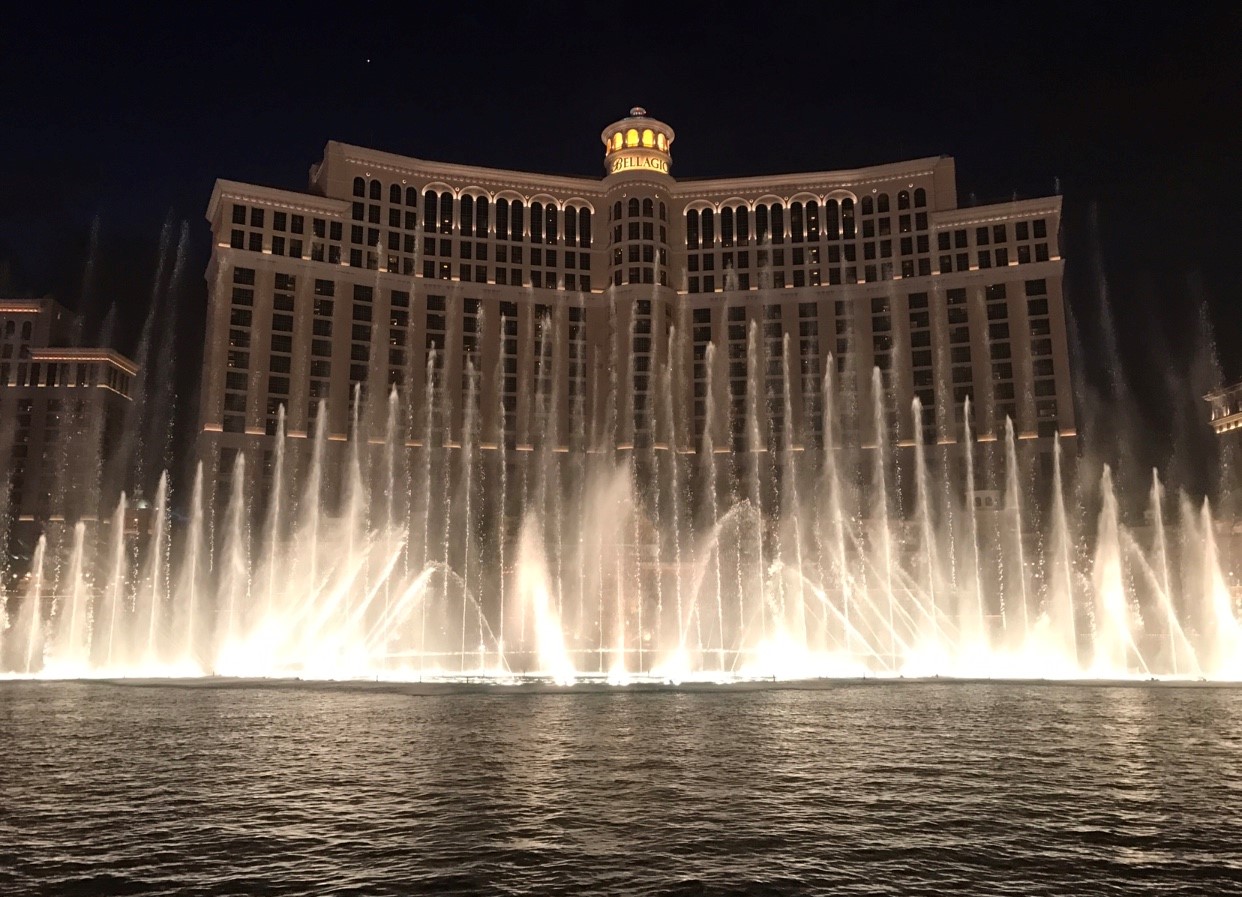 High Roller wheel, which is similar to the London Eye and allows you to view the strip and some of the famous landmarks from up high.
Zoom Wire in Fremont Street, downtown Las Vegas. Feel the rush, zooming down the entire length of Fremont Street!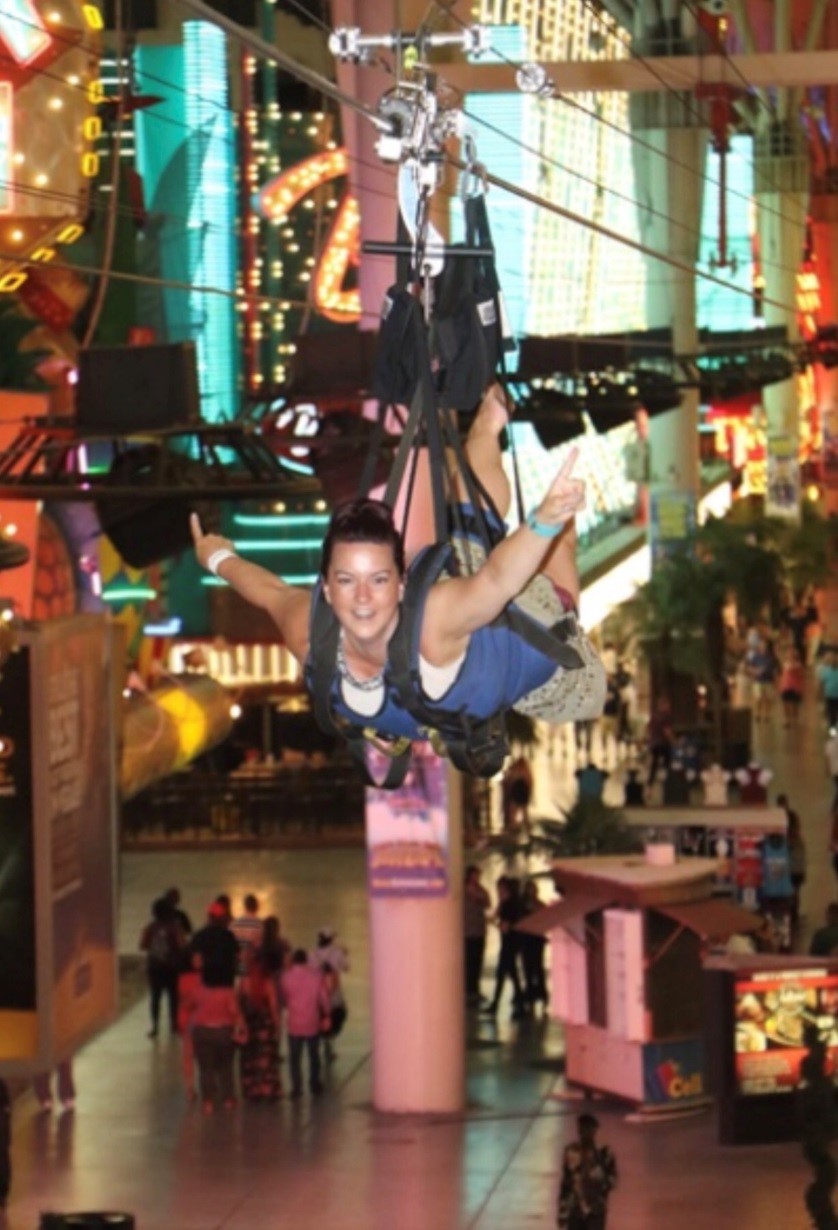 Paris Eiffel Tower top observation point to look across the strip and view the famous Bellagio Fountains from above.
Top Golf at MGM Grand and O'Sheas Irish bar next door to the Linq, both provide socialising and having the fun of an activity; electric golf, beanbag toss, shuffleboard or beer pong.
Piano Bar at Harrahs or at New York New York hotels. Both are excellent and provide great entertainment. Taking a break to enjoy watching Big Elvis has always been something my Mum, Dad and I have done on our trips.
Seeing in reality the world famous "Welcome to Las Vegas" sign is a must, preferably the one at the beginning of the strip, however most souvenirs also feature the image!
The Hotels
Visiting the various hotels and taking a "trip around the world" just by wandering up and down the strip should be on every sightseer's list. Each one is so huge, it's easy to spend hours looking around! It's so hard to pick a favourite as they are all fabulously mesmerising and magnificently built with their individual themes.
The classically elegant Venetian and newer sister hotel Palazzo replicating a slice of the beautiful Italian city of Venice. Ceasars Palace with its history, entertainment and huge forum shops. The stunning Wynn and Encore properties currently offer the only golf course on the strip along with a spectacular waterfall feature.
Paris touching upon the romance of the French capital complete with a half size replica of the eye-catching Eiffel Tower. Luxor the symbolic pyramid shaped and Egyptian themed hotel, home of the "Sky Beam", the strongest beam of light in the world.
It's hard to miss the golden tower of the Trump hotel, owned by the current President of the USA. Rising high at the very top of the strip is the observation tower belonging to the uniquely shaped Stratosphere hotel, where thrill seekers have the choice of four extreme rides; bungee style jump or roller coasters.
More recent additions to the strip, the Aria and Cosmopolitan hotels that are modern, sleek and contemporary. The glamorous "Chandelier bar" at Cosmo is truly beautiful.
The Mirage houses a huge tropical aquarium and atrium inside, an erupting volcano is displayed each night outside, it also contains my favourite restaurant, OTORO Robata Grill & Sushi, utterly delicious.
Of course downtown holds some historical Vegas treasures that should be seen and appreciated; Binions, Golden Nugget, Four Queens, Fremont Hotel.
However, no summer Vegas trip would be complete for any poker player without a visit to the Rio! Hearing the volume of thousands of chips being riffled within a giant room that accommodates hundreds of poker tables and players, was the first sense I remember when stepping inside that WSOP arena. It's quite a surreal feeling, and always ignites a buzz and stirs an inner ambition in me every time.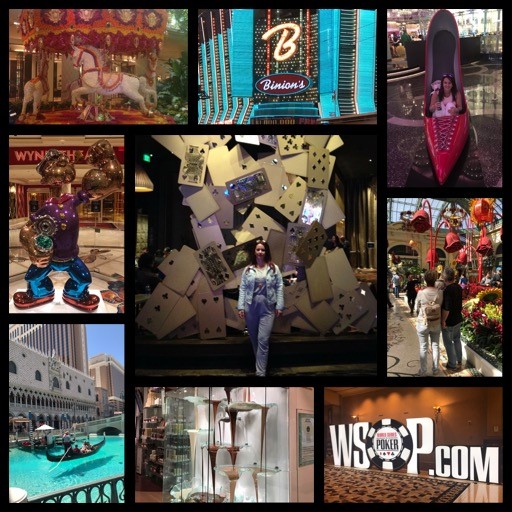 There's so much to do along the strip alone, but Vegas does offer some extraordinary excursions away from the strip, including helicopter rides over the Hoover Dam or the Grand Canyon. Or how about a visit to Death Valley where temperatures can reach 130 Fahrenheit!
If like me, you'd rather keep running hot to the tables though, in addition to the famous WSOP events, other casinos offer a huge selection of festival schedules, some of my favourites being; The Wynn Classic events, Venetian Deepstacks, famous PIanet Hollywood Goliath tournaments, the WPT is usually hosted at the Aria, plus of course there are some downtown casinos, like Binions and Golden Nugget that still hold feature schedules for the summertime poker season. Cash games galore can be found morning, noon and night across the city too.
Last year I spent five weeks in Vegas, my best tournament result being 19th out of 2020 runners, getting crucially unlucky by a beastly rivered one outer, to end my hopes of a WSOP final table possibility.
This year I'll try to do better, hopefully achieving more personal goals and dreams, but aiming to always enjoy every experience and appreciate the opportunity of being in such a legendary city. Starting the best way by #KeepingItFun and joining #TeamGrosvenor for the WSOP Millionaire Maker, I wish you all luck in qualifying and joining me out in there!
Comments
comments