Ever get the feeling we've been here before with Jose Mourinho's Chelsea? I know I do.
Just as he achieved in his first spell at Chelsea, the Blues boss has his side playing powerful, controlled, winning football that's incredibly hard to stifle.
Who's surprised? No, me neither.
That 'little horse' of his was never going to stay fragile for long, and based on what we've seen so far this season there's not a side in English football capable of running a faster, stronger race this time around.
Odds-on title favourites at the start of October, the ever-shrewd bookmakers seem to agree
What strikes me most is the homogeneity between Mourinho's class of 2014 and that all-conquering team he built at Stamford Bridge a decade ago.
The parallels are actually, really rather spooky…
Cast your mind back to the summer of 2004 and Chelsea, led by their new, self-professed Special One, undertook a ruthless and cold-hearted clear out. Club legends Marcel Desailly and Jimmy Floyd Hasselbaink were sent packing on free transfers, with big money flop forward Hernan Crespo also loaned out to clear space for others.
Substitute the names Ashley Cole, Frank Lampard and Fernando Torres into that sentence when discussing what occurred at Stamford Bridge earlier this summer, and it all, rather eerily, fits nicely.
Another coincidence (or is it?) can be seen in the goalkeeping department.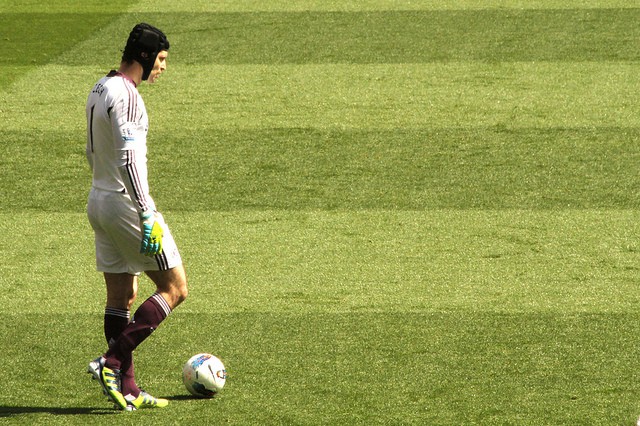 A decade ago popular first choice custodian Carlo Cudicini was dropped to make way for the younger, more promising Petr Cech – and that scenario occurred this year too, with Belgian Thibaut Courtois' usurping the Czech star instead. Freshening up this key position with one of the next generation's finest worked well for him once, so why not try it again?
A brief analysis of Mourinho's back four also prompts clear reminders of the axis that kept a record 25 clean sheets en route to the Premier League title in 2004/05.
It's pretty unusual for teams to line up with three natural   central defenders and a right-footer playing at left back but that's how Mourinho liked it a decade ago, and he's going with that modus operandi again. Chelsea's Ivanovic, Terry, Cahill and Azpiliueta have been constructed in an almost identical way to that famous Ferreira, Terry, Carvalho, Gallas unit.
I did say it was uncanny, and I'm not finished yet…
In midfield two players always used to start for Mourinho no matter what; one a stopper, the other a goal maker (Makelele and Lampard) and surprise surprise, the Portuguese supremo has reverted to that formula this season too.
There's no more rotation in the engine room. The elegant yet forceful Nemanja Matic hasn't missed a Premier League weekend since rejoining in January, and playmaker Cesc Fabregas, has barely sat out a minute of the season so far. Those two are shoo-ins every week.
Last but not least Mourinho's choice of talismanic striker is another (surely) intentional throwback.
His investment in Didier Drogba a decade ago – a strapping striker in his mid-twenties, hungry to make an impression on the biggest stage – worked so well for the Blues boss then, that he's opted for another try. 

Diego Costa, like Drogba, is a centre forward with a huge personality and the physical tools to frighten anyone.
Able to occupy two defenders at once with his rampaging style, punish any moment of hesitancy with a sharp run and finish, and lead the line with the conviction of a player that enjoys bullying anyone who dares to block his path, Costa and Drogba are rough, tough strikers shelled from virtually the same pod.
Jose Mourinho knows what he wants. He knows the blueprint for a successful team. And he knows what it takes to dominate English football.
Like every forward-thinking manager he's simply remembered what worked before, and built this season's plan around it.
To date it's definitely a case of so far, so good for his retro approach.
Now surely it's only a matter of time before he tracks down that long, grey coat he sold at auction…
Upcoming game: Chelsea vs. Arsenal
Can Arsenal gain revenge for their 6-0 mauling at the hands of Chelsea last season on their return to Stamford Bridge this Sunday?
It's a big ask for anyone at the moment, not least for a side that lost their first choice midfielders, Aaron Ramsey and Mikel Arteta, to injury last weekend.
In recent weeks the Gunners have looked vulnerable to set pieces and counter attacks, two core strengths of this Blues' side. So, failure to tighten up in both departments could I fear, see them punished hard in west London yet again.
In 11 attempts, Arsene Wenger has never got the better of Jose Mourinho. To break that chain, and to halt Chelsea's juggernaut he and his players must come up with something very special.
Photo credits: Flickr (Creative Commons – Attribution 2.0 Generic (CC BY 2.0))
Comments
comments